Memories, challenges and the future of St Pauls Carnival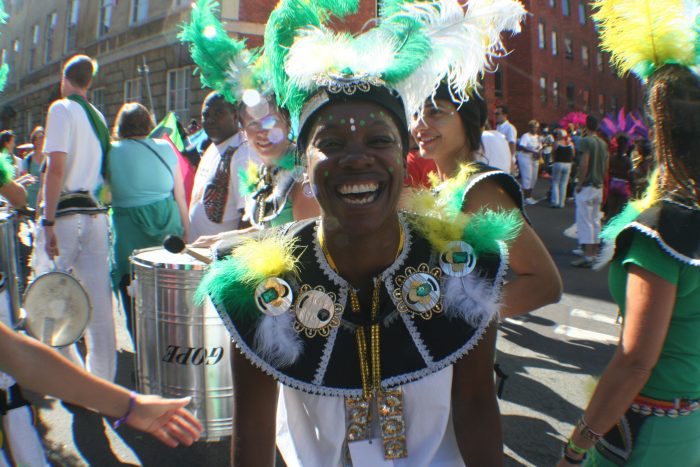 The Cable talks to some of the organisers about carnivals' past and what's new this year and the future of this Bristol institution. 
Photo: Shawn Sobers
At times it looked uncertain if carnival would ever come back to Bristol. Security concerns, lack of funding and the sheer task of organising a massive free outdoor event for more than 100,000 people led to its original cancellation in 2015 and for two further years.
This year is the 50th anniversary of the carnival that was created to celebrate the new diversity in Bristol brought about by the influx of post war migration and highlight the best of African-Caribbean culture.
We caught up with Julz Davis, managing director of St Pauls Carnival CIC and the team to find out what they're looking forward to, what's new and their own personal memories of an event that has added so much to Bristol's vibrant culture.
"It was originally about bringing different groups together, it was a migration celebration!" said Julz who we met at the carnival's offices on City Road, St Paul's. "In the 50s, 60s and 70s you might not have felt so welcomed as a new migrant. You may have seen signs such as 'no Blacks, no Irish, no dogs' so those groups got together and said hello, this is who we are. It wasn't a case of no Blacks and no Irish, it was a case of get to know the blacks and get to know the Irish."
Although many things have changed since 1968, this core ethos of inclusion and celebration has continued to be at the heart of carnival.
What started as a community festival grew over the decades to become an event that attracted crowds of more than 100,000 from all over the country. Many of Bristol's biggest artists such as Tricky, Massive Attack and Neneh Cherry have all played at carnival. In its absence, Bristol has understandably suffered both socially and economically.
"It hasn't suffered a bit, it has suffered a lot," said Julz. "Ask the businesses and traders how it's affected their bottom lines. Ask the night-time economy, the travel industry, the service industry how much money comes into Bristol on that weekend? Other than that, it gives to Bristol because it adds to that vibe of a quirky, independent city that helps attract people to here."
The return of carnival brings back a lot of fond memories for those involved with it and they reflect perfectly the ethos of carnival.
"My parents met at the first carnival in 1968 so I'm a child of carnival, it's in my DNA. I look forward to it more than Christmas because it's the only day of the year where I can unapologetically be me." Said Julz. "I grew up in a working class white area and it was really tough growing up there in the 70s and people were very unapologetic about reminding me how different my family were, so coming over here and eating, drinking, dancing, listening and feeling unapologetically black was amazing."
"When I was little my sister lived on City Road. I remember it being very colourful and seeing a lot of faces like mine. I felt very at home playing with children I didn't know and feeling like a family," said Charlene Lawrence, the carnival' events administrator, who we met at the carnival's pop up at St Paul's Learning Centre that gives advice to local residents.
Looking forward to this year and beyond, the organisers have pulled out all the stops to ensure that carnival continues to thrive in years to come.
"What's new? How can you even ask that question?" Julz asked. "We have 15 sound systems and now, more than ever, we have more stages, a female only stage, we're covering a larger area, we have our own carnival anthem, we have more family and youth areas, the procession is bigger and we have a new team organising it. We're also looking at making carnival a more sustainable business by introducing things like official after parties and we've teamed up with graffiti artist Inkie to create a run of exclusive prints and merchandise that we will be selling on the day."
Now the big day is approaching and the finishing touches are being put to costumes, artwork and lineups, the excitement around town is building nicely, especially for the organisers who have suffered many long days and sleepless nights in putting it all together.
Perhaps to be expected with an event of this size that is so close to many people's hearts, the run up to the event hasn't been without hiccups or issues such as residents not being able to easily set up stalls in their front yards.
"We're a new team and it's all eyes are on us, not just because it's the anniversary but because it is a new team and a new carnival. I'm quite apprehensive but also excited. On the day, I'll be working very hard but I'm also going to enjoy the procession and take my son to Mandela's hideaway [the kids area], then I will be able to let my hair down at the after parties!" said Sharlene.
"I would like to pay homage to all of carnival's past custodians" said Julz. "Without them carnival would not be what it is today, so absolute respect to them. The Bristol Post called this job the hardest job in Bristol and I'm inclined to agree."
"Has there been a lot of pressure to make this year special? That's a good question and my answer to that would be diamonds… diamonds are only formed under pressure!"
St Paul's Carnival are still looking for volunteers to help on the day, if you would like to volunteer please follow:
https://www.stpaulscarnival.net/volunteer-application