NHS at 70: "Currently my biggest worry is nursing in the future"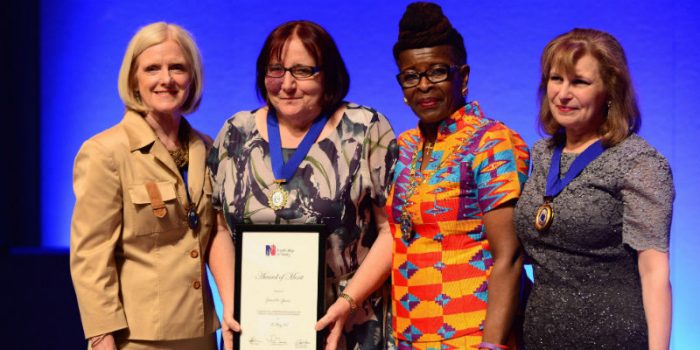 Nurse Jeanette Jones has won an award for helping other nurses… but she fears for the future of the profession
Jeanette Jones was previously the senior nurse on a trauma and orthopaedics ward at the Bristol Royal Infirmary (BRI). She had worked for the NHS since 1981. However, about a decade ago she had a serious accident that left her unable to continue her frontline work.
"Unfortunately, a chair that I was sitting on gave way and I injured my back. After my accident, I potentially wasn't going to be able to walk properly again. I had quite a length of time off work," she tells the Cable.
She did get back to work, but had to deal with a lot of nerve pain and had a spinal fusion to fix her back. She moved from her previous role into outpatients. "I can't do a complete shift, but can support colleagues on the frontline and contribute when we're short of staff and need an extra pair of hands."
Despite this adversity, Jones, known as 'Nettie', has just won an award from the Royal College of Nursing (RCN) for her work helping colleagues in similar situations.
"We are often so busy helping everybody else that sometimes we forget that we need help"
She is now the lead for Living and Working with Disability, Illness or Impairment (LAWDII) at University Hospitals Bristol NHS Foundation Trust (UHB). This means she supports colleagues who have disabilities or are returning to work after an accident.
"We support people with wheelchairs, people on crutches, but a lot of people have disabilities which are unseen, so we shout loudly for our colleagues with unseen disabilities," she says.
This comes from personal experience. "My disability is not seen, and occasionally I show people my back which has been repaired. People don't see me as having issues but I do, so it's about opening people's eyes."
"We've supported staff when they've returned from having had surgery and also staff that may be having mental health issues. It's trying to ensure there is equality for all the different members of staff in all the different places," she says.
"We try to make them feel valued because when you're off with long-term issues you can start wondering about your worth, so it's important do something small to get your confidence back."
Jones is also the lead RCN steward for the trust. This means she fights the corner of her nursing colleagues, whether it's helping with flexible working requests or providing support if someone is facing disciplinary action. "I'm like a dog with a bone, so I'm successful most of the time. We are often so busy helping everybody else that sometimes we forget that we need help."
Nursing on the brink
This seems as crucial as ever given the state of nursing. The recent RCN report 'Nursing on the brink' found nurses were worried about the quality of patient care, a lack of time to support families and carers and too much time spent on non-nursing duties. There was also serious concerns about the mental and physical health of nursing staff and inadequate staffing levels not being addressed.
A Cable investigation in April revealed that the number of Bristol NHS workers suffering from stress has soared in recent years, which has resulted in around 893 working years have been lost to stress since 2014.
Jones' trust has seen a 70% increase in working days lost to stress since 2011. "Every nurse everywhere is struggling. I don't think we in Bristol are any worse than elsewhere."
"There's problems with stress in the NHS, as there is with most public facing organisations. We have stress management courses, we have a good occupational health services team, but there's an awful lot of stress."
One factor behind stress is staffing levels, Jones says. "Staffing levels do impact on stress, but we're lucky in our trust to have more nurses per patients than other hospitals. Unfortunately in England, there's only recommendations on staffing levels, unlike in Wales where it's enshrined in law."
"I think we've always been an undervalued profession"
The number of registered nurses has been falling since 2016 and the shortfall got even worse last year, as NHS Digital data shows the number of unfilled advertised nursing and midwifery posts in England reached 34,260 in the three months to September 2017 – the highest since this data was collected.
In Bristol there were more than 550 advertised nursing posts between April and September last year, 228 at UHB and 340 at North Bristol NHS Trust.
The nursing shortage costs the NHS at least £1.5 billion a year, because temporary nursing staff have to be hired to fill the gaps, according to a report by the Open University.
These shortages are a result of a perfect storm: fewer people studying nursing at university while qualified nurses are leaving the profession.
Nurses are quitting because of a range of factors, from their pay being capped and their workloads increasing as services are stretched, to the inability to meet patient expectations and poor organisational culture.
And then there's Brexit. The number of nurses and midwives from the EU has fallen sharply – by almost 3,000 since March 2017. Fewer Europeans are registering as nurses and more are leaving, according to the Nursing and Midwifery Council.
"A large amount of EU nurses are removing themselves from the register already and Brexit is not until next year," Jones says. "We've had a few go at our trust. If you're not sure you'll be able to remain or whether you have to apply for work permits, I think it's going to be quite scary for those making applications."
"Currently my biggest worry is nursing in the future"
To make matters worse, the number of people studying nursing has fallen by a third in the last two years, after the government scrapped an NHS bursary to help aspiring nurses fund their studies. The RCN said this decision has been a "disaster", and that as a result staff shortages would "put patients at risk".
"Currently my biggest worry is nursing in the future," Jones says. "The loss of the bursary means that coming into nursing is not attractive – not that it's ever been majorly attractive. I know that UWE has virtually no mature students applying to do nursing."
"If you come out of university with £40k of debt and your starting salary is only £20k, it's quite scary to think you have this mountain to pay forever. The bursary wasn't anywhere near enough but at least you had your tuition fees paid and you got some support.
"Expectations have increased but unfortunately the finance isn't there anymore"
"Student nurses are doing 12-13 hour shifts so there isn't any space to get a supplementary job to support them, unlike other students who have weekends and holidays. They are hugely penalised because they're not the same as other students."
She says nurses are undervalued. "We're valued by our patients who hold us in high esteem, but I think we've always been an undervalued profession."
"The NHS is 70 years old this year. Expectations have increased but unfortunately the finance isn't there anymore. We have achieved so much in the 70 years in the NHS that there isn't the funding there to enable things to be done as well as people would like."
Despite both personal and profession-wide challenges, Jones remains undeterred. "I never came into nursing under any illusions. You don't go into nursing for the money, you go into nursing because it's something you want to do."