Tents occupying College Green in protest of Rough Sleeping policy given notice to leave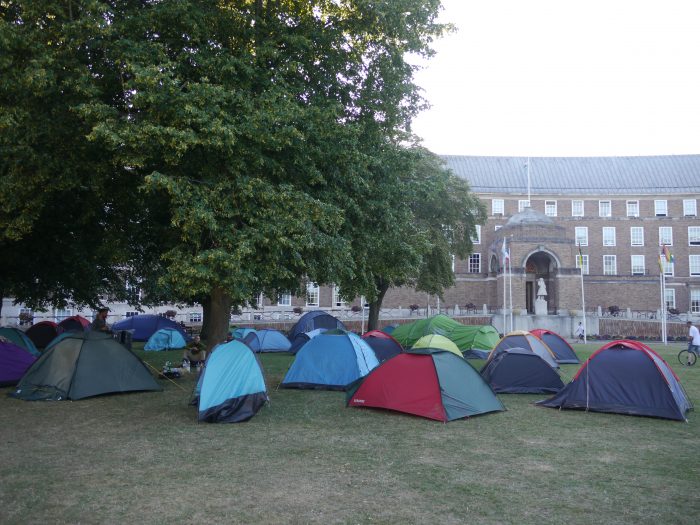 Bristol Housing Action Movement and Homes for All raise concerns about the council's new rough sleeping draft policy.
On Monday (2 July), housing activist groups, Bristol Housing Action Movement (BHAM) and Homes for All set up 31 tents on College Green as a demonstration against Bristol City Council's draft rough sleeping encampment policy. Yesterday, the Council's Neighbourhood Enforcement Team gave them 24 hours notice to leave.
The increase in rough sleeping in Bristol – which rocketed by 14% to 86 people between 2016 and 2017 – has prompted the council to take action against what it terms 'encampments' – locations where rough sleepers may live for periods of time.
"We've brought the issue directly to the Council's door"
The council's proposed policy formalises three scenarios for council intervention:
If property appears abandoned, it will be removed within a week (and possessions stored).
If an encampment generates public complaints of anti-social behaviour (public intimidation, drug activity, noise disturbance, outdoor toilet use), then it will be issued a dispersal order within a week.
And, if an encampment has lower-level anti-social behaviour, or none, then it will be issued a court order and evicted by bailiffs within three months.
Opponents to the plan say that the council is trying to hide the city's rough sleeping problem and say the council hasn't done enough to consult homeless people on the policy affecting them.
BHAM's spokesperson, Simon Jones says that they want to highlight some issues they have with the draft proposal. "We want to encourage homeless people to express their views on this proposed encampment policy. We've brought the issue directly to the council's door."
The council's Rough Sleeping Encampment Draft Policy
Paul Smith, Labour councillor and cabinet member for housing, said last Friday that the moves were taken after the council heard concerns that it was dealing with the issues of rough sleeping and people living in vehicles "in rather an ad hoc way".
"We're trying to find a consistent approach that we can use across the city which respects everybody"
He described the council's proposed policy as aiming to "find a consistent approach that we can use across the city which respects everybody".
The draft policy aims to move people rough sleeping off the streets and into the council's "homelessness pathways" – specifically through an initial seven-night stay in an emergency night shelter run by St. Mungo's where the individual's support needs can be assessed.
The draft policy states that homelessness can affect the way other citizens use public land in Bristol and that the council needs to manage its land "to ensure it can be used as intended for everyone".
"How does hiding the symptoms benefit our community?"
The rough sleeping draft policy – unlike the van-dwelling policy – does not recognise that some encampments may be "low impact". Rather than allowing people to stay indefinitely with "continued monitoring" reducing in frequency if there are no instances of anti-social behaviour, the maximum amount of time that rough sleeping encampments will be tolerated is three months before they are legally evicted by bailiffs.
BHAM and allied groups state they "support homeless support, night shelters, outreach, engagement and most importantly the council's work in pushing forward appropriate, safe and community led housing in Bristol" but they "question how hiding or pushing away the symptoms benefits our community".
They are also critical of the three-month maximum stay on a site if people refuse a hostel place, which they say could be "dangerous" for some recovering addicts or domestic abuse survivors. Hostels are mainly mixed dormitories and offer little privacy, although there is just one women-only hostel in Bristol. However, councillor Smith said that staying in a hostel is safer than being on the streets or in a tent, and that the Compass Centre is flexible and offers people the opportunity to sleep in separate rooms.
'Why is Destination Bristol part of the Rough Sleeping Partnership?'
Jones further criticised the inclusion of tourism company Destination Bristol in the Rough Sleeping Partnership, set up in 2015, which is led by St Mungo's and includes Avon and Somerset Police, Julian Trust, Crisis Centre Ministries and the Golden Key programme.
Destination Bristol, part set-up and funded by the council "promote the interests and development of the visitor economy, and work in close collaboration with stakeholders to develop and enhance the city centre", according to their website.
The chief executive of Destination Bristol is John Hirst, who hit the headlines in March when he said that homeless people are a "danger to the public" while linking rough sleepers with terrorism and supported a injunction to remove a homeless couple from Broadmead.
When asked about Destination Bristol, Smith defended its inclusion, pointing out that they've long been a partner in the Rough Sleeping Partnership and have played a role in getting support from businesses for homelessness agencies, including helping to set up donation points in Broadmead.
He added that businesses will have different reasons why they don't want rough sleeping, "but if they're making contributions that help us move people off the streets into more permanent housing, then that's helpful."
The tents remain on College Green, and Jones told the Cable that 16-18 homeless people came to occupy them. BHAM are spreading the word about the consultation on the draft policy that will directly affect people rough sleeping.
The Cable understands that they will soon leave the site and set up their tents elsewhere in the city.