The debate: High-rises in Bristol – addressing the housing crisis or soulless towers?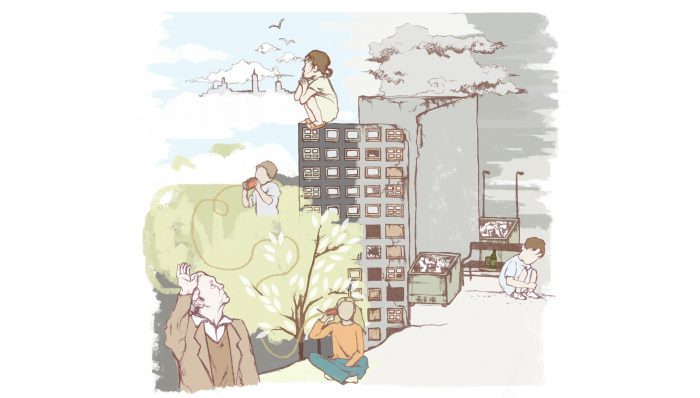 The council has launched a plan to build a number of high-rise residential towers across the city in a bid to make better use of the city's limited space, attracting resistance from campaigners and the Green Party, who say the towers are too high and unnecessary. Two players in the debate give their take.
Labour councillor Paul Smith, cabinet member for housing says…
In the film High-Rise, a luxury residential block increasingly experiences maintenance failures and then collapses into chaos – and the main protagonists seek out and kill its architect.
In the TV series Our Friends in the North, meanwhile, corrupt councillor Austin Donohue (based on the real-life Newcastle mayor T. Dan Smith) does deals with developers to build towers which turn out to be damp-ridden and depressing.
To put it lightly, tower blocks have an image problem and they have rarely delivered the 'streets in the sky' ideals promised by post-war modernists. Now ingrained on everyone's mind is the horror of the fire at Grenfell.
'In a limited number of central locations and near beleaguered East Street, Bedminster, we are encouraging tall buildings. Our new proposals are strong on the quality not just of the buildings, but also the spaces around them – the so-called public realm'
Given this, for many people high-rise living feels like an odd thing to be promoting. Earlier this year, Bristol council launched a consultation on urban living. In his foreword Marvin Rees said, "I want Bristol's skyline to grow." But he acknowledged there are valid arguments both for and against high buildings.
The consultation identified potential locations for taller buildings but in the main it was about promoting greater density at the ground-floor level, or low-rise. Bristol's most popular areas include Southville, Clifton and Easton – all high-density terraced areas. There is also a great sense of community in the new low-rise housing at Wapping Wharf. This is what the draft document sought to emulate.
In the post-war period Bristol council built more than 60 blocks scattered around the city, with larger clusters in the city centre. I was involved in having four of them demolished, three in Withywood – where the brick cladding was on the verge of falling away – plus Glendare House in Barton Hill, which was structurally unsound. In both cases these blocks were replaced with terraces and semi-detached housing rather than new blocks.
But Bristol's population is growing rapidly, by between 6,000 and 8,000 people every year. The council's Joint Spatial Plan requires Bristol to build 33,000 new homes by 2036, and by 2050 this target will be over 50,000 new homes. This is more housing than is currently in the entire Bristol South constituency.
But there are many restrictions. We are not going to build on the historic parks that are crucial to our city – which is not a blank piece of paper. There are not large open sites to build rows and rows of terraced houses, as were available to the Victorians. We can't buy up enormous tracts of farmland around the outskirts of the city and build new estates as the council did after the two world wars. Bristol is constrained by irrational boundaries and a rigid greenbelt, especially to the southwest. South Gloucestershire and Bath and North East Somerset councils are building on the edges of the city, but not enough to take pressure off Bristol's growth.
As the American writer Mark Twain said, "Buy land, they're not making it anymore." This Labour administration is being creative, reassessing land trapped by transport systems in locations such as the Cumberland Basin and Lawrence Hill roundabout. We are encouraging infill and imaginative approaches to increasing density on estates including Southmead, Knowle West and Lockleaze.
But these initiatives will not be enough. In a limited number of central locations and near beleaguered East Street, Bedminster, we are encouraging tall buildings. Some sites only lend themselves to taller buildings – those with a relatively small footprint or which are planned to be built above existing buildings – while some will help turn lone tall buildings into clusters of varying height.
The main location for such buildings is in the enterprise zone east of Temple Meads where there is a real opportunity to create a mixed commercial and residential neighbourhood. Historically Bristol has built taller buildings in foreboding and sterile settings. Temple Quarter, Rupert Street and Barton Hill are all examples of how not to do it. But our new proposals are strong on the quality not just of the buildings, but also the spaces around them – the so-called public realm.
The opponents of taller buildings cite other great cities that have developed without tall buildings. But Paris, often mentioned in these terms, has 47, 39-plus storey residential buildings – all much taller than anything proposed in Bristol. Copenhagen meanwhile has a 100m tower with 22 storeys of residential above commercial uses, and Vienna has a 51-storey block.
Bristol shouldn't have taller buildings because other cities have them. It's not a case of keeping up with the Joneses. It's about making the best use of land in a constrained city, while respecting the history, reflecting the topography and delivering good quality places to visit, live and work.
As for murdering architects…
City Hall is encouraging tower blocks in the centre of Bristol. The list of planned high-rises grows daily, and soon will cover all areas of the city: 26 storeys on the southeast edge of Castle Park, 17 storeys on Wine Street, 22 storeys in Redcliff Quarter, towering above Finzels Reach, 14 storeys on Bath Road at Totterdown Bridge and (would you believe it) two 20- and 22-storey towers on Bedminster Green. That's not to mention an entire high-rise city, Chinese investors willing, in the Cumberland Basin.
'Bristol is a beautiful city with a strong identity. Many continental cities attract skilled workers via their pleasant and vibrant streets, cafes, and urban life – and do not mess up their historic centres by allowing developers to dump tower blocks there. Why not learn from them?'
Let's get this straight. Despite what the mayor says, high-rises are not the answer to the housing crisis. You can see why people think they are the answer: take a small plot and build really tall. Put in lots and lots of apartments. Problem solved? But actually, no, this is not the answer.
Why not? Firstly, expense. According to a tall buildings specialist at construction firm AECOM, towers are significantly more expensive to build per unit. The structure has to be stronger, with lift shafts and sophisticated fire sprinklers. They're also more expensive to maintain, which is one of the reasons social landlords no longer build them. To put it simply, tower blocks will not solve the housing crisis, because they cost too much.
But here's the thing – they're not built for you. Really not for scruffs like you. They were built in London and in Manchester primarily for foreign investors who then often leave them empty (as we know from the buildings' electricity usage). Estate agents and developers, Manchester having been oversold, are eyeing Bristol as the 'next story' for foreign buyers.
But ordinary people won't be able to afford units in these towers, because of the higher costs per unit.
The second reason why we should reject tower blocks is they're not great for you. Extensive research shows most people are less happy in high-rises. High-rise residents, in general, are more depressed than people of the same income and status would be in mid-rise or low-rise buildings; they know their neighbours less, are less socially trusting, lonelier, and more likely to take their own lives. High-rises are especially bad for children, who make less friends, and difficult for mothers, who cannot let their young children out to play.
High-rises separate people from the street and from each other. They greatly reduce the number of chance encounters that are crucial to the liveliness of a city and to creating social capital. The base of a tower is often a dead space, lifeless and unhappy.
In contrast, mid-rises like Bristol's Wapping Wharf give residents or passers-by a sense of warmth – the kind of human feeling not found in towering skyscraper zones. We want Bristol to remain a warm, human, welcoming place.
Thirdly, they're not the best way to increase density. Densification of city centres is the new buzzword, partly because it enables people to move away from cars to cycles, public transport and walking. But mid-rise Paris and Barcelona are actually denser than high-rise Manhattan (and what's the densest borough in the UK? Islington, followed by Kensington and Chelsea!). High-rises are not necessary. Admittedly it is a little harder to densify without building tower blocks, but it is far preferable, given the lower costs and higher satisfaction associated with low- and mid-rise developments.
Fourthly, we should maintain the distinctive character of our historic city. Bristol is a beautiful city with a strong identity. Why mess up a historic city when you don't need to? Why create a generic high-rise jungle, just like Panama, Chengdu and anywhere else?
Why not follow the example of the continental cities? Many continental cities are so beautiful, so charming that we visit them on holidays, lounging around in the cafes of Amsterdam or Vienna. These are also the richest cities in Europe, attracting skilled workers because of their pleasant and vibrant streets, cafes and urban life. Those cities do not mess up their historic centres by allowing developers to dump tower blocks on them. Why not learn from them?
Have some imagination, councillors! Build mid-rise in St Philip's Marsh, which has marvellous road connections, proximity to Temple Meads and a potentially attractive riverfront. It has acres of dull single-storey commercial buildings. This could be a city-centre development that people would love: green, human-scale, mid-rise, neighbourly – but also vibrant and right at the heart of Bristol.
The sheer charm of Bristol is a huge economic asset. Why throw away our economic future to become a grim high-rise city, ruined by rampant developer-imposed chaos?
From edition 16, OUT NOW!
Read more from this edition.