Upfest: Women challenging the male-dominated graffiti scene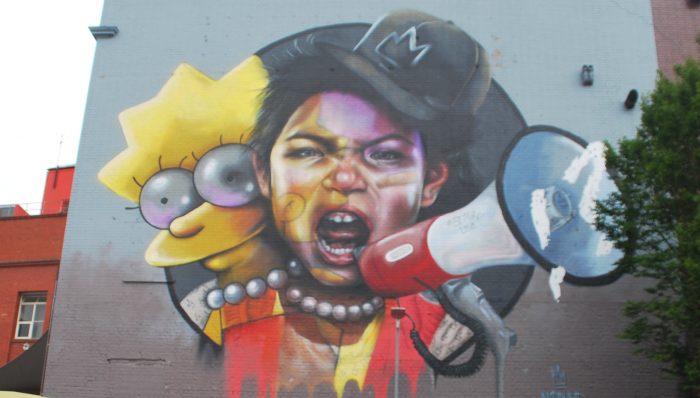 Upfest gave a nod to the centenary of women first getting the vote by joining forces with Bristol Women's Voice and some of the world's top female street artists.
Upfest, the biggest street art festival in Europe, has once again taken over Bedminster. Despite the constant threat of rain, which makes paint run and soaks spectators every time it hits, thousands fill the streets. There are 400 artists from 70 different countries painting in 50 different venues this year, so there's plenty to see.
A young girl is standing in Aldi car park watching the biggest of the murals taking shape. It's Lisa Simpson melded with a photorealistic painting of a short-haired girl with a scrunched up, angry face yelling into a megaphone.
"Is that a girl or a boy?" she asks Nomad Clan, the Manchester-based graffiti duo painting it. When they tell her it's a girl, her eyes light up. "Good," she says, with satisfaction.
Nomad Clan are graffiti artists CBloxx and Aylo, who met four years ago at paint jams. The pair, who paint massive murals dealing with socioeconomic issues such as mill closures and inner-city deprivation, have been named two of the top five female street artists in the world and have painted nearly every year at Upfest.
This year they're painting as part of the Bristol Women's Voice/Upfest collaboration. As well as it being the 10th anniversary of Upfest, 2018 also marks 100 years since the first women got the vote and Bristol Women's Voice is marking the centenary by having three artists paint feminist pieces on prominent walls.
Nomad Clan have had the additional challenge of making their mural Simpsons-themed, because the TV show is one of this year's sponsors, so they naturally went for Lisa. CBloxx says they wanted the piece to tap into the imaginations of kids. "The overall vibe is this cool little kid with some serious attitude," she tells the Cable.
Aylo says that they're going back to their roots with the mural because she comes from a more cartoon-style kind of illustration background and CBloxx's work is traditionally more photo-realistic. This piece combines both.
A male-dominated graffiti scene, but the times are – slowly – changing
While there are more female graffiti artists now, it's still very clearly a male-dominated scene. Women are everywhere at Upfest: beautiful women painted by talented men. It's a theme as old as art itself. I walk past wall after wall of portraits of women stories-high looking sultry and moody. Men love painting women, but female graffiti artists have their work frequently undermined.
"Every time a woman's work is compared to a man's — in order to size her up in relation to him — we are reinforcing barriers for women in the arts," wrote freelance writer Chelsea Iversen in 2016. "Thanks to slow-changing social norms, women in street art haven't been evaluated on the basis of sheer merit, but rather on their gender, i.e., how good they are 'for a girl'."
It's an issue at Upfest, too. While there are plenty of women painting the smaller boards at the festival, the walls reserved for the murals are still mainly painted by men. But this year, there are more women painting – the walls as well as the boards – than in previous years. Bristol illustrator and mural painter Zoe Power, another artist painting a wall as part of the Women's Voice/Upfest collaboration, says that things are slowly changing.
"More and more women are gaining a place in the scene"
"They are choosing more big names that are female than previously. I think there's always been women painting the smaller boards but there's been less of a presence on the main strip," she says.
"More and more women are gaining a place in the scene, you get more and more women doing super big jobs," says Argentinian artist Caro Pepe, the third artist painting one of the Women's Voices walls.
Pepe's mural, a one-eyed woman (her trademark) with symbols of the suffragette movement exploding out of her head, is about generations of women standing together. "My concept was to express how all women are all carrying each other's legacy: we are the result of the previous generation's struggles and successes so in a way we are really privileged but it's also a responsibility to make it for the future generations of women."
"I think it's definitely becoming less laddy and less tolerant of people just painting really titsy women, which I think the graffiti world has been doing a bit too much of for a bit too long"
She lives in Berlin and has come to Bristol especially for Upfest. This is the third year she's been painting at the festival and this is the best wall she's had so far. Pepe says that it's easy for women to start on the graffiti scene, it's when you get higher up and start getting the good jobs that it can get harder.
"I think it's definitely becoming less 'laddy' and less tolerant of people just painting really titsy women, which I think the graffiti world has been doing a bit too much of for a bit too long," says Power.
Not just art for art's sake
You can tell that Cbloxx and Aylo are a bit sick of talking about being women in the graffiti scene. It's a question they get asked a lot. But being dismissed because of their gender -and sexuality – is something they have both experienced.
"We've had a few people in the past say we're only this successful because we're female or because of our sexuality."
"We've had a few people in the past say we're only this successful because we're female or because of our sexuality," says Aylo. "And that made me want to make our work as great as possible so that when someone makes that kind of comment it sounds stupid. It does push you to go bigger and better with everything that you do."
"It's not just about being women," adds Aylo. There are different setbacks for all sorts of reasons, like where you're based in the country or in the world. Everybody has their own issues to overcome, it just happens that we're women and we're queer so we have those issues and we get asked a lot to talk about them because right now I think it's quite current."
"Being northern and being queer is as important," adds CBloxx. "Growing up as a queer in northern England in the 90s… it wasn't necessarily the most open-minded of areas…"
She says that there's "a new set of bullshit" for every generation. It's what makes it so important to use the platform to share big messages, says Aylo. "When you've got a platform that's so big and you've got the opportunity to put something in front of so many people's eyes, I think it's worth saying something rather than it being art just for art's sake – another pretty woman or another dead celebrity – use that space to say something and to make people think. To me that's what art is, it makes people talk, it creates conversation, it inspires people."