Has a new 'Banksy' appeared on Bristol drugs rehab?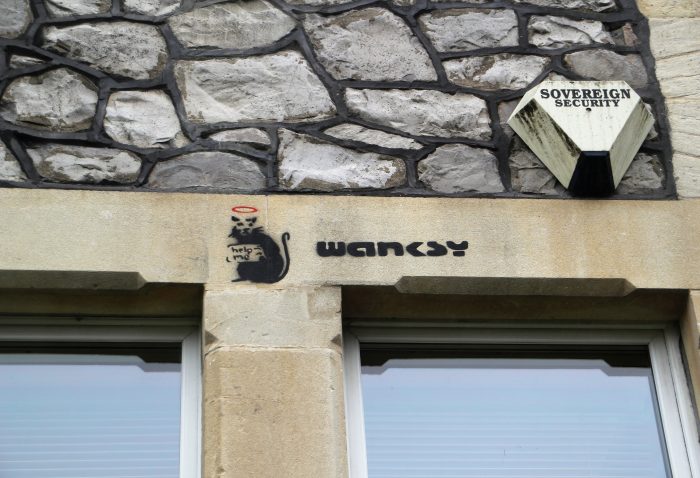 It appears that the elusive artist Banksy might have lent his support to Chandos House as it tries to raise money to avoid closing down.
Two new works possibly by world-famous graffiti artist Banksy have appeared at Chandos House in Redland – Bristol's last remaining drugs rehab, now facing closure.
Part of our series
Addicted Bristol: Life and Death
Read more
The rehab centre has been fundraising after reductions in the money received from local councils. Chandos House's executive director James Dickinson has said staff numbers have been cut in half and the centre will have to close soon if £100,000 isn't raised.
With its future under threat, former Chandos House residents told the Cable about how treatment saved their lives, following decades of battling addiction.
Two small pieces resembling Banksy's iconic rat holding up a sign saying 'help me' appeared on the building in Redland on Wednesday morning. It is yet to be confirmed if Banksy himself is behind them.
Banksy would be just the latest celebrity to lend their support to Chandos House, following comedian Russell Brand and writer Will Self, who spoke to the Cable about the failure to tackle Bristol's drug problems.
A number of local artists, including Inkie, Cheba and Alex Lucas have also donated their work to help fundraising efforts.
Bristol-born Banksy has tried to help out his home city recently. In July this year, he contacted Mayor Marvin Rees to help support Bristol's under threat libraries. This followed the news that the council would work with community groups to keep all libraries open after closures had loomed for months.
In 2014, the artist raised £400,000 to save Broad Plain Boys' Club in St Judes by painting a mural called Mobile Lovers, which was sold to a private bidder.
It appears that recently he has also been active locally. Only a few weeks ago, he is thought to have painted on a road sign in Clevedon depicting an elderly couple being carried by two children, which was removed within 24 hours.
James Dickinson told the Cable: "I think Banksy will make us. I'm all up for saving libraries and the boys' club, but picking on old ladies in Clevedon, what's that all about? He should be here. Charity starts at home. Bristol for Bristol."
Dickinson said he invited the elusive artist in by putting a spotlight on the front of the building, as well as a stepladder.
"We've had the three iconic musketeers, Chuba, Inkie and Alex Lucas who are donating, working and supporting us, and I think sadly the most influential one is Banksy and he hadn't joined. So I put all this stuff out and lo and behold, we've got two [paintings]."
The rehab centre, the last of its kind in Bristol, offers treatment to up to 15 men, who either receive funding from their local council or pay for it themselves.
The residential treatment is an abstinence-based, holistic approach with one-to-one support, groups sessions and creative activities like art and yoga, as well as access to aftercare once they have moved on.
Read more from this series and share it to help spread the word about drugs in the city.
Addiction touches people personally and affects family and friends. If you would like to share your experiences (anonymously if you wish) get in touch Matty@thebristolcable.org.