Revealed: Bristol's drug services dogged by problems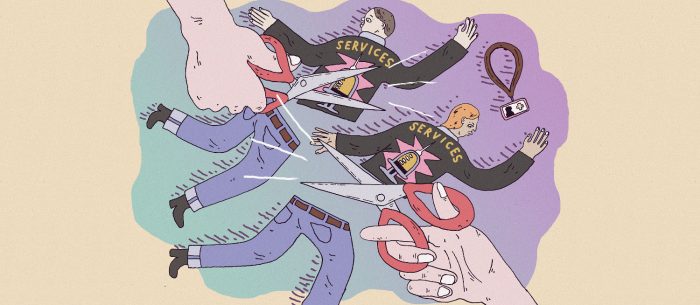 Fewer specialist services, staffing problems and the most vulnerable users missing out – drug workers speak out about the harmful effects of funding cuts and re-commissioning.
Bristol's restructured drug and alcohol services are going "disastrously badly" in places, workers in the sector have told the Cable, fuelling concerns that drug users are being put at risk.
The Cable's investigation has revealed services being reduced after funding cuts, staffing problems, drop-in sessions not always running and users falling through the cracks and even ending up in A&E.
The recent failure to re-commission the complex needs part of the service – for the most vulnerable addicts – is costing the council over £1m as the contract is distributed among different providers. A senior figure in the sector, who wanted to remain anonymous, described this re-commissioning system, which is intended to bring greater cost efficiency, as "cumbersome, unwieldy and grossly inefficient".
It has left treatment less specialised, workers say, which is most likely to affect severe alcoholics and users with mental health problems.
Under the new model, the services are mainly delivered by third-sector providers Bristol Drugs Project (BDP) and Developing Health Independence (DHI), with NHS provider Avon and Wiltshire Mental Health Partnership (AWP) playing a smaller role.
The new drug and alcohol service, known as ROADS, which launched in February, has had its budget cut by more than £1m compared with 2016/17 services, resulting in an estimated 25% reduction in staffing levels.
"I don't think I would've been able to get into recovery, or maybe I wouldn't even be here without Bristol's drug services. Addiction is bad. It kills people"
The senior source told the Cable: "The reduction in funding has had a major implication on the service that can be delivered. With a reduction in the specialist end, people with more complex problems will have more challenges accessing the service."
Toby Ahearne, 45, is a former heroin and crack addict. He has been clean for two and a half years, but fears for users who may not be able to access the same vital services that helped him begin his recovery. Having been addicted to drugs for 20 years, he started fully engaging with BDP services in 2010.
"They really helped me and a lot of the people there had been through recovery themselves. I'm incredibly grateful," he said.
"I don't think I would've been able to get into recovery, or maybe I wouldn't even be here, without Bristol's drug services, because it got pretty heavy and dark. Addiction is bad. It kills people. I do worry for people who are in the same position now when services aren't there for people."
In Bristol, which has the highest estimated rate of heroin and crack users of any major English city outside London, drug-related deaths are at a record high, with 93 users in the city dying from 2014 to 2016.
Drug and alcohol services used to be commissioned by the NHS, but this responsibility was transferred to local councils in 2013. Councils fund the services from a public health grant they receive from central government, which has been cut significantly since 2013 and is set to be reduced even further in years to come.
The Cable has spoken to a number of workers in the drug services who said parts of the new services are not working as they should. One staff member, who also wanted to remain anonymous, said: "Everybody knows at the moment that the DHI bit of the contract is going disastrously badly. The commissioners know that the new service is going terribly and the transition over was not planned very well." Another described the transition to the new model as "a shambles".
The new treatment services include three community recovery hubs around the city. The Southern hub in Hartcliffe, where drug problems are particularly prominent, had only one member of staff at one stage.
Drop-in sessions have not been running at times, meaning some users have had to wait weeks only to receive a partial phone assessment. On top of this, staff have described the buildings where the new recovery hubs are based as "not fit for purpose".
"All feedback I've heard from staff is that buildings are really difficult to run groups from," one employee said. "The staff that I speak to are horrified. Most are in the process of looking for a new job if they haven't already found one."
DHI* said drop-in sessions had not been closed, but had instead been "tailored to make better use of staff and peer time", and that their peer buddying service had a dedicated phone line to respond "in a more immediate way".
They added that the staff shortages, which were due to TUPE rules and staff wanting to stay in central Bristol, were now being filled, that groups were being run from the three hubs so people could access services locally, and that waiting times resulting from high demand were reduced for those in urgent need.
DHI also rejected claims the recovery hubs were providing a reduced service, and that fewer groups were running for shorter periods of time with less one-to-one support.
"It will be the most vulnerable people who get missed, those who struggle to leave the house…"
A former worker said: "It doesn't make sense to spend years building up a service to then see it completely dismantled. BDP's recovery service was really well-respected. Many have left and many who stayed feel demoralised. That's a lot of years of experience lost, and in this line of work, that's what counts."
They added that DHI relies on an 'asset-based community development' model, which tries to connect people back into their community through external groups and activities, which is problematic when these other services are also being cut.
DHI are known for using more peer mentors than BDP. One worker said: "Peers, who are volunteers, are working alongside paid staff to reduce costs. Don't get me wrong, working with peers can be really beneficial, but you need a baseline of paid, well-trained staff."
DHI said the use of peer mentors was a "conscious decision in the best interests of service users who can benefit from lived experience".
Re-commissioning causing disruption
Treatment providers refused to bid for the complex needs element of the contract last autumn, because the £1.2m offered by Bristol City Council was considered not enough to deliver a safe and effective service.
The failure to re-commission this part of the contract, which has been distributed among providers, will cost the council an extra £300,000 a year – the equivalent of 25% more than the original amount offered.
A senior source in the sector said: "The re-commissioning process is cumbersome, unwieldy and grossly inefficient. Any re-commissioning when services are [already] delivering seems futile, but I recognise the local authority's hands are tied."
He praised the council for making the new contracts five years long with possible extensions, meaning that similar problems are less likely in future. Nonetheless, the re-commissioning process has failed to cut costs as intended and caused disruption to services during the handover period from one provider to another.
"When you go through re-commissioning, there is enormous turbulence and it creates challenges for the population we serve," the senior figure said.
"People do sometimes fall through the cracks and are lost in the system, but when we do a transition we recognise that will happen and identify ways to get those people back into services. However, there will be people who have to be migrated out because the model is different, so there'll be less service for them – particularly the high-end alcohol users."
For example, one alcoholic was referred in autumn 2017, but didn't receive treatment until February because of changes to the services. During the months they went without treatment, they had seizures on the street due to alcohol withdrawal and a number of visits to A&E.
"It will be the most vulnerable who get missed"
The drug worker said that the reorganisation of complex needs services following the re-commissioning failure would mean fewer vulnerable people would have access to the services they needed, as specialist treatments that used to be delivered by NHS provider AWP are being taken over by DHI.
"Certainly the number of people who are seen by the complex need services will be reduced," they said. "It will be the most vulnerable people who get missed, those who struggle to leave the house, who need one-to-one support and preparation work to get to rehab."
Users who have a dual diagnosis – mental health problems alongside their addiction – may also miss out. The worker said that specialised sessions for people with depression and anxiety, as well as Dialectical Behaviour Therapy (DBT) groups, will probably not be continued.
There may also be no specialised preparation service for getting people to rehab, who are unsuitable for community services because of mental health problems or a history of trauma or crime.
"Rehab is the gold standard of treatment. It's not as simple as just doing the paperwork and getting them there. You need to do underlying preparation work to make sure that people are ready. I think that is probably going to be lost," the worker said.
They added that the new complex needs model will be less specialised. "It's not necessarily a loss of service but a loss of specialist support. In the last five years, less trained staff have been asked to do more complex things, which makes the service more and more unsafe."
The senior source shares this concern. "The biggest challenges are in the alcohol service that DHI are running. There is less of a focus on the severely dependent alcohol population, which has a high mortality and is a high user of hospital services. There may be a knock-on consequence there for the NHS."
"People with alcohol dependence need a lot of intensive support to get them through a detox process and into long-term recovery with residential rehab."
Sarah Shatwell, Operations Director for DHI, said: "We started our Community Recovery Service in Bristol in February of this year, and our staff have been working extremely hard to make sure that the new service is set up as quickly and smoothly as possible, with minimal disruption for existing service users, many of whom were transitioned over to us during the first few weeks of the new service, with the full support and co-operation of our ROADS partners.
"The new service is based on a model which sees drug and alcohol recovery more embedded in the community than ever, and utilises the lived experience of peers to help other people overcome addiction, who also report huge benefits to themselves from giving back and getting valuable experience that makes it more likely that they gain employment," she added.
"Our hub in South Bristol is the newest of our three community hub and it's great that people in South Bristol are now able to access a service easily. It is not fully up and running yet, as we agreed with the commissioners and other treatment partners that the first priority was to ensure existing service users' services weren't affected, but it has been offering regular group support since February and is, along with our new North hub, providing improved access for people ."
The council did not respond to specific criticisms of the new services, but councillor Asher Craig, cabinet member for communities, said: "ROADS offers vital support for some of the most vulnerable in our city. We have worked hard with partners to develop an offer that will work for everyone. The complex needs section of this service supports those most in need and in its new format will still benefit from specialist expertise.
"Throughout the transition process, we have focused on minimising disruption for people who need the ROADS services and we are working closely with our commissioned providers to ensure people are seen as quickly as possible."
*Parts of this article have been amended from the version in the Summer 2018 print edition, including the addition of DHI's statement.