Yoga will not fix the NHS stress crisis, staff say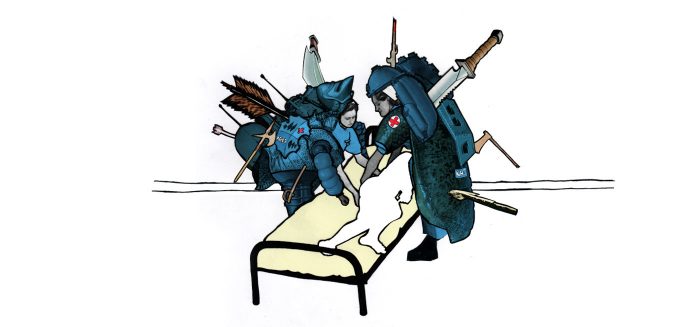 Stressed out staff say they need need system change and leadership support, not resilience training.
Helen* is a doctor at Southmead Hospital. In the 11 years since she started working, the NHS has changed a lot. A growing emphasis on targets has been one of the most noticeable things: when she first started working in A&E, the four-hour target was such a priority that managers would sometimes wheel patients away from of doctors while they were still seeing them. She says that's got better in recent years. A tightening of resources has also been felt keenly. "There's some places I've worked in that work on 80% agency staff – it's terrible for people that are permanent and terrible for people that are agency," she tells the Cable.
"It's not necessarily not well meaning, it's just that it's not the answer"
Lately, there's been another change. Posters have been cropping up in staff areas advertising drop-in mindfulness sessions as part of the hospital's resilience programme. Health Education England (HEE) describes resilience as "the ability to bounce back – a capacity to absorb negative conditions, integrate them in meaningful ways, and move forward". It's increasingly seen as important as, and sometimes eclipsed by, the more traditional characteristics that medical staff are expected to have, like empathy, decision-making and conscientiousness. It's even appearing more in personal specifications for jobs in NHS leadership roles. In 2015, the head of the General Medical Council said that resilience training for doctors was as important as it is for soldiers serving in Afghanistan.
Helen is not impressed by the recent push towards resilience training. "It's not necessarily not well meaning, it's just that it's not the answer. It's putting it on individuals to make changes to allow them to deal with work in difficult environments rather than making the environment more sustainable," she tells the Cable.
"I'm in no way anti-mindfulness but to me that seems like a single drop-in of mindfulness is like pissing in the wind."
The new buzzword
With impossible workloads and a constant squeezing of resources, NHS staff are suffering from unsustainable levels of stress. A 2016 study found that nearly 60% of doctors have had mental health problems at some point of their career.
"If you've got someone hitting you with a stick, do you want them to provide padded clothing so they can carry on hitting you? Or do you want them to drop the stick?"
Stress-related absences have soared in the NHS over the last few years, and in Bristol the situation is dire. A Cable investigation in April found an 80% rise in absences because of stress in North Bristol Trust since 2010.
Against this backdrop, resilience has become something of a buzzword, despite, as the psychiatrist, academic and writer Professor Linda Gask has written, research into its effectiveness being "patchy at best".
Nick* is a nurse in Bristol with 30 years service and a Royal College of Nursing (RCN) trade union representative. "We shouldn't limit ourselves to thinking that if an employer offers resilience training that's enough," he tells the Cable.
"I think the idea of offering NHS employees the chance to improve their coping strategies and resources is a good idea, but I think the caution I have is that it shouldn't just be a 'one shot deal'…  if the staff are still feeling quite stressed or struggling at work [after] it shouldn't then be turned round to 'well, we've offered you resilience training, we've ticked that box'."
The trust he works for offers free yoga classes, counselling and a bullying and harassment hotline, as well as flexible working, which he says is indispensable for staff who are also carers.
"All these things individually are good things," says Helen. "It's just that it seems like it's a very reactionary thing and all of them take someone having the impetus to go and do those things rather than necessarily putting support in in the environment that you already work."
"If you're finding that work is difficult and you're struggling, then going to a single session of sitting in a room trying to work out how not to think about stuff is not going to be the answer. It's really not.
"And that seems like a very token thing to me. Like they've thought 'mindfulness seems to be a thing, let's do some sessions of that'."
"Drop the stick"
Trying to fix these with resilience training sessions is like trying to cure influenza with a sticking plaster, according to Chris Lake, managing director of Integrated Development Ltd and former head of professional development at the NHS Leadership Academy. "The thing that's making a patient feel very poorly isn't a small cut, it's a systemic infestation infecting the whole organism of the human body."
"I don't do resilience training. I never will."
Lake regularly gets requests for resilience training sessions but he says that organisations need a more holistic approach than just helping people deal with stress. Over the last year, HR directors have frequently contacted him, asking him to give staff a one-day resilience training session after getting survey results in saying their trust needed to be better around bullying and harassment, inclusion and diversity, staff sickness and morale.
"My response is: if you've got someone hitting you with a stick, do you want them to provide padded clothing – which is what resilience training is – so they can carry on hitting you with a stick? Or do you want them to drop the stick?"
"People feeling like they're individually valued in their job and getting feedback and support from colleagues is really important"
He's keen to make it clear that resilience is an important trait and that there's nothing wrong with offering it. Diet, sleep, fitness and lifestyle all have a dramatic impact on a person's emotional resilience, but equally important is support from within the organisation. He regularly talks to HR directors about culture, management and leadership practices, expectations and the climate of the organisation, as well as flexible working, supervision and "good old-fashioned HR and personnel practices".
"Resilience is great but you're asking too much of it sometimes," he says.
The workforce crisis
Part of our series: Inside the NHS
Read more from this campaign.
"If you got treated in the private sector in the way that you get treated in a lot of public sector organisations, people would just leave for a different company," says Helen. But losing staff is already one of the biggest problems the NHS faces and could soon take over from underfunding as the institution's biggest problem. Inability to recruit and retain enough staff is a serious issue and it's partly due to workplace pressure and low morale.
HEE reported that one of the trusts it monitored loses more than a third of its nursing staff a year. And, with a 96% drop in EU nurses registering to work in the UK since the Brexit vote, it's only going to get worse, although the government recently lifted the immigration cap on doctors and nurses to relieve some of the pressure.
What does help is being valued and supported in your team, says Helen. "People feeling like they're individually valued in their job and getting feedback and support from colleagues is really important and isn't emphasised enough. And that is what builds team resilience: having a really good team and having a management structure that supports that… that sort of structure makes people want to stay in a job."
*Names have been changed to protect anonymity