From poverty to luxury: hidden history behind the Blackberry Hill housing development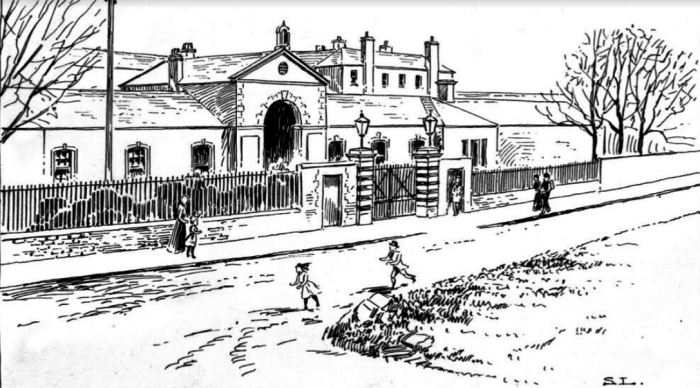 Residents of the luxury Blackberry Hill housing developments now under construction on Manor Road in Fishponds will be adding a chapter to a colourful and often grim history.
Where a 2-bedroom house will cost £285,000 and a 4-bedroom £395,000, was once the Stapleton Workhouse for the poor of the parish, and before that a prisoner-of-war camp.
The original Workhouse was a few yards from the development at Turvey's Corner, now the junction of Glaisdale Road and College Road. It had been the site of Dr. Joseph Mason's first 'Madhouse' and doubled-up as his family home from 1740 onwards.
By 1764, he was building the expansive Fishponds Lunatic Asylum nearby. Meanwhile, impoverished men, women and children, mostly farm labourers, from the village of Stapleton, moved into his old house.
It was a small Workhouse with 20 recorded inhabitants in 1795 – five men, seven women and eight children. They had to work to earn their keep and got three meals a day. Their diet was meagre but varied, from boiled beef, vegetables, bread and beer three days a week to bread, cheese, beer and the occasional milk broth or rice on other days.
Prisoners-of-war and 'obscene devices'
The American War of Independence (1775-1782) had occasioned the need for an internment camp for Dutch and Spanish sailors and others sympathetic to the American cause. The forbidding cell blocks that are now being converted into modern dwellings were then known as Stapleton Prison. And during the Napoleonic Wars (1803-15) it expanded further to house captured French soldiers, who had to help add new wings. They ran their own market to earn pocket money.
In 1808, Mr Birtle, Secretary of the soon to be defunct Bristol Society for the Suppression of Vice, wrote that "They wished to intrude on me a variety of devices in bone and wood of the most obscene kind, particularly those representing a crime inter Christianos non nominandum, which they termed the new fashion. I purchased a few…' ('a crime not to mentioned among Christians' was a reference to anal sex or bestiality).
When the war was over, the building was used as a naval store and then as a boys' school, but not for long. When the Bristol Corporation of the Poor (BCP) needed an overflow for its crowded, insanitary city centre Workhouse in St Peter's Hospital – in what is now Castle Park – they rented then bought the buildings in 1837.
Growing demand
Now called Stapleton Workhouse, the building was gradually extended, with medical facilities and its own vegetable gardens, as demand grew over the coming century, and Fishponds developed an identity of its own.
By the time of the 1881 Census, the then Bristol Union Workhouse contained almost 2,000 men, women and children with a staff of 25 led by a Master, Irishman Richard Hughes.
Among the staff, there were also six nurses to deal with 'imbeciles' a term then used, along with 'idiots', to label those we would now say had learning disabilities or suffered from forms of dementia.
Boys had a schoolmaster and assistant, and girls an infants' school-mistresses, and there was an industrial trainer for girls and a male drill instructor.
According to the 1881 Census returns, the majority of inmates came from Bristol and the West Country, but many came from further afield. There were 79 from Ireland, 37 from Wales, 31 Londoners and 7 from Scotland. Others were from as far away as America, Chile, China, France, Germany, Gibraltar, India, Italy, Newfoundland, and Nova Scotia.
The oldest inmates were 97-year-old twins Maria, a domestic servant, and her 'imbecile' sister Mary, and 96-year-old William Chedzoy from Minehead. The youngest were four 1-year-old children, a boy and girl from Stapleton and two girls from Surrey.
Map of Stapleton workhouse at the time of the 1881 census
Corporal Punishment
Heads would roll if the Care Quality Commission got their hands on the Bristol Union Workhouse Punishment Book for Stapleton. Although carefully tabulated to ensure adequate supervision of disciplinary measures, the records were kept neither completely nor consistently.
What has survived covering the years 1886 to 1920 provide a fascinating insight into the punishments considered appropriate for those who broke the rules.
The first two entries concerned 34-year-old Philip Rose who was put in a cell for 12 hours on 12 October 1886, and again a month later for almost nine hours, on both occasions for 'disorderly conduct' which covered a multitude of sins from fighting to kicking doors and refusing to obey orders.
Corporal punishment was meted out to school age children. In December 1889, Reuben White was birched for spitting on the bedroom walls, as was William Owen for refusing to make his bed. So were young teenage boys who bunked off school. Other youngsters got caned for 'wilfully pulling down' a Mr Stephen's new wall in Stapleton, or for causing damage to a Mr. W. Bird's trees while out scrumping for fruit.
The first young woman singled out for punishment was 16-year-old Amy Kingsworth, locked up for 12 hours in March 1887 for fighting. That July Eliza Driscoll, 38, and Selina Cogan, 28, got the same for the same offence.
Poor old Harriet Cavill, hit on the arm with a stick by Sarah Townely, 47, in November 1906, was in the wars again in January 1907 when she was struck by Mary Vickery, 44. Both her assailants were put on a three-meal diet of bread and water.
Young women seemed frequently in trouble for insubordination and using obscene language. In February 1911 Nellie Paul, 18, got a bread & water diet or 3 meals, but that did not do the trick as she earned the same punishment in June for swearing.
But things were tougher for some. George Lord, 31, got 4 months hard labour for absconding and stealing 4lbs of potatoes from the gardens, and William Jones, 32, got more than he bargained for when he damaged a bath towel – 14 days hard labour.
Octogenarians Henry Comer and John Broom and Dennis King, 75, had their liberty to leave the Workhouse stopped for three months for creating noise and refusing to obey orders, John Pitman, 68, had his tea and sugar allowances stopped for using his tea as tobacco, and cutting his waistcoat to make an extra pocket!
There were a lot of drink-related incidents. John Bookman 67, caught drinking the methylated spirits issued to him for a painting job lost all his 'extras' and his freedom to leave the Workhouse was stopped.
Perhaps the most intriguing offence was what the Punishment Book discreetly termed 'Dirty Habits'. In 1889, 73-year-old William Hawker, had to make do with the 'disorderly diet' for his unspecified 'dirty habit'. A year later Thomas Please 76, got three meals of bread water for his.
The final entry, on 19 October 1920, saw George Davis, and George and Thomas Holmes put on a bread a water diet for wilful damage.
By then, the Workhouse was known as Stapleton Institution for the Maintenance and Workshop Training of Certified Mental Defectives, and inmates had been engaged in contributing to the war effort.
Workhouses until the Welfare State
Although Workhouses under the Poor Laws were officially supposed to come to an end with passage of the local Government Act 1929, many continued to survive until the creation the Welfare State after World War II.
Immediately after the war, Stapleton Workhouse had become Stapleton Hospital, a mental health facility, but in 1948 it was Stapleton Hospital for Geriatric Illnesses. Almost a decade later, it was renamed Manor Park Hospital, then, in the 1990s merged with what had been Glenside Lunatic Asylum to form Blackberry Hill Hospital.
The Glenside buildings now house the University of the West of England Faculty of Health and Applied Sciences. Part of the old Workhouse complex became Fromeside, an 80-bed medium secure unit for people with mental illness and/or personality disorders, and the Wickham Unit, a low-secure service with 29 residents.
In 2009 the remaining 21 acres of the Blackberry Hill site were sold to the Homes and Communities Agency with the intention that development could bring significant benefits to the local community, acknowledging that Fishponds is in need of affordable housing.
Mike Jempson is currently researching the history of Stapleton Workhouse and the private lunatic asylums of Fishponds.