"This isn't over": Hundreds march to save Hamilton House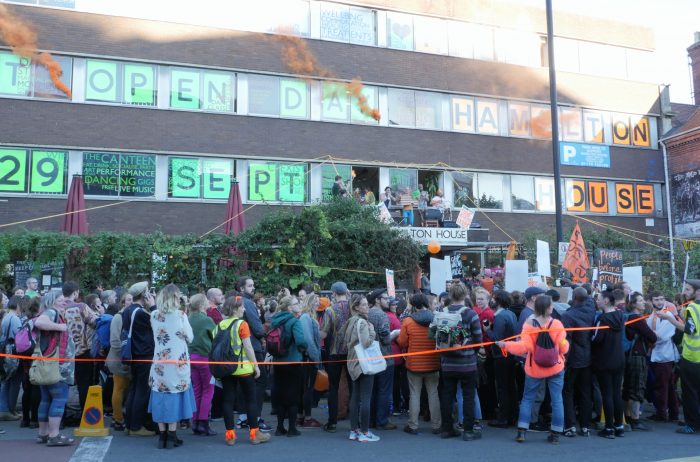 Coexist's Hamilton House adventure could soon be over but they have a new opportunity for community ownership on the horizon.
Photos: Matty Edwards
Hundreds of people have marched to save Hamilton House in Stokes Croft, as Coexist, the social enterprise that has managed the building for a decade, tries to prevent being kicked out.
Following the news that the building's owners Connolly and Callaghan (C&C) lost faith in Coexist's ability to provide a workable business plan, there has been an outpouring of support for Coexist from the local community.
"C&C have asked us to leave but the community don't want us to leave. It's really empowering to feel that"
The raucous protest on Wednesday evening, which saw hundreds of people dressed in orange singing and dancing, marks the culmination of a year-long saga, growing frustrations and deteriorating relationship between Coexist and C&C.
The crowds marched from Hamilton House to College Green with shouts of "Whose streets? Our streets! Whose house? Our house!", and were accompanied by a brass band and sea of banners.
In a speech to the crowd, Coexist's co-director Danny Balla said: "C&C have asked us to leave but the community don't want us to leave. It's really empowering to feel that and hear your voices and support."
"The message it sends to C&C is that this is a much loved project and a much loved organisation that has created it and you can't really seperate those two things," he said.
Tense negotiations about the future of community activities at the Stokes Croft cultural hub have also coincided with C&C's plans to redevelop part of the building into flats.
One of the three blocks was emptied in March, resulting in the eviction of hundreds of tenants, and another block will also become flats if C&C are forced to submit a full planning application. They will have to do so if their rejected fast-track application under permitted development rights is not overturned at appeal in October.
Gem Burgoyne, who was evicted from block C in March, said in a speech at College Green: "I've seen first-hard the difference that Coexist has made. For me as a mother, I was self-employed, working from home and felt really isolated, but that place provided an affordable space for me to develop my work and the opportunities that came from that were phenomenal. I found a community of amazing people."
"This slow destabilising of Coexist's project through astronomical rent increases, the decrease in space, the evictions, the loss of income and the constant moving of goalposts has been calculated to say the least," she said. "We can stop this tide of corporate gentrification. We've got the power to change the direction of all of this."
A cultural hub in transition
Coexist want to stay in the building until February to help with the transition, because C&C are not expecting to sign a long-term lease with a new organisation until then, but it remains unclear when they will have to leave.
Coexist is currently working with projects that may need to be relocated and that they expect lots of tenants to reject licenses under a new management organisation.
"I don't think this is over. The future is unwritten and there's going to be twists and turns yet"
C&C said that in the meantime they were in the process of appointing interim managers to "ensure continuity" for licensees. The Cable understands the interim manager is likely to be Gavin Eddy of Forward Step – who was the independent consultant asked to review Coexist's business plan.
The plan presented how they would deal with a 400% rent increase. Coexist say much of it was supported by Eddy, who thought C&C's lease wasn't fit for purpose, but C&C rejected it because they didn't want to sign a ten-year lease when financial plans relied on grant funding.
However, since an emotionally charged public meeting earlier this month, where Coexist called for people to take action to save the community hub, they have received support  from various organisations, including Bristol Music Trust and Colston Hall, the Arnolfini, St Werburghs Community Centre and Bristol Community Rehabilitation Centre.
After the march, Balla told the Cable: "The number of people prepared to come together shows a real hunger and will for something that is positive and community focused. In Bristol, we have the collective willpower to realise something really exciting and Coexist's responsibility is helping help with that."
He criticised the council for not intervening and said the mayor and all political parties had been "silent". "The people who represent us haven't spoken out and they have an opportunity to do that. They can say to C&C to get back to the negotiating table with Coexist."
He said said that while important work was being done to help licensees who want to stay at Hamilton House, it was still possible to get C&C to change their minds.
"I don't think this is over. The future is unwritten and there are going to be twists and turns yet"
"The biggest priority is convincing C&C that we've got this. We've got a business plan which can deliver, the team to deliver, the community support. We need to demonstrate that we're the best option."
"I don't think this is over. The future is unwritten and there are going to be twists and turns yet."
"Genuinely community owned"
As their time at Hamilton House appears to be up, Coexist told the Cable that they are about to announce a community share offer to buy a different building nearby. Community ownership has long been an ambition of the social enterprise, but they had bids for Hamilton House rejected.
Details of the scheme are to be announced in the next few days, but Coexist said it would allow crucial outreach activities to continue and members of the community could own an equal share and have an equal say.
Balla told the Cable: "It would be smaller than Hamilton House but could be genuinely community owned and provide stability for the transformative projects we do. Even if we can't own Hamilton House, we can get another building into community ownership."
A spokesperson for C&C said: "We recognise the passion and enthusiasm of the community of Hamilton House, which was the vision of Connolly & Callaghan who own the building and encouraged its use as a social enterprise. The demonstration through Bristol last night shows that people care about its future, as do we.
"We reluctantly came to the conclusion, after several months of stagnation and uncertainty, that Coexist is not going to be able to sign the ten-year lease that they sought.
"As we have said, we do not wish to see Coexist exit the Hamilton House community; rather, we wish to release them from the responsibility for space management so that they can focus on the community outreach that is their core value.