Police officer who Tasered Ras Judah in face cleared of misconduct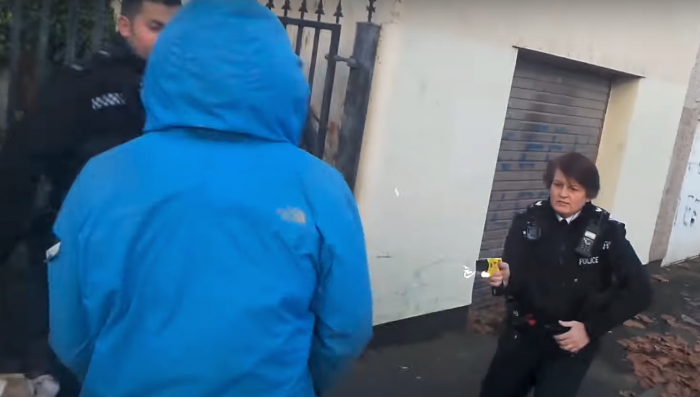 But Race Equality Commissioner says justice hasn't been done for Judah Adunbi.
Photo: Growing Futures
Video: Tom Cherry
PC Claire Boddie, the officer who in May was found not guilty of assault for Tasering ex race-relations adviser Judah Adunbi, was today also cleared of misconduct.
Boddie Tasered the 63-year-old in the face in a case of mistaken identity in January 2017. Deputy Chief Magistrate, Tanweer Ikram, said that Boddie had believed Adunbi to be a threat and that the prosecution had failed to persuade him that she had not acted in self-defence.
Catrin Evans, the Independent Office for Police Conduct (IOPC) director with responsibility for Avon and Somerset, said that Boddie "had a case to answer for gross misconduct," which was heard at the Avon and Somerset Police headquarters on 4 and 5 September.
Boddie was accused of not telling Adunbi she was preparing to use the Taser and not warning him before firing it. The misconduct hearing was told that she drew, raised and fired the weapon in a single motion and without aiming properly. The misconduct notice said he had been moving away from her colleague and had his hands by his sides by the time she pulled the trigger.
She was cleared of all counts of misconduct, but Adunbi's lawyer said he is going to proceed with a civil case.
Boddie said that she had mistaken Adunbi for another man, Royston McCalla, who had 'markers' on police files for violence, although at the trial in May she had admitted having met McCalla once before. She said that she had been aiming the Taser at Adunbi's chest and that it was "regrettable" that it instead hit him in the chin.
She told the hearing her actions were based on her belief at the time that Adunbi might use his keys to attack her and her colleague, that he had been trying to escape and that he had punched her colleague – which she now accepted hadn't happened.
"For me it was very clear: she shot him because she was scared and part of the reason why she was scared was because he was a black man"
Adunbi said in a statement when Boddie was cleared of assault in May: "This is the second time I have been set upon by police officers from Avon and Somerset Constabulary and caused serious injury on the basis of mistaken identity.
"I hope the fact that this prosecution was brought will mean that other Black people in Bristol will not be Tasered in the face when out walking their dog; and that the police will finally realise that not all Black people look or act the same."
Following the misconduct hearing, Chief Constable Andy Marsh said: "Following this outcome, I'd like to recognise the significant impact this incident has had on Judah Adunbi and regret the distress he's experienced over the past year-and-a-half.
"This was a very difficult situation and I clearly wish it had never happened. It's always regretful when cases of genuine mistaken identity occur and we'll take all the necessary steps to make sure this doesn't happen.
"I know we make mistakes, everyone does; we're all human. We're continuing to work against a backdrop of increasing demand, escalating complexity of crime and rising levels of vulnerability and need. These aren't excuses, it's just important to understand the context around the pressures we're facing.
"Justice hasn't been done"
"I didn't really expect anything different really, even though I was disappointed," said commissioner for race equality in Bristol, Desmond Brown. "I think that justice hasn't been done."
"For me, it was very clear: she shot him because she was scared and part of the reason why she was scared was because he was a black man."
A report by MP David Lammy last September found that there is still overt racial prejudice in the criminal justice system. "My conclusion is that BAME individuals still face bias, including overt discrimination, in parts of the justice system," he said, highlighting the "greater disproportionality" in the number of black people in prisons in England and Wales compared with the US.
While overt racial prejudice is declining, problems of covert and unconscious bias are becoming more of a problem, the report found.
Brown told the Cable that he doesn't blame anyone and that the process had been followed correctly, but that the process itself was flawed. "Because these aren't isolated incidences: Bijam Ebrahimi, Afzal Shar, Hamza Ahmed… They always say they're isolated but you can't go on having isolated incidents and not have a pattern."