The Exchange to become Bristol's first community-owned music venue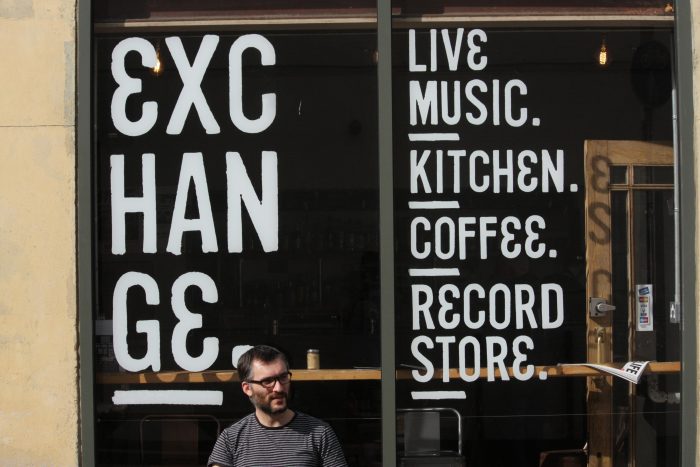 As other grassroots music venues are closing down, the Exchange tries to find a new way to secure its future.
Joe Skirkowski is a Bristol Cable Media Lab Trainee 2018.
In a year that has already seen the city lose two venues, another one of Bristol's prized small music sites is under threat.
This August, the Exchange announced that it was facing financial troubles. In response, the venue in Old Market has put forward a bold new plan to protect its future as a live music venue. The plan is to sell off shares to the general public thus making it a community owned cooperative company, much like the Bristol Cable.
The venue hopes to raise £250,000 when shares go public at an event at the Exchange tonight, 4 September. £250 is the minimum price for a share, which entitles you to a vote at the AGM where you can influence how all aspects of the business are run, including the programme and scheduling.
"A venue is bigger than its directors and its future shouldn't be tied to them"
Shares, which you can also enquire about online, are limited to one per investor regardless of the amount invested and investors will see an annual return of 3% cash or 6% in store credit. Smaller donations are welcome and donors will be rewarded, but the aim is to create a sustainable model for the future rather than simply fundraise.
Matt Otridge, one of the Exchange's three directors, said: "We are in this industry because we are music fans. At the moment we tick along and make a little bit of money but every year people like myself are required to give up our time for free and we just can't carry on like that."
"A venue is bigger than its directors and its future shouldn't be tied to them. By doing this we can ensure that the Exchange continues to exist as a music venue and also bring new blood and ideas into the decision making process."
If successful, the campaign would see the Exchange become the country's first community-owned music only venue. Otridge said they had received support and advice from two other community-led venues – Le Pub in Newport and Komedia in Bath.
A change in planning law recently awarded music venues more protection when flats are built nearby, after years of campaigning from venues like the Fleece and Thekla that came under threat, but many grassroots venues are still struggling financially.
This year has already seen Bristol lose two iconic venues, the Star and Garter and Bierkeller. What these two venues have in common is that they both had a reputation for hosting cult or underground music, with bands like Nirvana and the Brian Jonestown Massacre playing at the Bierkeller and the Star and Garter hosting the likes of DJ Derek and other names in Bristol reggae.
The Exchange has similar grassroots credentials. Since opening in 2012, the 250-capacity venue has become Bristol's go-to venue for punk and hardcore acts of all calibres and the loss of this space would undoubtedly be a blow for a scene with a strong history in Bristol.
So far, the campaign has gained a lot of backing, with messages of support and pledges coming in from the likes of Frank Turner and Geoff Barrow of Portishead.
"Musicians understand the importance of these small venues as they've seen them disappear up and down the country," Otridge added. "We work closely with other venues around Bristol and they have been very encouraging as well. The way it is in Bristol, with so many small venues closing, there's more of a sense of being in it together."
"Certain genres would suffer from us not being here because they wouldn't have the resources," Otridge said. "Then all of a sudden, acts aren't coming here."
Joe Talbot, frontman of Bristol punk band Idles who spoke to the Cable at their recent album launch, echoed Otridge's words. "The loss of places like the Exchange and the eradication of venues that allow not only house bands and artists but house like-minded and open-minded communities to meet and discuss and start revolutions and be human is a blow to democracy," he said.
Those wishing to participate in the Exchange's new approach can enquire about shares online or attend the free event where the shares will be launched at 7pm on 4 September.