6 ways the Cable is turning media ownership on its head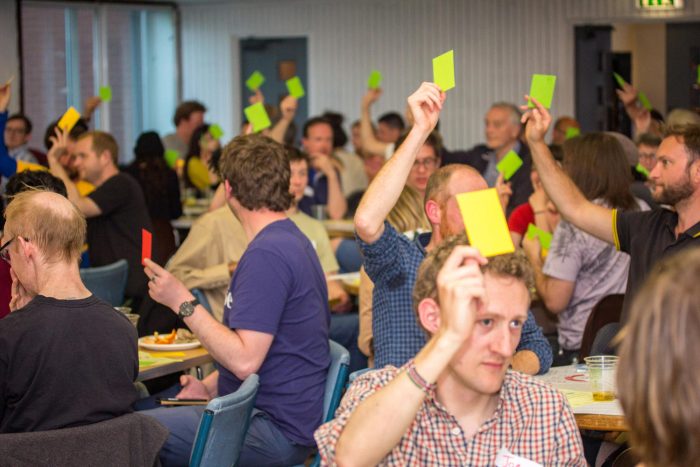 Newspapers should quite rightly be judged by what they print, but it's high time to also focus attention on how they are run as businesses, and who they serve.
Our experience of news is typically as a passive consumer – whether it's flicking through your local paper, watching TV, or skimming articles online. Rarely do we get a chance to view the inner workings of the machines which shape our understanding of current affairs, let alone influence them.
Just like traditional media, the owners are boss at the Cable, swaying business decisions and editorial policies. Except in our case, we're talking about 2,000 local people from all walks of life calling the shots, not a handful of hedge funds or a restauranter and estate agent (among others) – as with the owners of the Bristol Post and Bristol 24/7 respectively.
Cable members get the inside view into how we do journalism and can influence it, too. However you choose to get involved, you're invited to join the co-operative today to sustain a new type of media that serves the public not private interest
Already a member? Help make the Cable more representative of Bristol by getting a friend to join – and get free stuff as well.
Journalism led by members

Thanks to our commitment to direct democracy, members all own an equal share in the organisation and can have their say on important political and practical decisions, rather than just in the comments section of articles.

Most recently, members are choosing the next issue the Cable will campaign on – both via public meetings and online. In addition, hundreds of members gathered at our Annual General Meeting in May to vote on how to spend our budget, improve our journalism and if we should give less money to Facebook.

Equal pay

At the Cable, each and every staff member is paid a flat and equal rate of the real living wage. Freelance contributors are also paid competitive rates.

We respect your privacy and don't sell your data

Click on the Bristol Post and you can easily find upwards of 13 third-party-trackers recording your browsing habits for commercial gain. We respect your privacy at the Cable and do not host any trackers and will never sell your data.

Elected directors

We're proud to boast a board of democratically elected directors, from and by the membership. Directors at the Cable don't play an executive role, but function as an advisory group for oversight and consultation on strategy. This special bunch of people are a far cry from your typical company board of investors and bean counters. Directors include youth workers, community organisers, lawyers, co-operative specialists, and journalists.

No advertising online

Newspapers of course have to make cash to survive. Despite being on the decline, adverts are typically the main source of revenue for publishers – hence the relentless clickbait.

While news websites that rely on digital advertising revenue are vulnerable to changes to Facebook's algorithm, we don't feature any ads online – thanks to the support of 2,000 paying members and grants. These same members also decided the framework for accepting limited advertising in our print mag.

No press releases

Everyday, the Cable inbox is cluttered with press releases from businesses, government and others. Some are interesting, but more often than not, it's bog standard advertising and public relations management. We're continually surprised at how, often word for word, these press releases are copied and published by other outlets in the city.

We don't do churnalism. You can be sure that Cable content is original and fact-checked, because our members demand it.
Want in? Join here today and become a shareholder in a new model for media.