Bristol Radical Film Festival: Q&A with Elizabeth Mizon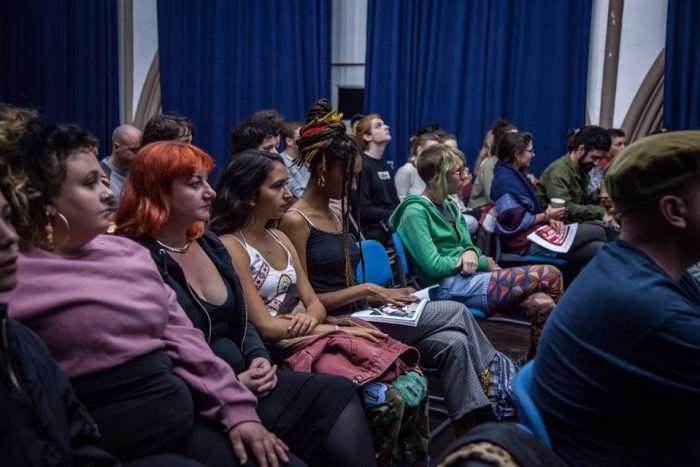 Bristol Radical Film Festival is back! We talked to one of the organisers, Elizabeth Mizon, about what this year's festival has to offer.

Photo: Bristol Radical Film Festival
How is this different from mainstream film festivals?
The main thing that we want to do is amplify marginalised voices and we want to show films that are not going to be seen anywhere else or will probably be rarely screened. We're showing a lot of stuff from contemporary filmmakers who are making work now and a lot of international international films, but we're also showing a lot from the archive, so we're showing a piece that Ken Loach did for the BBC in the 60s – and it's about unionisation of workers' rights, so it's obviously relevant now – and you're pretty much not going to see it anywhere else, so I would say that's probably the main difference.
This year you're running a workshop for making films on little to no budget. What is that going to entail?
I'm going to be running that and I've been a filmmaker for the last 10 years making films with mostly no or zero budgets – and a lot of time the words 'no budget' can mean anything from a tenner to a million pounds, depending on who you ask, so this is basically if you're paying out of your own pocket and you've got maybe a couple hundred of quid going, thinking about what you can do with that and where best do you put your money.
And so, essentially, what a lot of the workshop will be about is discarding money altogether. We'll be asking questions like: how do you enrol people how do you borrow resources? How do you convince people to lend you stuff? What is it that you actually need to go onscreen to make the film work?
Why is that so important to show people how to make films with almost no budget?
Quite a lot of the time people who would otherwise be producing quite a lot of brilliant stuff will decide not to do it because they'll think 'well, I don't have a million pounds so I won't be able to do what I want to do'… And actually they'll probably make much better fims – assuming that they do at some point get enough budget to make something really high end.
They'll make better films because they'll have been able to do it with no money. So it's not only about democratising the medium: the fact that the medium has been democratised now to the point where you can just shoot stuff on your phone means that it is possible where a lot of ppl think that it isn't and it also makes people better filmmakers to accept that restriction of not having any cash.
What's your favourite low– to zero-budget film that you've seen?
Well, other than my own obviously….!
There's a film called Tarnation, which was made in the early days of prosumer cameras. I believe it was made for roughly $250 and it ended up getting Gus Van Sant's  stamp of approval. He [Van Sant] executive produced the distribution of it, but it was all just made by an actor called Jonathan Caouett.
It really is a brilliant film and it was basically the early days of imovie – Apple's editing software – and just using his own film that he had from his own personal archive that he had as a child.
What kind of gap does this festival fill in the world of film festivals?
I  suppose we've just got fewer barriers. We're very specific about the fact that the content that we want needs to be progressive, whether that's politically or aesthetically, we're very clear about that.
"A lot of what we do is informed by recognition of marginalised people"
But other than that, our maximum entry fee is £10 and we often welcome first time filmmakers to submit stuff to us:  we really don't have the same prohibitive barriers that a lot of other film festivals have. We don't charge a lot of money, we recognise that there are going to be people out there that are making brilliant work that won't get seen because they don't have any cash and so a lot of what we do is informed by recognition of marginalised people and we try and cater for that.
Any other highlights this year?
We're showing Pressure, which is the first film made by a Black director in Britain, and also we're showing Stranger in Paradise, which is a film about the refugee crisis, so those are I suppose the two big novel things that we haven't done before.
Who are you hoping to get to this film festival?
There are two broad audiences that we're after: one is activists, people that are already doing that kind of work, that's always been our audience… Actually, a better way to say it is potential activists. We know that we already cater to the activist audience and they're already going to come, but we also want to get the people who are umming and ahhing and wondering 'how can I get involved?' and we want to put them in a space with other activists who can tell them: 'this is what I do, do you want to join in?' So it's a community space for that purpose, as well as for watching the films. It's getting people together and getting people talking and connecting them.
And the other is a very diverse audience: LGBT, BME, people who don't usually see themselves on screen. We've always said asylum seekers and refugees [are welcome], we won't turn anyone away if they can't afford it, because what we want is for them to be able to come, so we want to break down as many barriers as possible. We won't turn anyone away unless it's a fire hazard, basically!
Bristol Radical Film Festival is running 13 and 14 October. For more information and screening times, visit their website or Facebook page.