Bristol's recovery community: overcoming addiction together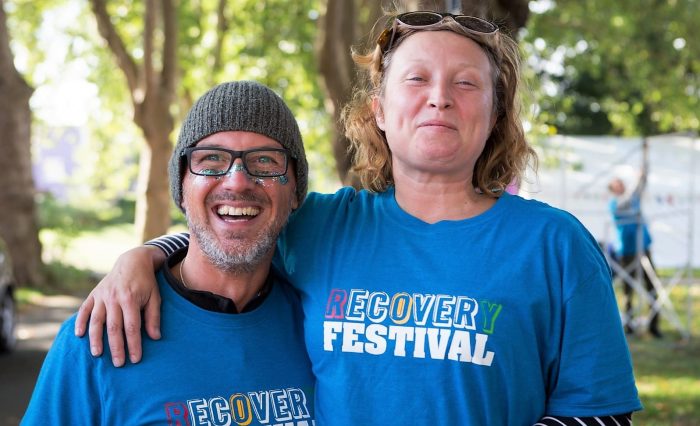 Last month, Bristol hosted Recovery Festival – a celebration of people who have overcome addiction. Craig Johnson explains the importance of community when services are being stripped back.
As our long, hot summer lazily came to a close, one more sunny day in St Agnes Park welcomed Bristol's sixth Annual Recovery Festival. An oxymoron of sorts, the word festival conjuring up images of substance use along with dancing revelers, loud music and a risky burger or two. But not this festival.
No need for alcohol or drugs here, because attendance is made up of people who have witnessed first-hand the devastation and misery of substance misuse and poor mental health. Just for the day, recovery was put on show and celebrated.
Part of our series
Addicted Bristol: Life and Death
Read more
An eclectic mix of age, race and gender, they are fathers, sons, daughters and mothers brought together for a common goal. These people once trapped in destructive hopelessness are now displaying a sense of freedom—it really is a joy to observe.
I recognise changed faces: I've seen many of them at their worst. Begging, stealing, and working the streets for their next fix, disheveled and lost. But the picture before me is in stark contrast, awash with purposeful smiling faces.
I've been a part of Bristol's ever-changing recovery scene for nearly 16 years, and lived both in and out of the madness. I've been homeless, fighting for survival on the streets and suffering with addiction.
I've had times where I had wanted to end it all, save putting myself and family through a waking nightmare, and times when all was good, managing to hold down jobs and feeling productive and part of society.
At the festival, it's great to catch up with old friends and make new ones. I bump into a friend who I haven't seen since 2012. When last I saw him he'd relapsed, lost his accommodation and fallen back into the vice-like grip of addiction. He tells me how bad it got for him before he restarted his recovery journey, but before me now stands a man nearly two years clean and sober. We hug.
"I can't help but feel both sad and proud looking around; these people are either searching for a new way to live or have found one already"
It's good to share our experiences—both positive and negative—but prevalent in our minds are the recent losses of good friends. We battle with our addictions, trying desperately for a better way, but undoubtedly and sadly this demographic is beset with overdoses and suicides.
Most recently we lost Chris to a drugs overdose. Once a beacon of recovery, he began volunteering and then working in the field of addiction before a relapse led to isolation and made him pay the ultimate price. I can't help but feel both sad and proud looking around; these people are either searching for a new way to live or have found one already.
A few attendees are obviously still very unwell, they receive advice and support from peers, ready to give back what was given to them. An event like this provides hope, not only to those in the battle, but also for loved ones and the many families torn apart by substance misuse or failing mental health.
Bristol's recovery scene had to change
In 2012, Recovery Fest started at Bristol Paintworks, the first coming together of services and service users from across the city. It proved to be a great success and every year has grown into bigger and bigger spaces.
This year notably, there were tents devoted to giving free forms of therapy, such as shiatsu massage to improve circulation, healing therapy reiki and sound bath, where you relax by bathing in sound made by instruments from around the globe.
"Bristol's recovery scene is changing – it's had to. Where paid employees once were, you now find volunteers"
Awash with creativity, the festival had a few tents devoted to exhibiting art from those in recovery. Some dark, harrowing paintings showing people trapped were on display alongside bright, smiling images proudly depicting people's recovery journey.
It's common knowledge that funding has been slashed nationally for most services and Bristol has not escaped these draconian austerity measures. In Bristol, as drug dependency, homelessness and poor mental health soars, the funds and manpower needed to address are simply being taken away.
Bristol's recovery scene is changing – it's had to. Where paid employees once were, you now find volunteers—people with lived experience that freely give back to get others into recovery.
Many of the volunteers that helped run the festival give time as peer mentors through the working week. These are people who at some time felt rejected by or rejected their communities, but are now helping, supporting and exploring life's avenues without the need to hide in shame or addiction. People now proud of the journey they have taken.
This community is all the more important now. Chandos House, Bristols last remaining rehabilitation centre, recently announced its closure due to lack of funding. This facility has run for 35 years offering a safe environment for recovering users to turn their lives around. I wonder what of the future – what will happen to those in dire need? I fear prison, homelessness or perhaps worse.
Addiction touches people personally and affects family and friends. If you'd like to share your experiences (anonymously if you wish). Get in touch by emailing: matty@thebristolcable.org.