Crack, heroin, Spice: A snapshot of Bristol's street drug scene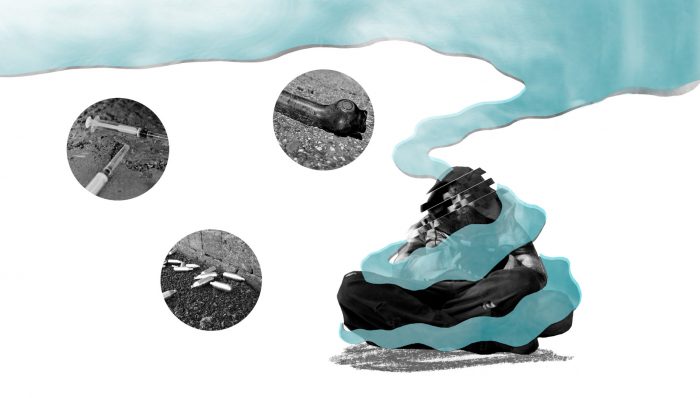 A journey through our city's streets reveals an eye-opening world of vulnerable people.
A group of men are sat smoking and drinking in the middle of the Bearpit, seemingly in good spirits. I look more closely and see random items of clothing scattered around and someone passed out on the grass.
Just hours before, paramedics treated a man who had been throwing up and choking on his vomit. People think he's been smoking Spice — the collective name for synthetic cannabinoids that have become some of Bristol's most harmful drugs.
Part of our series
Addicted Bristol: Life and Death
Read more
So begins my journey through Bristol's street drug scene. Simply walking from Broadmead to Stokes Croft through the Bearpit, I see a snapshot of a harsh world of vulnerable people, either in recovery or still in the grips of addiction.
On a sunny autumn morning, hundreds of people potter about the shopping streets of Broadmead. A man lies in a heap in a doorway opposite Primark. Nobody seems to notice him—it's a common sight in the city.
Around the corner on Union Street, I meet Oliver Key and his dog, and sit with them on the pavement. A recovering heroin user with curly blonde hair, he tells me his story with warmth and openness.
Drugs are a real problem in Bristol. Spice is especially bad. It's quite a new thing so I don't think services really know what to do about it. I associate with homeless people a lot, so I see it all the time."
He had witnessed a bad Spice attack just hours earlier. "It was horrible. It looked like he was going to be alright, but it's scary. People look like they're dead, so obviously ambulances get called all the time."
"People need to know. You need to have a whole page on this. Heroin is a dangerous drug but Spice is overtaking that now"
"I spoke to paramedics who said even when people are in trouble and they've had to defibrillate them, before the ambulance has even driven off, they're skinning up another thing. It's hard to sympathise with that, but we've all got our problems."
Originally from near Manchester, Oliver's problem was heroin. He managed to get clean recently by buying Subutex—the drug often prescribed to wean people off heroin—on the black market.
"I've been homeless for two years and have only just managed to drag myself out of that," he says. "It was just willpower. I was only on Subutex for about a month, it helped me get off heroin, but it's pretty addictive itself, so you've got to be careful."
"Anyone on the streets will tell you that heroin is the best cure for the cold and loneliness. I've seen people more and more caught up in it," he says.
Now sleeping in a tent after his caravan was stolen, it took him 18 months to escape that "vicious cycle", but some of Oliver's friends didn't make it out. Last year, a woman who he'd been living in a tent with killed herself. "When I left, she couldn't support her habit because I'd been busking every day. She went straight into prostitution and couldn't handle it."
Another of his friends in Manchester died in November. "The council binman took his sleeping bag away and he was too drunk so just went to sleep on the floor and didn't wake up. He froze in the cold.
"I've been warned that if you're into the drugs scene, people are gonna be dropping like flies around you. If you're gonna have any chance of rehab, you've got to go through a long process. Without sounding too melodramatic, people are going to die before they get there."
"Anyone on the streets will tell you that heroin is the best cure for the cold and loneliness"
With cuts to funding for drug treatment services and drug-related deaths at high levels for the last five years, this is far from the first time I've heard this worry.
Oliver is currently sleeping in a tent after his caravan got stolen shortly before the council moved on vans from Greenbank Road in Easton in June. He hopes to buy a new one after finding part-time work.
A few hours later at the Bearpit I see him with the group of men, some smoking, others drinking. He tells me his plans for the rest of the day are to get his guitar fixed at a shop run by a guy who helps out buskers. "I've got some money today so I'm going to pay full price for a couple of strings." he says with a grin.
Spice: The facts

Spice, one of the names for different types of synthetic cannabis, used to be sold in shops but was banned in May 2016. The Cable covered how it was still a problem on Bristol's streets last year. A year on, there is little sign that usage is reducing and anecdotally, people are now more likely to make their own with different chemicals. Ambulances in the south west were called out to deal with Spice on six times as many occasions this year than last. Between August 2017 and July 2018, 960 calls to the South West Ambulance Service were about the synthetic cannabinoid, compared with 157 the previous year.
Saturday on Stokes Croft
The next day an ambulance is called to another suspected Spice attack—this time outside Blue Mountain nightclub on Stokes Croft. Three paramedics are hunched over an unconscious man flat out on the pavement. It's Friday afternoon and young people are streaming past towards pubs and bars.
A witness says the man had been propped up against the wall next to his own vomit and that two men who knew him said he'd been taking Spice. After 10 minutes, he suddenly sits up, but is given oxygen and taken on a stretcher into the ambulance, which heads for the Bristol Royal Infirmary.
People who have been congregating outside the Compass Centre hostel on Jamaica Street come down onto Stokes Croft as music blares from the huge vintage clothes shop.
A man with a swollen face is staggering about outside the Full Moon pub. He has a bleeding wound under one eye. Slurring his words, he says someone kicked him but doesn't say why. "I'm trying to get a bus back to Edinburgh," he tells me. "I can't get out of this town."
In Stokes Croft the worlds of hard drugs and party drugs collide. Later that evening, the same bit of pavement is swarming with young people taking their own substances. The next morning rough sleepers will be sat next to discarded laughing gas canisters.
Back to Broadmead
Next, I make my way from Stokes Croft back to Broadmead. Outside Greggs, I see a homeless man slumped forwards with a lit cigarette still in his right hand. His cup to collect change, empty, has blown over in the wind and it starts spitting with rain. Oblivious, people come and go with their cheap pasties, but tragically it's unclear how could they help, even if they wanted to.
I turn on to Union Street and a man asks me for spare change. We get talking and he describes animatedly what I've seen with my own eyes—the effects of Spice. "People need to know. You need a whole page on this. Heroin is a dangerous drug but Spice is overtaking that now," he says.
Barry is 48 and has just started engaging with Bristol's drug services, so we arrange to meet again after his appointment a few days later, by the Compass Centre hostel on Jamaica Street. Wearing a dark jacket and bobble hat in the drizzle, he tells me about wanting to beat his crack cocaine addiction after a life on the wrong side of the law.
For Barry, the services at Developing Health Independence (DHI) are a "safe place to go for a couple of hours" and talk about his problems. "Otherwise, I'd be out begging," he says.
After coming out of prison last year, Barry is now living at Shepherd's Hall, sheltered accommodation in Old Market. Before that he spent a few months at Wick House, a similar place in Brislington, but a benefit sanction stopped his income and pushed him into rent arrears.
"I'm an addict, I've got all this shit going through my head, I really don't know where to turn. How the fuck do I get clean?"
"Drugs are rampant at Wick House. If you end up there, you ain't getting out. It's full of bugs and crackheads, it's a right shithole." This isn't the first time I've heard horror stories about Wick House. By contrast Shepherds Hall is a lifesaver, Barry says. "If it wasn't for that place, there'd be a lot more victims out there."
He recently moved onto the controversial new benefit universal credit. His payment of £300 every five weeks leaves him £40 to live off a week after rent and repaying his arrears. He used to be on a similar amount but paid fortnightly.
"Universal Credit has made it a lot worse for me. I'm an addict. It's ridiculous, how do they expect me to survive? I'm out begging every day so I can get by, to get a bit of food and a stone (of crack) just to keep my head stable.
"If I left you now, I'd come back after two hours with £15 in my pocket, and I'd go buy two stones. That might last me about half an hour and then I'd need to go get more money."
He currently has a tag and says his 8pm curfew stops him staying out late begging and making his habit worse. Instead it's become his daily routine to buy a couple of stones of crack and a McDonalds before heading home.
"I'll sit there at 8 o'clock with a wrap of the day and a McFlurry. I'll have a little smoke and something to eat, lay on my bed and listen to the radio. I think 'Fuck me what a life I've got'. I really don't know what's going on in my life, it's hard. I'm struggling."
Despite being a regular crack user, Barry says Spice is the worst drug around. "Spice has destroyed everything. It's worse than heroin. I know people who were on heroin for 20 years but came off it to smoke Spice."
During his time in prison, he was hooked on it. "I died three times on Spice. I came round after 24 hours at the hospital chained to the officer. I flatlined in the ambulance. As soon as I got back to jail, I was looking for more. That's how crazy it is."
"If I went to jail, I'd come out a Spice-head. On the streets I can stay away from it [even though] I get offered it every day. Out here a pound will get you a nice little joint and one puff is enough to make me wobble."
For years, Barry has been in and out of prison for burglary, but wants to change his ways, get clean and start work. Begging to fund his habit feels better than stealing. "When I go to sleep at night, I know there are no victims. Even though begging is degrading, I feel good in myself."
From edition 17, OUT NOW!
Read more from this edition.
At his session today at DHI, the group opened up about their problems, which helped Barry realise that others are in similar situations to him. After his six weeks at DHI finishes he hopes to be referred to Bristol Drugs Project (BDP) and maybe do some volunteer work.
Barry is determined to break his habit by continuing his treatment. And yet, there's a sense of despair. "I'm an addict, I've got all this shit going through my head, I really don't know where to turn. How the fuck do I get clean?"
Before he sets off down Stokes Croft in the drizzle, I ask about his plans. Almost resigned to remaining trapped in Bristol's world of street drugs, he says: "I'm going to try and make some money, go get a stone and buy some food for tonight. Every day that's all I can do."
Addiction touches people personally and affects family and friends. If you'd like to share your experiences (anonymously if you wish). Get in touch by emailing: matty@thebristolcable.org.