BREAKING: Artist exodus from Hamilton House as Coexist resist eviction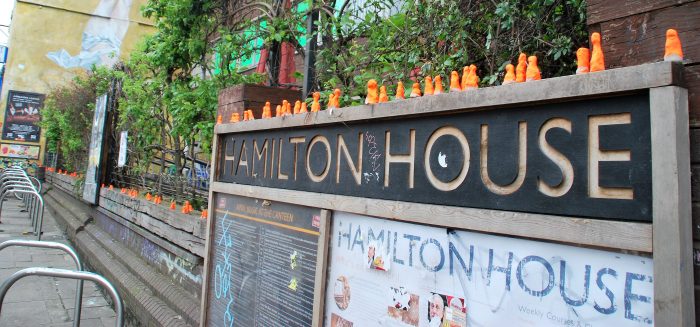 Coexist were given 24 hours notice to leave on Monday but say they are going to hang on for another month.
Photos: Matty Edwards
Artists have said they will be leaving Hamilton House after refusing to sign contracts with new building managers, as predecessors Coexist resist eviction by building owners Connolly and Callaghan.
Coexist, the social enterprise that has managed the building for a decade, was given 24 hours notice to leave the Stokes Croft cultural hub yesterday by owners Connolly and Callaghan (C&C).
"The exodus of artists from Hamilton House is due to C&C's misconduct and Forward Space's collusion in this hostile takeover"
However, Coexist have challenged this because they believe they have legal right to stay for another month. A spokesperson for Coexist said by doing so they were standing up to a "corporate takeover", describing it as an "unethical attack on social enterprise in the city".
Forward Space, which runs a number of co-working spaces in the southwest, was initially planning to take over the building for six months from today, but it now looks like they will have to wait until 20 December as Coexist hold on for another month.
It was announced in October that Forward Space would be taking over, after C&C said in August they would not be signing a new lease with Coexist following after a year of tense negotiations.
Forward Space's CEO Gavin Eddy, a former London-based investment banker, was the independent consultant who recently reviewed Coexist's business plan shortly before it was rejected by C&C.
Hamilton House tenants have written a damning open letter to Eddy, explaining why they are leaving. It is not yet confirmed how many artists will go, but one estimate is that about half of people remaining want out.
The letter, which has been seen by the Cable, says: "The exodus of artists from Hamilton House is due to C&C's misconduct and Forward Space's collusion in this hostile takeover".
According to the letter, yesterday Forward Space gave tenants the chance to sign or vacate, and told them locks would be changed today. However, Coexist informed tenants last night that contracts with them were valid until 20 December, which would mean they now have a month to decide whether to stay or go.
C&C denied that Coexist had been given 24 hours notice to leave, because of discussions about the handover of management over the past two months. They added that current tenants were being offered new leases at the same rent, to provide "stability and security for the next six months".
The battle over Coexist's future at Hamilton House coincides with C&C's plans to redevelop part of the building into flats, which resulted in the eviction of hundreds of tenants in March.
C&C's latest appeal in an attempt to get planning permission through the fast-track process known as permitted development rights was just rejected by Bristol City Council, meaning they will have to submit a full planning application with affordable housing committments.
The saga has outraged many worried about the further gentrification of Stokes Croft, and hundreds of people protested Coexist's removal in September amid an outpouring of support, including from a range of cultural organisations and mayor Marvin Rees.
Coexist co-director Danny Balla said: "We would firstly like to thank C&C for their support over the last ten years.  Over the last decade we created a thriving cultural and community hub."
"However, C&C's recent actions and behaviour cannot be ignored for the damage it has inflicted upon staff, the internal community of licensees, social enterprises and charities. People and their businesses have been misled, lied-to, and now C&C are taking over the business we have developed over 10 years. This is unethical and is an attack on social enterprise in the city," he said.
"We have tried to work towards solutions with C&C and have worked tirelessly to jump through endless hoops, but each one has proved to be a false promise. Today we are standing up to a corporation that has lost its way, and though we regretfully accept our notice, we do not accept the terms they have put to us."
Balla told the Cable that Coexist were now actively looking for new projects, premises and partners who are "genuinely interested in social change and community value".
'Angry and sad'
The open letter to Gavin Eddy from tenants leaving Hamilton House reads: "Over the past two years we have been witness to a stream of ever changing statements and demands by C&C, which have put Coexist, licensees and building users under enormous and unnecessary pressure.
"We believe C&C have deliberately and systematically undermined Coexist, bringing what was a thriving organisation to its knees, in order to capitalise on the value of the building and the community."
"It feels very destabilizing. I took this place for granted, I thought it would always be here"
"We are concerned that in signing a new lease with HaHo (C&C) we would signal an acceptance and validation of C&C's conduct over the past two years. Furthermore, we fear signing could be interpreted as an invitation for more of the same mistreatment.
"We strongly object to Forward Space's role in facilitating the dissolution of Coexist. We question the ethics of an individual who initially was introduced as an independent consultant on the Hamilton House project, only then to return months later to oust Coexist and take over management of the building."
"It needs to be known that the exodus of artists from Hamilton House is due to C&C's misconduct and Forward Space's collusion in this hostile takeover," it said.
One artist who is leaving is Izzy. After renting a studio space for the last two years, she told the Cable she felt "really angry and sad".
"I think Forward Space managing on behalf on Haho, a company owned by C&C, is transparently part of C&C's ongoing effort to commercialise the building and I don't feel like I can contribute funds to that through paying rent."
She said that about half of remaining tenants were leaving because they don't want to sign a new lease with Forward Space, and that if rent were to go up in six months, the diversity of people and community activities would be reduced. "If these blocks get redeveloped into flats, the area will become more commercialised," she added.
Her work at the moment is grant funded so the lack of regular income means that she won't be able to rent another studio space, so will have to work from cafes and libraries for now. The communal work space is even more important for her because she moved out of Bristol because of rising rents.
"It feels very destabilizing. I took this place for granted, I thought it would always be here," she said.
However, she remained hopeful. "I'm really encouraged by Coexist's prospects of finding new buildings and if there's anything positive that's come out of this, is that we understand better the value of community owned spaces. The person who wins is the person who owns the asset, which is why community ownership is the way forward."
Fran Connolly, from C&C, said: "Forward Space has a proven pedigree of managing successful community work hubs and we believe they have the expertise to continue the development of Hamilton House as a viable, creative, hub that benefits the local community, whilst a long-term solution is sought.
He added: "C&C has financially supported Coexist for nine years but cannot commit to continuing this without a financially viable plan."