How we got people talking about drugs in Bristol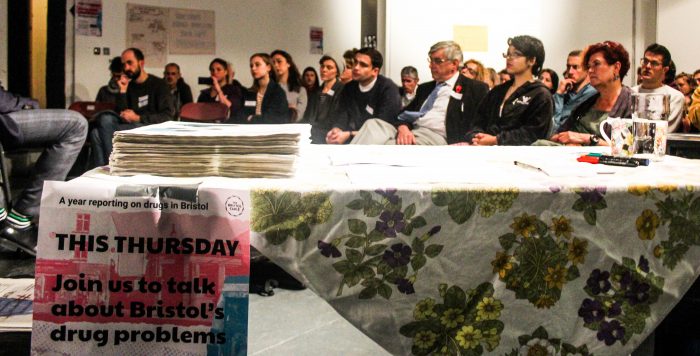 A look back on our November members meeting about drugs in Bristol, which left people feeling "connected", "inspired" and "heard".
What are your fears? "That my daughter will lose me to drugs." This was a contribution from one of the 60 people who came together to talk about Bristol's drug problems at our members meeting on Thursday night.
We've been reporting on the topic for over a year in an ongoing series. We've featured users' stories, the work of local drugs services saving lives while having their funding cut, as well as former legal highs and prescription drugs.
So why hold an event? Firstly, because we're a community media organisation. The whole point of our existence is to report in the interest of people in Bristol. So we want to open up our journalism to scrutiny from our readers, our owners (The Cable's 2000+ members) as well as drugs users and workers who know this topic inside out. Every month we hold a members meeting to give members an insight into what we've been doing but also to help us stay accountable and grounded. Constructive feedback can be uncomfortable at times, but it makes our reporting better.
Secondly, we wanted to think about practical solutions to Bristol's drug problems. At our last meeting, Cable members had discussed safe consumption rooms. These are spaces where drugs users can take drugs in relative safety, with help on hand from medical staff if they overdose. Although they're a relatively unknown concept in the UK, they're currently used in lots of other European countries to reduce harm. Bristol CIty Council are doing a feasibility study on introducing a safe consumption room in Bristol. Could Cable members help push to see a pilot in our city?
Finally, we want an evening that would build community around The Cable. We have 2,000 members but our readership is much wider. Together we have collective power – especially if we get good at organising ourselves and working together.
People are hungry to have a say on Bristol issues, like drugs, but spaces for genuine civic engagement are rare. The examples that we do see – Question Time, hustings, newsnight or PMQs, for example – are full of point scoring, rude interruptions and big egos. No room for empathy or complexity or genuine listening. I can't be the only one fed up with this kind of impoverished public debate. So the event was also an attempt to create a bigger-picture discussion that had room for deeper listening and connection.
A year reporting on drugs
It was a big mix of things to bring together in one evening. Cable reporter Matty had built a lot of connections through his work, and had invited the drug workers and users involved in his reporting. We wanted a range of people in the room. As the doors opened, and guests streamed into the space, we realised the significance of holding the event that evening: Bristol drug treatment centre Chandos House had hosted a closing ceremony that same afternoon. We'd written about Chandos in our series. Some of the people arriving had come straight from the centre's closing to our event.
Matty opened the event with a talk about why he wanted to write about drugs in Bristol and what he's learnt over the last year. He described walking the streets of Bristol talking to drug users. He mentioned the sense of responsibility he felt recounting people's stories. Matty also highlighted some of the positive changes that have been happening around drugs policy – perhaps signs of a bigger shift:
Matty then introduced Danny Kushlick from campaign group Transform. Transform have been pushing for drug legalisation for the last 20 years. The issue was a moral one for Danny. He thinks the prohibition of drugs makes life even more difficult for users of harder drugs who are already suffering from unresolved trauma. He added that it criminalises behaviour that is an understandable attempt to make life more bearable, and adds yet more shame onto what users are already dealing with.
Prohibition doesn't prevent drug use and it feeds organized crime, said Danny. It causes deaths by preventing the regulation and education that could make drug taking much safer. Danny also talked about the way in which prohibition of drugs and 'the war on drugs' has long been linked to racism and 'othering'.
Danny ended his talk by saying that Transform had realised scientific research and facts weren't enough to inspire change on the issue. Instead, they'd learnt about the power of stories. Their campaign Anyone's Child amplified the stories of those who'd lost loved ones to drugs – deaths that could have been avoided with proper regulation.
Hopes and fears
At this juncture, we moved into the story telling part of the event. It felt like a risk – I knew some people were coming expecting a more solutions-focused evening of talks. But I also believed that grounding the event in real life experience would deepen the debate and build relationships between the people there.
There was a real buzz in the room as people began to talk in small groups about how drugs had impacted their lives. As a facilitator, I didn't get involved in these groups but I did think about my own experiences. I thought about how almost everyone I know has a relative somewhere in their family tree who has problems with drink. I thought about my school, which was awash with illegal drugs.
Whilst this everyday familiarity with illegal drugs means they don't hold stigma for me, over the years lots of people I know have also suffered fallouts like drug induced psychosis and other severe mental health conditions that can be linked to both drug use and underlying trauma. More open and constructive public conversations about mental health and drug use feels vital to me.
After everyone had their chance to be heard, we asked people to discuss their fears and hopes around Bristol's drug problems and to write these down. Before long, we had a wall spread with brightly coloured hopes and fears.
So many ideas have come from our members' meeting tonight. Thanks everyone for turning up and for getting involved. You can find all our coverage of Bristol's drugs problems here https://t.co/oNSUOgmgrE pic.twitter.com/Qj59oouXOk

— The Bristol Cable (@TheBristolCable) November 8, 2018
You can read the entirety of the hopes and fears lot here. To me, they suggest that many people present hoped for decriminalisation or legalisation. For increased (or restored) funding to drugs, housing and mental health services.
There was significant reference to the harmful consequences of stigmatisation and prohibition. There were also hopes for more openness, evidence based policy and education on illegal and legal drugs. Quite a few post-it notes mentioned mental health problems as a root cause of harmful drug use. There was obviously experience in the room of personal drug use and professional expertise. Someone wrote that they feared "That my daughter will loose me to drugs". Someone else feared "someone dies on my shift".
There also seemed to be a sense from the collection of post-it notes that things could change. Quite a few people feared drug harms getting worse – services under more strain, with more harmful synthetic drugs on the streets.
At the same time, there were references to positive shifts in public opinion. A few people mentioned more openness about mental health – especially among young people. "Young people are learning to discuss mental health problems, which is great and will, I hope, help reduce problem drug use" someone wrote, and "The tide is turning towards evidence based policies (partly thanks to better journalism!)".
The evening finished with a check-out circle where people expressed (briefly – in one word) how they felt about the event. There were a mix of responses. Some people said they felt "connected", "inspired", "impressed", "heard". Someone else said they felt "unresolved".
I reflected afterwards that the event hadn't led to obvious next steps. Getting sixty people together who care about an issue is powerful – perhaps it was a shame that no kind of collective plan of action emerged from that assembly. On the other hand, it felt the evening was an important experience in own right. Just through the way we'd talked and listened to each other we had created a public space where the stigma and shame around drugs was challenged for a few hours. And from there – who knows what we can do next?