Hundreds of Bristolians face landlords with an ultimate legal power. But a rebellion is growing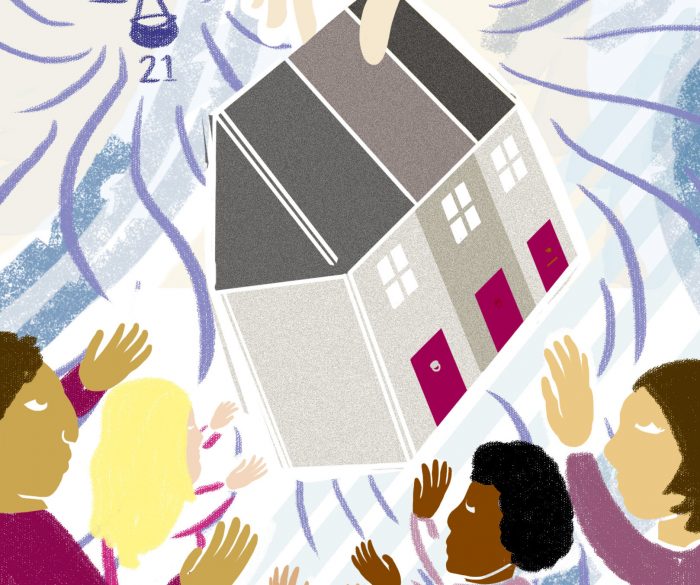 A fightback is brewing against a piece of legislation that epitomises the difficulties of having a secure home.
Illustration: Marissa Malik
When Chrissy got out of hospital following an episode of mental ill health brought about by a high-stress job, her landlady told her that she didn't respect people not in full-time work. She was given an ultimatum: find a full-time job within a few months, or be kicked out.
This was the beginning of Chrissy's (not her real name) ordeal that revealed the clear imbalance of power between tenants and landlords, and one law in particular that leaves tenants under constant threat of eviction.
After looking at 15 properties and being turned down each time for not earning enough, she found a place in Southville. Most of her new flatmates were crammed two to a room and many were working nights. Chrissy wasn't able to get the peace and quiet she needed. After sticking it out for a year and a half, she suffered another downturn in her health.
She decided to look for another place. One looked promising, but after finding out that the new landlord wouldn't provide a contract, she backed out. Her existing landlord, who was aware she was looking for a new place, said a new tenant had placed a holding deposit on her room.
Just after Christmas, like hundreds of Bristolians every year, Chrissy found a 'section 21' eviction notice at her door: the notorious legislation that allows landlords to rapidly evict tenants without giving a reason. She was ordered to get out of the property within two months.
Facing the ordeal of finding yet another place, Chrissy took a walk to clear her head. Stepping out into the road in a flood of tears she was struck down by a car. Unable to walk, she asked the landlord for an extension on her eviction date. No such luck.
Then, in an act of dubious legality, the landlord sent a letter citing an obscure 280-year-old law, the Distress for Rent Act 1737, demanding Chrissy pay double rent for each day she spent past the eviction date.
And so, after a problem-free 18-month tenancy and a rejected offer to pay off the new tenant's £150 deposit, Chrissy was now faced with the choice of having nowhere to live, or paying 200% rent to a landlord who had told her he owned 25 other properties in the city.
Laughing, she says she should count herself 'lucky' that she now rents a room in a large family home. Though with little security, and scraping by to pay rent, in the context of the housing crisis Chrissy is lucky.
Because though her story is particular, a cocktail of factors across the country have culminated in severe insecurity for tenants, and the what the House of Commons select committee on housing have called "a clear imbalance of power" in favour of landlords.
A legal process with no defence
One piece of legislation has come to epitomise the difficulties so many of us have in securing a home.
Section 21 of the Housing Act 1988, also known as 'no-fault' evictions, have risen to prominence and controversy in recent years as the legal method for landlords to rapidly evict tenants without having to raise any complaints.
As long as all the paperwork is served correctly, a tenant has no defence against a section 21 eviction.
The result, much like zero-hour contracts for workers, is a chronic state of insecurity for tenants which leaves them vulnerable to exploitation. Citizens Advice have found that nearly half of all tenants who make a formal complaint about their housing suffer a 'revenge eviction' via section 21. And with an inflated market, landlords can easily push up rents or cash in on a sale.
In Bristol, while overall repossessions are going down, section 21s account for an increasingly large share of evictions. From 2015 to the beginning of this year, analysis of data from Bristol County Court shows that of almost 2,000 housing repossessions claims brought by private landlords, section 21 accounts for three quarters of the subsequent evictions.
Housing solicitor at Avon and Bristol Law Centre, Mike Norman represents tenants day in and day out. "The risk of a section 21 notice puts such tenants in a position of considerable insecurity," he says, adding that as there is no court hearing unless the paperwork is contested in "the tenant's view, eviction feels like its been instigated as an administrative procedure."
A question of power
Nick Ballard is an organiser with ACORN, the community union that has gained a reputation for helping tenants win battles with their landlords. For Ballard, this isn't just a question of due process and legislation. "Section 21 represents the power of one class of people, landlords, over tenants," he says.
With the Scottish equivalent abolished last year, ACORN is part of a campaign pitting "organised money against organised people" in a bid to scrap section 21 in England and Wales.
Why does Ballard think this piece of legislation from 1988 has gained such notoriety now? "In the context of a nationwide crisis in housing supply, and no rent controls, there is a massive incentive for landlords to pit tenants against each other, and seek whoever will pay the highest rent and evict anyone who can't, or even sell up. Landlords are greedy, at the end of the day. That's what it comes down to."
Whether or not you agree with Ballard's sentiment towards landlords, it's hard to deny the attractive propositions offered by the crisis for those able to cash in. In Bristol, rents have gone up by a third in the past four years, according to official figures.
With a quarter of all households set to be renting in the very near future, insecure rented housing is firmly on the mainstream agenda. Even the Conservatives, who count many landlords within the Cabinet, are signalling intent to address the issue, though a recent plan for three-year tenancies has been ditched.
From edition 17, OUT NOW!
Read more from this edition.
But landlords have pushed back with vigour. In response to calls to scrap section 21, the Residential Landlords Association's policy director said, "No good landlord will want to evict a tenant unless there is a major issue around rent arrears or anti-social behaviour."
The internet is now awash with warning articles about how landlords will be forced to pass costs of extra risk and regulation to tenants, or even a mass exodus of buy-to-let landlords from the market, with renters paying the price.
This doesn't fly with Ballard. "I genuinely think it would be great if there was a mass exit of landlords from the market," he smiles. "Landlords don't build houses, they just own them. It wouldn't change the number of houses in the country if they did, but it would change who could access them and under what terms."
Another line of argument is that landlords should have the right to evict tenants, fault or no-fault. But Ballard says, "If there hasn't been a breach of contract, why would landlords want to evict, apart from greed?"
Chrissy, now lodging in yet another insecure situation, accepts that renting out homes is a business, but thinks "landlords need to understand the social responsibility they have with these privileges".