Idles: the Bristol band making it big talk music, masculinity and mental health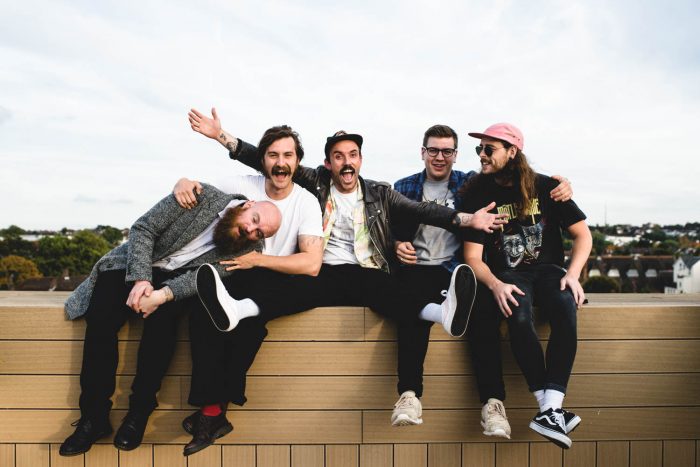 Men talking about their feelings shouldn't be groundbreaking, but it is.
For many outsiders, Bristol music means trip-hop. That Bristol sound. Massive Attack, Portishead, Tricky. Of course, for those living in this music-mad city there's always progressive sounds to be heard and now one of those underground acts, a staple on the local scene for years, Idles, are hitting the big time.
The Bristol five-piece secured a top 5 album with the brilliantly titled 'Joy As An Act Of Resistance', smashed a set on Jools Holland, clinched a Q Award for best Breakthrough Act of 2018, and continue to sell out dates on a seemingly never-ending world tour.
"I'm now not just a toerag from Bristol but people know who I am so I thought I'd try and help out wherever I can"
"I fucking hate sleeping on a tour bus," sighs frontman Joe Talbot, who suffers with anxiety. "But at least you're not constantly packing and unpacking, that's not good for my OCD. I got all sorts going on, me.
"We're not hitting it hard after shows, doing drugs or anything," he says. "I'm off the drugs full time. Drugs are appealing to vulnerable people and they're the people who should not be doing drugs and should be in counselling or seeking help from their friends.
"There's a wonderful charity in Bristol called Network who offer counselling for as much as you can afford to pay; my partner put me onto it when I was in my cyclical behaviours and it changed my life."
Guitarist Mark Bowen, the only member of the group to live outside of Bristol, recounts a recent talk they gave at Bristol Institute of Modern Music (BIMM). As well as the usual offering of advice about making it as a band, they covered the topic of mental health. It's something most of the band have battled with over the years – depression, addiction, anger and self-destruction – and something they work hard to overcome.
Photo: Ania Shrimpton
"We got onto the topic of mental health and how we maintain mental health on the road" says Bowen.
"Mindfulness and meditation is something that makes a huge impact on your life – you just get way less angry and way less annoyed about stuff," he says. "The time lag between you feeling upset about something and you feeling better about it just gets less and less."
It's clear that the tide is changing. There's an AF Gang fan group on Facebook where Idles fans come together sharing their challenges and offering support and advice. Men sharing their feelings. It's groundbreaking. It shouldn't be, but it is.
One song which has particularly captured people's minds is Samaritans, where Idles dissect toxic masculinity: 'Man up / Sit down / Chin up / Pipe down / Socks up / Don't cry / Drink up / Don't whine…That's why you never see your father cry.'
One song which has particularly captured people's minds is Samaritans, where Idles dissect toxic masculinity
Talbot has lent his support to a Samaritans charity campaign off the back of this. "I have a lot of time for Samaritans," he says – he himself suffers with anxiety. "Two of my friends lives were saved by Samaritans. It's a shame that there have to be charities to help people out. It should be state-funded really but what with the current climate, that's not going to happen really.
"It's just a case of showing my appreciation and they wanted me to get involved in some way because I'm now not just a toerag from Bristol but people know who I am so I thought I'd try and help out wherever I can."
Earlier this year, Idles backed the campaign to save Chandos House men's rehab centre in Bristol – a place credited with saving the life of the band's guitarist Lee Kiernan. Sadly their efforts were in vain as the rehab centre is closing down, but they continue to fight the good fight – writing about things that matter.
Photo: Ania Shrimpton
Talbot explains: '"I write about what I talk about, what I care about. The NHS as an institution was a big part of my life because my mum had a stroke when I was 15 and was heavily disabled ever since and then had kidney disease. I had 11 operations on my feet.
"There's always been a constant support from the NHS and I just feel it's a vital part of our country and the best thing we'll ever produce so when the Tory government start dismantling it piece by piece under our noses and people are still angry at the NHS and not the government it baffles me and I just wanna talk about it."
Lyrics from the Brutalism-era song Mother are a poignant commentary on life today and the issues that matter.
"Sexual violence doesn't start and end with rape / It starts in our books and behind our school gates / Men are scared women will laugh in their face / Whereas women are scared it's their lives men will take."
Photo: Lindsay Melbourne
"It's taken me a long time to figure out a way of trying to converse with the audience," says Talbot. "I started off like saying things like: 'I find it ironic that I'm talking about the plight of women through the gaze of a feminist and you're fucking throwing each other about like a bunch of apes' but they kind of look at you confused and carry on being dickheads. So now I just say 'more women in the pit please'."