'I'm sober now but without support, self-medication is always an option'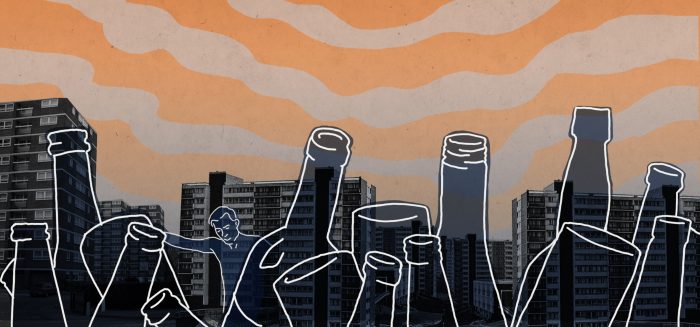 After overcoming a drink problem and addiction to painkillers, this man is fighting to access services that will keep him in recovery.
"Although I'm sober now, without any support, self-medication is always an option, so at the moment I'm treading water, you know."
Simon* is in the early stages of recovery after decades of drinking and drug taking and is desperately looking for support. Just months ago the 46-year-old went through a detox to treat his drinking problem and addiction to prescription drugs.
Sipping a latte and trying to find a charger for his vape, he is adjusting to his new sober life. His post-recovery treatment is about to end and he worries that if he doesn't get mental health support, it could jeopardize his recovery.
Part of our series
Addicted Bristol: Life and Death
Read more
Funding for drug and alcohol treatment has been slashed in the last five years. As new services launched in Bristol in February with an estimated 25% reduction in staffing levels, there are concerns about users finding it harder to get help.
"I've been trying to get whatever help I can, because the drink and the drugs support is still there – although it's not as good as it used to be – but the mental health side of things is almost non-existent," he says.
"I have a bipolar diagnosis, so there's a mental health side of things that isn't really being addressed at all."
In and out of treatment for the last 15 years, alcohol has been Simon's main problem from a young age. "I was eight when I had my first drink. I noticed that I really liked it. When I was 19-20 was when I got involved with the police for behavioural issues. For the last 20 years, I've been in trouble with drinking."
Alcohol led to violence and he went to Pentonville prison in 1998 after a road rage incident. "I went to a drug programme in Pentonville. I didn't take it that seriously at the time. It was no worse than any other incident that I'd been involved in, I just got caught."
"For the last 20 years, I've been in trouble with drinking"
After moving to Bristol when he got out of prison, Simon first sought help for his problem in 2003. "I started smoking a lot of skunk instead of drinking so much, which caused some issues as well. Not to much violence, but I was stoned out of my box. The only thing I bit was Mars bars and Dairy Milks not people," he says with a wry grin.
A few years later he got sober after going to Chandos House – the Redland rehab that is now closing down because of funding.
"It helped me stay a few years clean. It was paid for by the council and Chandos wasn't the only one. Chandos is the last proper treatment centre that deals with all the issues involved with drink and drugs and the associated mental health."
Numbing the pain
After years of ups and downs, he had a serious accident in 2015 that left him addicted to painkillers. "I witnessed a security guard beating somebody up at Harbourfest. I videoed them and they came over and tried to take my camera. I didn't give them the camera so they broke my arm, snapped the elbow.
"I was in extreme pain and was given painkillers. They were prescribed in hospital for a few weeks then I ended up buying them over the counter or online."
"It got to a point where I couldn't move in morning if I didn't have an opiate based painkiller. I ended up necking dozens of the things a day"
The painkillers did reduce his drinking, but now he had a new addiction to contend with. "It got to a point where I couldn't move in the morning if I didn't have an opiate based painkiller. I ended up necking dozens of the things a day."
"Being able to walk into BDP last year saved me, because I was in a state of desperation. Being able to talk to someone with experience – it's what's needed, no matter how much it costs."
In 2017, BDP – Bristol Drugs Project – prescribed him Subutex, which is used to treat opiate addiction. This enabled him to be weaned off prescription opioids, as an alternative to the "horrendous withdrawal symptoms" Simon describes when trying to stop taking them altogether.
"Subutex has an upper and a relaxer in it. You know, you have a line of cocaine and you know you've come up. It's a high like cocaine, but it's a subtle mood change."
In May this year, he did a detox to finally get clean. "It's strong so when you come off it, like I did for two weeks at the ACER unit, it's an emotional rollercoaster." He had been doing lots of exercise, like going on long morning runs, but once the Subutex stopped, all that "just crashed".
More demand, less access to treatment
Although he speaks of how Chandos House and BDP's services have been vital, Simon is adamant that Bristol's drug problems have got worse and yet services are now harder to access.
"From my experience during two different periods in Bristol's recent history, (drug use) definitely got worse – without doubt. There are more people living on the streets who want to escape their reality with drink and drugs. I'm lucky, I'm not living in a tent, but there are lots of people who go to the same groups as me who are and are really struggling to get to treatment that doesn't exist anymore."
"Getting access to help now has been more difficult and I'm right in the middle of it at the moment. It's a struggle and a concern"
In the early 00s when he first went through treatment, things were different. "Back then, this city was fantastic. People bent over backwards to help you out – it was really good."
"Getting access to help now has been more difficult and I'm right in the middle of it at the moment. It's a struggle and a concern. Although the preliminary step of getting drink and drugs out of your system and getting help for the first few weeks is there, there's no sustained support.
"It's that support network that people need because they have only got into that situation because there's no societal support network and they fall through the cracks. You need to close up those cracks so people don't fall through."
He thinks that funding cuts are disastrous because spending money on drug treatment saves elsewhere. "It's a very efficient use of public money to help so many other areas," he says. "People need to fund their habit with stealing, some of those people overdose and go to hospital – that costs money."
His GP has recommended psychotherapy for his bipolar, but Simon is first trying to access cheap or free services – so far without any luck. He mentions the example of the SWAN project, which offers talking therapy for affordable rates, but has a three-month waiting list.
Recovery doesn't come easily. "I've been doing this a long time and it's feeling that your life is worth less and that you don't deserve to look after yourself so you don't do something about it – you can't just snap out of it."
He talks about standing in a supermarket queue next to a fridge of ice-cold beers during the height of this year's heatwave. "I thought 'why don't I have a beer? What's wrong with that?'"
"I'm learning to live without relying on any substances, because I've never done that in all my adult life – I've never dealt with emotional stuff without a substance. I'd like to learn how to manage without that cruSimonh. That's what stopped me picking up that beer."
"Not using drink and drugs and just trying to manage is more difficult at some times than others. I'm still struggling with that to be honest. It's what I'm in the middle of right now. I've been sober for eight months and dealing with life on life's terms, sometimes you feel you've never learnt the lessons that other people have learnt.
But his new sober life also has upsides. "Not drinking used to seem boring but now actually the opposite is true, because once you stop drinking you hear the repeated conversations of drunks and go 'fucking hell that's boring!' People on cocaine are the most boring people on earth."
"You rediscover the simple pleasures in life because you no longer need to take some sort of chemical to appreciate something. It takes a bit of a leap of faith and a bit of time for your emotions to shift from being one of those people who need drink on a Friday night to being someone who doesn't need to because they're going to get up early on Saturday and go for a mountain bike ride."
For Simon, drugs are just one result of the existential question of wanting to escape reality. "Every Friday night around town, people are escaping their weekly reality. It's natural. Alcohol and skunk did that for me. You can't castigate people for wanting to escape suffering."
He wants to get his career in camerawork back on track, and is fascinated by virtual reality (VR). "That's why I'm getting involved in VR in Bristol. If people can escape reality in a healthy way, then that's better."
*The name has been changed to protect anonymity
Addiction touches people personally and affects family and friends. If you'd like to share your experiences (confidentially and anonymously if you wish) get in touch by emailing: matty@thebristolcable.org.