'Investigating Arron Banks isn't undermining Brexit, but protecting democracy'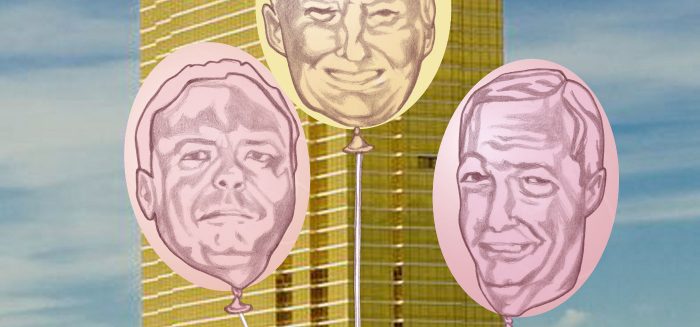 Criminal and journalistic investigations into Leave.EU and Arron Banks aren't the same as questioning the referendum result.
Illustration: Fran Cooper
The self-proclaimed bad boy of Brexit, Arron Banks, has tried to paint himself as a victim of a smear campaign from bitter Remainers wanting to undermine Brexit. He's wrong, because this isn't just about Brexit, but British democracy.
The biggest political donor in the UK is now under criminal investigation. After a year of revelations about Banks and the Leave.EU campaign, it is clearly in the public interest to investigate Banks – regardless of the implications for Brexit.
"I think it's too late to start questioning the result of the referendum. But that doesn't mean we shouldn't scrutinise how our electoral laws are broken"
The Cable has worked with openDemocracy to reveal that Banks lied to MPs about the political work his insurance company did for unofficial pro-Brexit campaign group Leave.EU.
He has repeatedly said his insurance business and political campaigning were separate, but leaked emails and whistleblower testimony suggest employees of Eldon Insurance and Rock Services worked on Leave.EU and other Brexit campaigns. This was not disclosed to the election authorities.
This coincides with Banks being investigated by the National Crime Agency (NCA) over the source of his £8 million donation to Leave.EU, which he founded. The Electoral Commission found evidence that the money came from Rock Holdings – a company owned by Banks and based in the tax haven of the Isle of Man. Offshore companies are not allowed to donate to political campaigns.
This needs investigating – especially after the official Brexit campaign Vote Leave fronted by Boris Johnson and Michael Gove and Banks' Leave.EU were fined for breaching electoral spending laws during the Brexit campaign.
More than two years after the referendum, Theresa May is slowly running out of time to get a deal before the UK leaves the EU in March 2019. An enormous amount of political time and effort has gone into trying to avoid a disastrous Brexit.
I voted Remain, but I think it's too late to start questioning the result of the referendum. But that doesn't mean we shouldn't scrutinise how our electoral laws are broken – especially when it could be criminal.
Where does the money come from?
Last year, the Cable investigated how the businessman went from motorbike insurance salesman to major political donor.
Now a millionaire living in a manor in Thornbury, Banks has been in the insurance business for years. One of the company he now owns is Eldon Insurance, which is near Cribbs Causeway at Lysander House, which also doubled as HQ for the Leave.EU campaign.
Banks claims the money given to Leave.EU came not from the Isle of Man-based Rock Holdings, but from his UK company Rock Services. There has been some mystery about how much money Banks has and when quizzed on the source of his wealth by MPs this year, he stormed out in anger.
He has boasted about owning diamond mining in southern Africa, but Channel 4 discovered that several mines shut after losing money. He also acquired a mining license in Lesotho just weeks after paying money to a minister in the Lesotho government, but denied it was a bribe. The man who claims to love his country was also found to be dodging taxes in the Panama Papers leak.
The NCA will also be investigating his links to Russia after he lied to a parliamentary inquiry about how many times he has met the Russian embassy officials. There were more than 10 meetings in the lead up to the EU referendum.
Playing the victim
Banks appeared on the BBC's Andrew Marr Show yesterday to defend himself. "We know what this is about – it's about undermining article 50 and the Brexit result," he said. "It's a group of vicious MPs who have grouped together with the Guardian and the FT."
This response is typical of how Banks and his right-hand man Andy Wigmore have responded to scrutiny from journalists and politicians. At times it's been personal and ugly. The Observer's investigations into the Brexit referendum campaign were led by Carole Cadwalladr, who won awards for her exposés on data intelligence firm Cambridge Analytica.
"Banks may see himself as a victim, but actually he's both an important figure in Bristol and a major influence on British politics. He needs to be held accountable"
She wrote in the Observer yesterday that since her reporting on Banks, he has called her "hysterical, insane, a lunatic, a mad woman, a conspirator, a loony, a mad cat lady, a nasty piece of work, a criminal, a bully, a mad cat lady, a loony, a tinfoil hat nutter, a hacker, a mad cat lady, a loony, a bitter Remoaner, a lone conspiracy theorist, an enemy of the people".
These are some of the accusations levelled at Remainers who want to scrutinise the referendum. There are without doubt lots of people who thought the referendum campaign process was extremely poor, for what was arguably the most important event in a generation.
The Leave campaigns broke spending laws, oversimplified the complicated process of leaving and put lies on the side of a bus, but the Remain campaign was negative, threatening, didn't propose a positive pro-European vision and was marred by the prominence of David Cameron and George Osborne.
Former cabinet minister Priti Patel accused the Remain campaign of breaking spending laws, but this was rejected by the Electoral Commission. Nevertheless, neither side covered themselves in glory.
Looking beyond Brexit
As Brexit day at the end of March creeps ever closer, it's important to heal these divides rather than go back to the tit-for-tat point scoring of the referendum campaign. And this division is deep.
Bristol is often portrayed as a strongly Remain city. It's true that 62% of Bristolians voted Remain, but Brexit was divisive in deprived communities outside the student-dominated city centre. Bristol South and Bristol East voted slightly to Remain (both around 53%).
I'm worried about Brexit and detest the stance of the pro-Brexit media, who try to silence anyone who questions the 'will of the people'. However, I think it would be disastrous to ignore the reasons why so many people voted for Brexit. Many did so because they felt ignored and powerless, so not leaving the EU would leave the country even more divided.
Investigating the Brexit campaign doesn't have to be about Brexit. Instead, it's about ensuring the democracy in the UK actually works. What's the point in having elections if we're not confident they're going to be fair?
Banks may see himself as a victim, but actually he's both an important figure in Bristol and a major influence on British politics. He needs to be held accountable and prove that his financial backing of Brexit is all above board. It's the duty of journalists to do so.