Travellers say it's time to stop using them as clickbait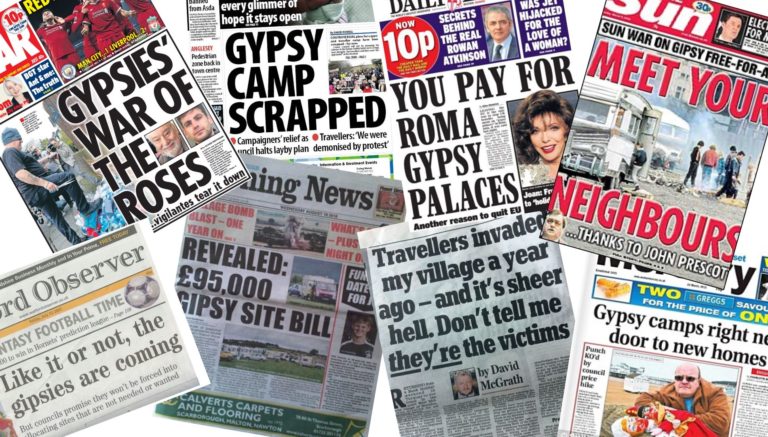 In an industry where sensationalism sells and conflict gets clicks, you'll shift more papers if a Gypsy did it. Campaigners say the demonisation of Gypsies, Roma and Travellers in the media has to stop.
"There are some bastions of absolutely crap, horrible, racist reporting out there among the national press"
Four years ago John Knott, a retired businessman living in a Herefordshire village, killed his wife, Anne, and then himself. As well as struggling with his wife's worsening Alzheimer's, he'd been fighting planning permission for three caravans in the field next to their £500,000 home.
The headlines laid the blame for the murder-suicide firmly at the door of 20-year-old Zoe Lee, the Romany Gypsy who'd dared to apply for planning permission: 'Husband killed wife after Gypsy camp battle', 'Stress of battle against Travellers' camp ends in tragic pensioner double suicide' and 'Gypsy camp stress 'drove couple to suicide pact' were some of the choicest. Every story needs a good villain, and what started as a tragedy then became a witch-hunt.
Mike Doherty, editor of the Travellers Times, a media platform for stories by and about Gypsies, Roma and Travellers (GRT), says this kind of misrepresentative, exaggerated coverage is typical.
"It's starting to change for the better, but there are some bastions of absolutely crap, horrible, racist reporting out there among the national press," he says.
The 'last acceptable racism' is fuelled by media demonisation
Romany Gypsies are the largest ethnic minority in Europe, while Irish Travellers were recognised as a distinct group in 2000. Both are protected by the 2010 Equalities Act. Despite this, GRT people remain some of the continent's most targeted and socially deprived individuals, facing daily prejudice and racism that can be exacerbated by inaccurate and disproportionate media coverage. Even if stories are balanced – and some are – headlines alone can sow discontent, especially in the social media age when attention spans are limited.
Read more of the Cable's coverage on issues affecting Bristol's Romany (Gypsy) and Pavee (Traveller) populations
Putting the word "Gypsy" or "Traveller" (usually in lowercase) in a headline is a surefire way of getting more clicks. Trudy Aspinwall, team manager at the GRT advocacy project Travelling Ahead, says Gypsies and Travellers are often seen as fair game. "There's a deep-seated prejudice that still exists in society in relation to Gypsies and Travellers, and the press just reflects that and feeds it," she says.
Aspinwall has stood on roadsides with families while people have driven past and yelled insults. She says the TV show My Big Fat Gypsy Wedding led to a notable rise in bullying when it first aired. "They would hear those views reflected back at them at school, at youth clubs and in the street."
Travellers are sick of getting blamed for the actions of a small minority, Doherty says. Only 16% of the 300,000 Roma and Travellers in the UK are on unauthorised encampments. "The rest are on either sites that they own – private sites with planning permission, paying taxes – or they're on public sites paying rent to the council.
"But when you open a local newspaper and there are Gypsies and Travellers in it, it'll be to do with the tensions and conflicts around unauthorised camps."