Saffron Records: the all-womxn project breaking open the music industry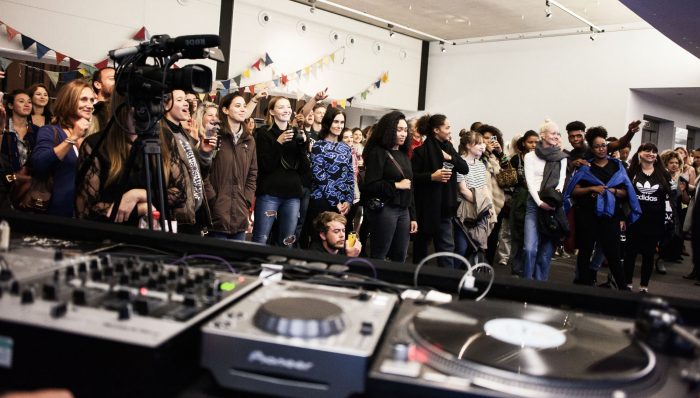 The music industry is often dominated by men, but Saffron Records are blazing a trail for female artists in Bristol.
"My music industry is amazing," says Laura Lewis-Paul, founder of Saffron Records, which celebrated its third birthday in September. "I've got Bristol Women in Music, there's women and diversity around me and it's great."
"Education is becoming increasingly important to give creative control to women"
It's a far cry from the usual male-dominated scene. "I'm like, 'The music industry is great, what you talking about?', and then you go to London for one day and you're like 'Oh yeah, I get you.' You can lose sight of what the reality is when you're in Bristol because it's really progressive and a great place to be."
I meet Laura over a cuppa in Cafe Kino in Stokes Croft one early autumnal evening. It's just a stone's throw away from Saffron Records' offices and, Laura says, Bristol's creative quarter was an obvious home for the label. "Stokes Croft is 100 percent where the creativity comes from," she says. "It's about being true to who we are and who our community is."
Bristol is a relatively advanced city when it comes to women's equality. Three of Bristol's MPs are women and a lot of the city's cultural pioneers and business leaders are women. Now organisations such as Bristol Women in Music and Saffron Records are 'championing womxn into the music industry'. (The 'x' spelling used by Saffron represents anyone who identifies as a woman and aims to be more inclusive than the traditional spelling.)
The scale of the existing imbalance is clear in the numbers: only around one in 20 sound engineers and producers working in the industry are women. Saffron Records is on a mission to change this. Launched as part of a Prince's Trust Enterprise scheme in 2015, the Community Interest Company initially followed a basic model of just releasing music by female musicians from Bristol and the South West, but soon evolved into more.
"I thought I knew what I wanted to do, but it hasn't gone that way at all," explains Laura, who has a youth work background with Creative Youth Network. "Not in a bad way, just through learning and understanding how a business works. We launched as a record label and artist development platform, which it still is, but the education is becoming increasingly important to give creative control to women."
Saffron Founder Laura Lewis Paul and sound engineer Marta Salogni after they delivered a masterclass at dBs Bristol bear Temple Meads in September 2018
by Laura Williams
Saffron's pioneering approach sees it run regular courses, workshops and masterclasses in DJing, sound engineering and music production—run by women, for women. Each year around 80 women complete its courses. Every course has two bursary places for participants on low incomes, funded by Bristol's Quartet Foundation.
The most recent masterclass in September saw Marta Salogni, Music Producers Guild Breakthrough Engineer of the Year, sharing her experience with a room full of eager learners—musicians wanting ownership over their sound and a small emerging group of women producing music for other bands.
As the only woman on her course at London's Alchemea College, Marta knows what it's like for women making their way in a male-dominated industry. "I was always wondering where are all the other women? Meeting other women in the industry has been really important in creating a community." she says. "I love what Saffron is doing and I wish there were more Saffrons everywhere."
Laura adds: "Role models are really important. To be able to see somebody that is similar to you so you can think, 'OK, this is a space for me, they've done that, I can do that.'"
Education at the core
In homage to its status as an educational catalyst, Saffron is in the process of dropping the 'Records' part of its name. "We're still a label and we still do artist development but we've flipped it round in terms of the priorities of what we do," says Laura. "Education is at the core of everything. We need to come back to that all the time."
"When you use saffron in cooking you use a very little amount and it goes really far; if you give a woman the skills and the confidence then you see how far that can go"
As for the Saffron part of the name, Laura explains the inspiration: "When you use saffron in cooking you use a very little amount and it goes really far; if you give a woman the skills and the confidence then you see how far that can go."
Saffron currently supports three musicians each year with artist development and mentoring, working with funder PRS as one of their 35 UK Talent Development Partners. It's just completed its 2018 call out for artists and will be revealing the acts soon. It's even taken one of its artists to Palestine to build relationships with communities there.
Partnership working has been a crucial part of the Saffron story. As well as the PRS funding, they partner with music college dBs Bristol for space for their courses, with Red Bull to record in their London studios, with Bristol Institute of Modern Music (BIMM) to work with an intern from their music management course, and with festival and event production company Team Love to give a platform to women DJ graduates.
Shaking up the scene
Saffron Records artist Mercy Cartel by Beth Sheldrick
Laura believes there are a number of barriers to women thriving in the music industry—including lack of role models and the male nature of the space. Saffron's long-term aim is to create its own music studios in Bristol—world class studios run by women. "Having studios that are run with equality in mind is really important for me," says Laura. "I have a vision of it being so welcoming and non-pretentious. Studios are so male, I'm like, 'Where's my Pukka teas?!'"
It's why, she says, the partnership with dBs is so important. Saffron is now seeing around 15 percent of the women taking its courses going on to enrol on further education courses at dBs—a figure they're keen to build upon.
"If women feel comfortable in that space, and have the skills and the knowledge…if they want to further their education they can do that at dBs [on] courses which don't currently have many women on them."
From edition 17, OUT NOW!
Read more from this edition.
She adds: "One of the girls came on three of our courses thanks to funding from the Prince's Trust. She's since played at the Love Inn, has done a mix for radio, been approached by a label and is now studying at dBs. That's all since April. That would have never happened if she was in a mixed environment because she's very shy and very quiet. She was able to thrive in this environment."
And while Saffron isn't short of success stories, Laura concedes that there's also more work to be done in terms of diversity.
"The work we do is about equality and it's about gender equality. There are so many levels of inequality and when you start to think about that, you realise that there's so much to do to make it inclusive and accessible to everyone that it needs to be accessible to."