She Makes War is a Bristol musician who wants her country back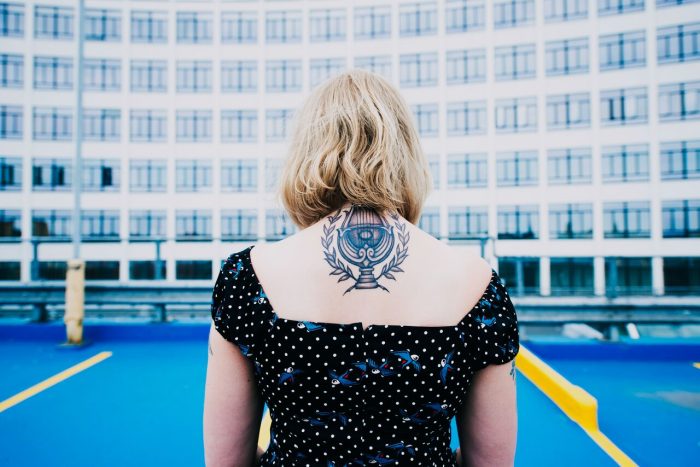 Laura Kidd aka She Makes War on her journey from putting on her own nights to crowdfunding entire albums.
Photo: Ania Shrimpton
When musician Laura Kidd came to Bristol to play a gig at Ladyfest in 2012, little did she know that she would soon call this city her home. Making music under the moniker She Makes War, she decided to leave the capital and head west to this fine city. The multi-instrumentalist indie-rocker, whose songs embody a spirit of protest, hasn't looked back.
Kidd says that despite living in Bristol for just six years, it's much more of a home for her than London ever was – where she lived for twice as long. That said, she confesses to feeling like a bit of an outsider.
"The first line says 'I want my country back' and then I pause. So as a white woman from England, that could be taken the wrong way"
"I'm not part of the Bristol scene," she says. "Maybe if you've grown up here or went to uni here then maybe there's a scene, but I moved here and am a bit of an outsider.
"I think I'm the only person in Bristol to admit to having never actually met Idles. I think a lot of people also haven't but say that they have. Although I was in talks with Joe about being in the 'I Want My Country Back' video, unfortunately they couldn't do it."
When she lived in London, Kidd started putting on her own gigs after finding herself first on at all the shows she was booked for. By putting her own gigs on, she could headline and was seeing around 150 people through the doors every time. "When I moved here it dropped down to nothing again but I think I just saw it as a challenge," she says.
She Makes War's first self-promoted gig in Bristol was at The Croft (now Crofters Rights); she hired it for £60 and got 20 people in so it covered its cost. Kidd explains: "Doing it myself, I have to sell far fewer tickets to break even and all the money can go to paying the people in the band. It's a game changer for me."
When she started putting on her own shows at The Louisiana, she offered variable pricing.  "If £10 was loads of money to them they could pay £6 but if £6 was like a beer or whatever for someone, they could pay £10 so it just evened things out."
Crowdfunding has played a huge role in the She Makes War story. "It's almost the way that my audience almost expects me to do a record," she says. With an 8,000 strong mailing list, she "doesn't need to do the hard sell to them".
More than 1,000 people pledged to latest album Brace For Impact which reached number 15 in the Independent Album Chart. Pledges covered the cost of recording, mastering, PR and everything associated with releasing the album.
"That basically replaces any money from a label – any advance that you'd hope to get – and it's non recoupable, so it's mine. It's great because everything else is profit to go towards the next record, which I'm already writing.
"Over the 10 years I've been making albums, it's changed so much. There was so much stick about putting it out yourself previously. I put this album out myself because I didn't want anyone else ruining it. With the last one, I wanted to find partners to work with. I tried it, it didn't work.
"DIY is a phrase that kind of ignores the audience. It's like I did it all myself but I didn't really because what did it was all of those people buying tickets, all of those people buying records and all of those people getting these extra rewards, which means I have more money to spend in the studio.
"I love Europe. I feel like a citizen of the world. Theresa May tells us that's not a thing. Well, f**k her"
"What I'm on the planet to do is make albums so I just make the next one. How people choose to consume music is up to them. I think it's really cool that you can have a playlist and stuff, and I'd be happy and honoured to be on a playlist, but if the songs are written individually then it'd be very hard to have any kind of emotional reference that goes beyond a verse, a chorus and a bridge. I will always be writing songs in groups."
One song written at the same time as latest album Brace For Impact clearly didn't fit. I Want My Country Back is She Makes War's response to Brexit and was released ahead of her album as a stand-alone song.
Kidd says: "I was very passionate about trying to ensure that whatever platform I had was used to try and encourage people to vote – to be honest, whichever way they wanted. I wasn't saying 'you should vote this', I was saying 'you should vote'.
"However, after the referendum result I was very angry. My music is all about inclusivity, I wanted the people who I know who aren't from England to know that I thought that they should be able to stay here."
Kidd created two videos for I Want My Country Back, one featuring people holding signs with messages on and another with fans and Bristol musicians, including Thoughtforms. She explains: "There was a man there originally from Spain and a woman there originally from Germany. They were worrying about their status here and it meant something to them because people were standing up and saying 'I don't think this is right and this is why.' It was worth it just for that really."
"Playing it to a cold room is interesting because the first line says 'I want my country back' and then I pause. So as a white woman from England, that could be taken the wrong way.
"I played it around Germany every night, I explained it and I apologised for my country. I love Europe, I love the whole world. I want to be spending time in all these countries. I feel like a citizen of the world. Theresa May tells us that's not a thing. Well, f**k her." Indeed.