In the UK today, just being a Traveller is bad for your health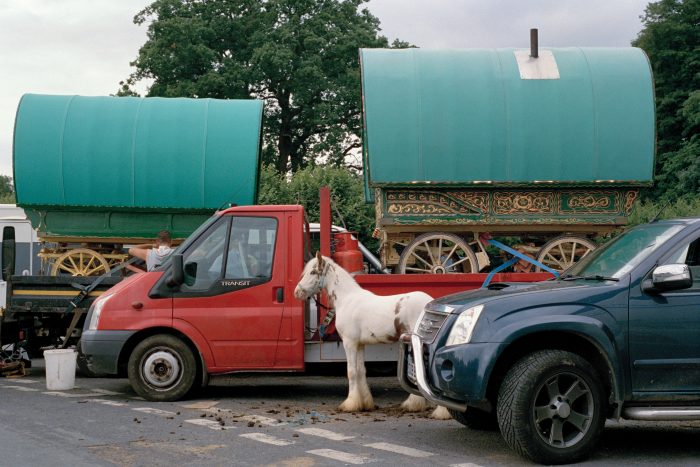 Inequality for Bristol's Traveller communities isn't going to be fixed without dedicated multi-agency working, warns anti-racism charity.
How equal is Britain? Not very, a new report reveals, and Gypsy, Roma and Traveller (GRT) communities are among those missing out the most.
The most recent 'Is Britain Fairer?' report, from the Equality and Human Rights Commission, showed that GRT communities face multiple disadvantages across education, health, accommodation and employment.
This is the third equality report from the EHRC and the last one before Brexit. It found that GRT achieve below-average school results, are less likely to go to university, have difficulty accessing healthcare, have worse health and often have low standards of housing.
"They are the forgotten and the left behind and unless we take action, it will be at least a generation before we put things right"
David Isaac, Chair of the EHRC, said that Britain is facing a defining moment in the pursuit of equality.
"We've seen some significant areas of progress, particularly in the improvement of opportunities in education and at work, as well as the fact that more people are now engaging in politics.
"However, in an already divided nation, some unacceptable gaps continue to grow. Across many areas in life, the losers struggle to make headway in a society where significant barriers still remain. They are the forgotten and the left behind and unless we take action, it will be at least a generation before we put things right.
Alex Raikes, Strategic Director of Bristol anti-racism charity Stand Against Racism & Inequality (SARI), said that the national research only backs up what they see on a daily basis.
"In everything we look at, wherever GRT people are measured and all of their outcomes are looked at – health, access to GPs, poverty – they've come up as the worse results of all communities," she told the Cable.
No voice for GRT people in our region
Raikes said that there is not enough being done about inequalities faced by Bristol's Gypsies, Roma and Travellers and that Bristol needs multi-agency working and a funded voluntary organisation specifically dedicated to GRT communities, offering advocacy, legal advice, specialist support and outreach.
"We already know that dedicated health visitors, dedicated safeguarding, GRT specialists make a huge difference. We know it works for the community to have go-to people, who understand their needs and are going to reach out in a very different way."
As well as having better cross authority working, with police and the public sector working together, Raikes said that GRT communities need to be represented by people connected to those communities.
"It needs to be people that fully understand the barriers and challenges that they face," she said. "For the moment we've got no recognised advocacy or voice for GRT people in our region."
"We have had specialist services for our Asian communities that understand the cultural needs and barriers. And GRT communities have very similar cultural barriers but don't have the same services," she added.
"We need to be encouraging services and organisations to find a way to make sure they've heard from community members what they want. And that won't be easy."
Britain in danger of becoming a two-speed society
The report warned that "Britain is in danger of becoming a two-speed society, with some groups excluded from prosperity and rights enjoyed by others,". It adds that this inequality risks becoming "entrenched for generations", and that the progress made in some areas has been overshadowed by "alarming backward steps".
Yvonne MacNamara, CEO of GRT charity the Traveller Movement said the report's findings were disappointing but not surprising, adding we were heading for a three-speed society, with Gypsies, Roma and Travellers at the bottom.
"The EHRC speaks of the report showing a two-speed society, however here at the Traveller Movement we have known for a long time that it is in fact a three-speed society, with Gypsies, Roma and Irish Travellers facing severe and entrenched inequalities.
"These 'burning injustices' are well documented; we need real action from the government and statutory agencies," she added.
Irish Travellers and Roma worst off – and Brexit is likely to deepen inequalities
"The groups that we see having really challenging times are the Irish Traveller and Roma," Raike told the Cable. While English Gypsies complain to SARI most of discrimination and hate crimes, Irish Traveller and Roma families are more likely to face issues around health, poverty, no fixed abode and safeguarding.
As this is the last equality report before Brexit, Isaac from the EHRC warns that the lessons from it are more urgent and that there is a need for a "robust legal framework to protect people's rights now and after Brexit".
"The reality of Brexit will be with us early next year and our review provides a benchmark against which to measure the impact of leaving the EU on equality and human rights. Brexit presents a real opportunity to discuss and define the type of country we want to be."
Are you worried about how Brexit will affect you or someone you know?
Get in touch: content@thebristolcable.org if you'd like to share your story. Contributions can be anonymous.