How witness intimidation threatens us all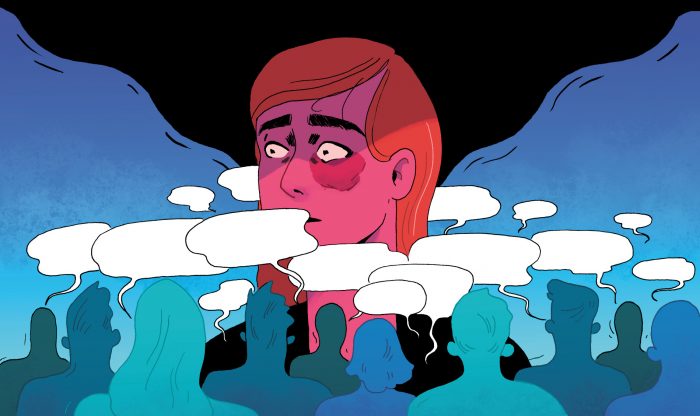 Failure to clamp down on witness intimidation is allowing domestic violence perpetrators to get off scot-free, and failing survivors.
Illustration: Louis Wood
The defendant wrings his hands, paces up and down the grey corridor in the bowels of Bristol Magistrates Court, and steels himself ahead of the hearing.
"Fear of the repercussions is one of the major barriers to victims reporting domestic abuse to the police in the first place"
He's in the dock on two charges: assaulting his wife and witness intimidation. He sent her threatening texts demanding she dropped the case. She didn't, and he's eventually found guilty on both counts.
Given the scale of domestic violence, and how vulnerable survivors are to witness intimidation, prosecutions like these are few in number.
In total, there were just 11 convictions by the Crown Prosecution Service (CPS) in 2017, up from two in 2015, for harming or threatening to harm a witness, juror or person assisting an investigation in the Avon and Somerset police (ASP) force area.
This figure was out of 100 cases of witness intimidation reported to the force in the same year, leading to 28 charges – and relates to all areas, not just domestic abuse cases.
Cuts to policing and specialist services for survivors of domestic abuse is allowing perpetrators to escape justice, with cases routinely dropped if victims refuse to press charges.
Improved evidence gathering by the police and increased funding for specialist services is needed to support the CPS in prosecuting witness intimidation offenders, say lawyers and campaigners.
Last year's 100 reported cases of witness intimidation in the Avon and Somerset area (and 43 so far in 2018, as of summer) are just the tip of the iceberg, says Georgia Holmes, a chartered legal executive who heads the domestic abuse team at the Bristol-based Barcan+Kirby law firm.
Holmes tells the Cable that, in her experience, witness intimidation "is rife, it's everywhere" and that it mainly goes unreported and desperately needs tackling.
"I had a case recently where the dad had made really significant threats to harm the mum. She was opposing an application to have the kids live with him. He had called her mates and said he was going to kill her, he was going to do these things to her and he'd had enough. Her friend had told the mum but wasn't willing to take it any further.
"The friend said: 'I don't want anything to happen to you, but I can't get drawn into this. I am not going to go the police with this, I am not going to go to court with you and say this is what he said to me, because I don't want it to then be me and my family that are subject to this.'"
Perpetrators let off the hook
Witness intimidation is one of many complex and often interlinked reasons why people withdraw support for legal action in domestic violence cases. From family and community pressure to facing the daunting task of giving evidence in court, the motivations for dropping out of a case can be ample.
"We need a criminal justice system that both keeps survivors safe and holds perpetrators accountable"
The offence of witness intimidation is a grey and legally contested area, and is often frustratingly hard to prove. Regardless of the cause, without a victim's testimony, domestic abuse prosecutions are often abandoned.
A spokesperson for ASP says that when officers believe a person is at risk of violence and needs protection, a number of measures can be put in place, from personal safety alarms to "placing markers on our systems to ensure calls to survivors' homes are prioritised".
Police can apply for a domestic violence protection order, which can be issued by the magistrates court "without the survivor giving evidence in court and can be enforced by arrest".
Despite such provisions, Home Office data reveals that 43% of reported domestic abuse crimes resulted in the victims withdrawing support for action against perpetrators in the Avon and Somerset area in the year ending March 2017. This high drop-out rate is not just a local issue.
Out of the 24 police forces that provided data, ASP ranked 11th among the forces with the highest percentage of survivors withdrawing support for legal action against abusers. Nationally, the area where domestic violence victims were most likely to back out of pressing charges was Hampshire, where the drop-out rate amounted to 65% of the total recorded domestic abuse crimes in the county.
Meanwhile, the number of people found guilty by the courts annually for witness intimidation – in relation to all areas, not just domestic abuse – is in the single digits among many of the 25 police forces who responded to a Freedom of Information request by the Cable. Charge rates vary between forces, but most remain in the double digits.
ASP's neighbouring constabularies in the south-west, Devon and Cornwall police and Dorset police, recorded 20 charges for witness intimidation between them, with five individuals found guilty in 2017.
Since 2016, a grand total of 14 people have been found guilty of the offence in the two force areas combined.
Katie Ghose, chief executive of the charity group Women's Aid, tells the Cable that "fear of the repercussions is one of the major barriers to victims reporting domestic abuse to the police in the first place".
Indeed, the latest available information from the Crime Survey for England and Wales estimated that around four in five victims of domestic abuse do not report it to the police.
"For those who build up the courage to report the abuse, we know that far too many cases are abandoned if the victim withdraws support for the prosecution," adds Ghose.
Police and prosecutors complain that it's notoriously difficult to provide evidence of intimidation to a robust enough standard for the courts, particularly given that not all violence and intimidation is physical or witnessed by a third party.
An ASP spokesperson told the Cable: "Intimidation of witnesses is an offence punishable by a maximum of five years in prison and is tackled by the police, CPS, courts and prison service working together."
But even if domestic violence survivors are supported to take legal action in the face of intimidation, the stakes are high. Holmes says that her clients "know that if they take this person to court they may not be found guilty and that's the worry: if they get let off, they're coming back to their door".
This insecurity is likely heightened by the fact that the south-west has the lowest number of refuge bed spaces out of all regions in England and Wales, with only 1.96 bed spaces per 1,000 female domestic violence victims – 275 in total. And as recently reported by the Cable online, at least two women in Bristol face homelessness as their safe house closes.

Protecting survivors: improved evidence gathering
In the case of the abuser in Bristol magistrates, his attempt to thwart the prosecution was exposed by his crass, threatening text messages – as seen by the court. However, clear cut evidence like this is often hard to come by when proving witness intimidation.
From edition 17, OUT NOW!
Read more from this edition.
There needs to be an improved approach to evidence gathering and protecting victims to prevent perpetrators getting off scot-free, involving the police, CPS and specialist services. Ghose makes a number of recommendations for how domestic violence and witness intimidation crimes should be better handled.
"We want to see the police improve their evidence gathering, collecting sufficient evidence to be able to progress a prosecution without the victim's testimony – just as they would for other crimes such as fraud, burglary or traffic offences – and for them to make protecting victims who build up the confidence to report the abuse an absolute priority," she says.
"We need a criminal justice system that both keeps survivors safe and holds perpetrators accountable."