Community: What's the best way to help Bristol's homeless this winter?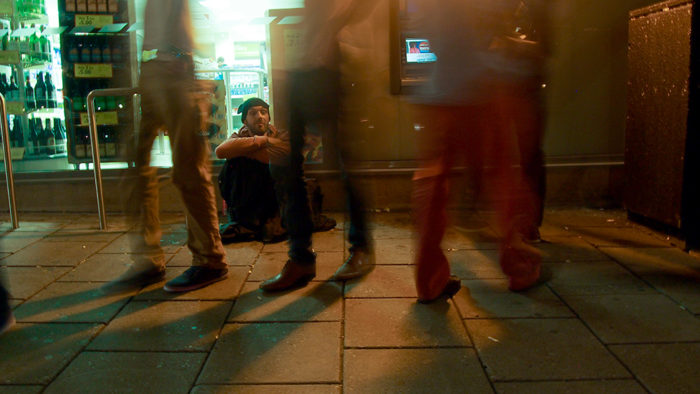 Community media coordinator Mark Sennett gets the lowdown on what's the best way to support homeless people over Christmas and beyond.
Photo: Arvind Howarth
With the wet, cold winter weather in full swing, and Christmas and New Year just around the corner, Bristol's visible homelessness crisis is more marked than ever.
And for many of us, it's difficult to know how you can make a difference as an individual. If you give money to someone begging, will they spend it on drugs? What donations are the most useful to give to charities? Where is the critical information that someone new to the streets might need?
After meeting Ed Reed, who works for homelessness charity Caring in Bristol, at a Cable members' meeting, I had a chance to get answers from someone in the sector. Homelessness is an issue of concern raised by Cable members time and time again, as the housing and rough sleeping crises show no sign of abating. Here's the lowdown from Ed on the best ways to support people experiencing homelessness over the holiday period.
The begging question
We launched in to one of the most common questions – is it a good idea to give money to someone begging, or give to homelessness charities, or both?
Different types of homelessness
Although much of the advice here is pertinent to rough sleepers, Ed was keen to point out the different types of homelessness. Street sleepers are the tip of a very large iceberg, which also includes homeless people living in temporary accommodation, and the so-called 'hidden homeless' who may include people sofa surfing between different addresses.
"There is a question that people working with people that are rough sleeping get asked a lot: 'should I give money to someone begging'?" says Ed. "It is a very difficult question to answer, as we don't know.  Every person asking for money on the streets is having a difficult time. Every person is different; some will spend money on food and clothing, others on alcohol or drugs."
Ed's advice may surprise some people who fear giving money which might be spent on the 'wrong' things. He says, "By giving money to someone on the street, you are helping them that day. You could be helping someone on one of their worst days."
Giving to charity
There's much to be said for donating to charities, too – the difference is whether you want to help immediately, or support organisations seeking more long-term solutions – such as "preventing people from ending up in that situation and/or get people out of the situation", says Ed. "The important thing is that you chose to help."
There's a list of some of the many charities and organisations working in the local area below.
Acknowledgement
Coins aside, kindness goes a long way: "Acknowledge them, say hello and have a chat because being ignored makes everyone feel isolated, and having someone share their day, even if for a moment, will make a big difference."
Resources and information
Anyone can inform themselves about what help is out there, and where to find it. For example, the website of Bristol Homeless Connect shows what help is available to people experiencing homelessness, from dentists, shelters, food, clothes, phone charging points, to medical facilities and computer access.
Similarly, Caring in Bristol also produce the city's Survival Handbook, which contains essential info for anyone experiencing homelessness in Bristol. Both resources are designed to be easy to use and bring together info on all different resources in one place.
Ed also recommends using Streetlink, a website and app that connects people sleeping rough with the St Mungo's Outreach team. You can log an entry of where you have seen someone rough sleeping and a member of the Outreach team will find them to offer them support and advice.
Volunteering your time
Ed's final piece of advice on how to help was "Support the supporters". "There are lots of charities and groups of Bristol that need your help, whether that be as a fundraiser or as a volunteer," he says. "There are lots of different types of volunteering that can fit in with your schedule."
Here are the most needed items for charities supporting rough sleepers. It's always best to contact organisations before collecting items for donation, as they may be short of certain items but overflowing with others!
Donating
Here are the most needed items for charities supporting rough sleepers. It's always best to contact organisations before collecting items for donation, as they may be short of certain items but overflowing with others!
Food:
Confectionery, e.g. chocolates, sweets, crisps, biscuits.
Coffee, hot chocolate and tea
Sugar
Cereal
Long-life milk & juice (fridge space is at a premium.  Need to save room for the turkey!)
Tinned fruit and custard
Instant snacks e.g. Pot Noodle, Cuppa Soup etc
Toiletries:
Miniature bottles of shampoo, conditioner & shower gel
Toothbrushes and travel size toothpaste
Disposable razors
Clothing:
New socks and underwear
Good quality warm clothing (e.g. Coats, warm jumpers).
Men's trainers and boots
Jeans
Other: