Immigration detention slammed by councillors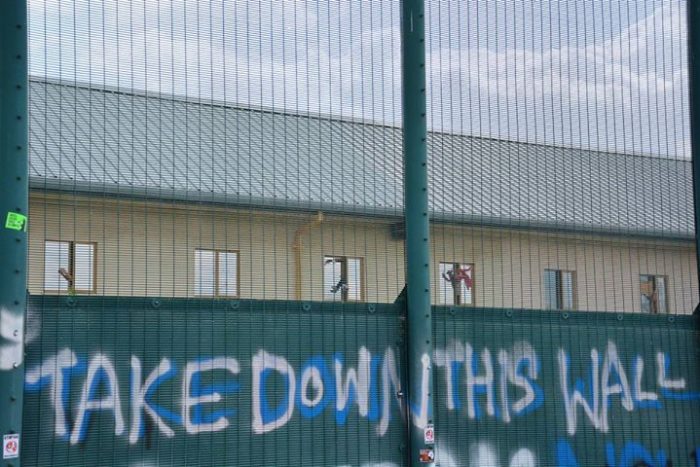 Bristol follows lead of other councils with motion demanding end to detention system, in an emotional session.
Tuesday, 11 December. Bristol City Council voted to back a national campaign demanding an end to immigration detention, drawing applause from the public gallery. The move follows in the footsteps of other local authorities, including Manchester and Liverpool, as the These Walls Must Fall network gains ground nationally.
The motion was spearheaded by Cllr Fi Hance of the Green Party who gave an impassioned speech on the case against the detention system. She described it as "basically a prison", where many asylum seekers are imprisoned indefinitely often to be released back to their communities.
Drawing on her experience in national government as well as local, Cllr Hance described the Home Office as "not to be trusted" and slammed the bureaucratic errors that can strand people in detention.
The motion was seconded by Labour councillor Ruth Pickersgill, whose voice broke with emotion as she relayed stories of constituents who had been separated from their families. She described immigration detention as "breaking people". She drew attention to the recent case of rugby player Ken Macharia who was recently released from detention after a high profile campaign in Bristol and beyond.
"It's a moral failure, a social injustice."
Other emotional statements came from Cllr Martin Fodor, who spoke of his family's history of escape and refuge from persecution. Fighting tears, he told the chamber, "I dread to think what life would have been like for my maternal grandmother, a toddler brought to this country, if she had been put in prison when seeking refuge with her mother. Or what would have happened to my father, when he was fleeing persecution and near certain death to be locked up as a teenager on arrival in this country without knowing when he would be released."
An amendment proposed by Cllr Mark Weston of the Conservatives involved changing the motion from a statement of opposition to all immigration detention, to one which allows for the continued detention in some circumstances.
He described the system as "far from perfect" but said it was "necessary in certain circumstances" such as when dealing with foreign national offenders who are sent to detention after serving prison sentences.
The amendment was lambasted in the chamber as a "wrecking amendment" and was voted down.
Before the motion was passed, 48 in favour to 11 against with 3 abstentions, Mayor Rees spoke in support. "It's even worse than prison, it's the uncertainty of being locked up for indefinite periods… It's a moral failure, a social injustice." Rees also praised the work of the These Wall Must Fall campaigners.