"Why we're extending solidarity to all migrants"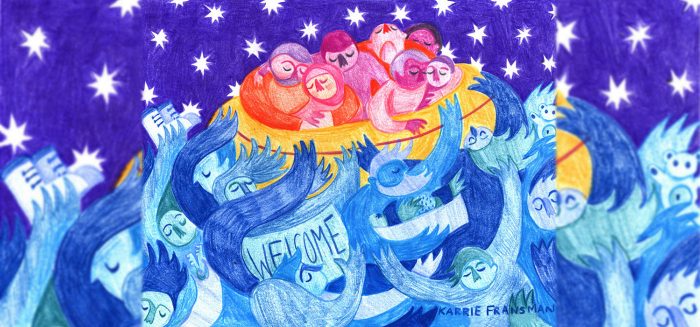 Alice Cutler is the Welcome Centre Manager at Bristol Refugee Rights.
Illustration: Karrie Fransman
In 2006, a retired social worker discovered an asylum seeker living destitute in a Bristol park. With others, they began to build the idea of a welcome centre where people would be treated as equals. Under the slogan, 'Safety, Solidarity and Action for Change' Bristol Refugee Rights has been delivering services for 12 years, and is now one of several thriving organisations supporting asylum seekers and refugees in Bristol.
However, as the situation on the ground is changing so must we.
The UK has long promoted itself as defender of human rights and indeed many people come to the UK believing they will be safe. The reality can be very different.
Driven by an obsession with net migration targets the government has cut legal aid, increased visa application fees and introduced increasingly complex and costly routes to building a life in the UK.
That's not all. In what has become known as the 'hostile environment', a phrase coined by Theresa May while Home Secretary, government immigration policies have led to for-profit detention centres, destitution, denial of workers rights and health services, and exclusion from education and housing.
Even the right to family life has been undermined and British children face having parents forcibly removed from the country, or spouses of British citizens being denied the right to live in peace with their families.
As Colin Yeo, leading immigration barrister, and founder of website freemovement.org.uk explains, the 'hostile environment' was originally designed to tackle terrorism and serious and organised crime, but was then extended to immigrants with little public debate. Soon enough the immigration enforcement regime had moved into schools, hospitals and banks, to name a few.
"At BRR's recent Annual General Meeting, members of the charity voted overwhelmingly to change the aims of the charity."
It's happening in Bristol all the time, to all sorts of migrants. From the council's collaboration with the Home Office to detain and remove EU rough sleepers, to the false economy of chasing down migrants for NHS treatment, including those who have given years of their lives to work in the service. Or most recently, the detention of Ken Macaria, the Bristol Bisons rugby player from Kenya. The Home Office thinks its safe for him to return to Kenya despite homesexuality being a criminal offence there.
Which is why organisations like ours must exist and why Bristol Refugee Rights has decided to take action.
At BRR's recent Annual General Meeting, members of the charity voted overwhelmingly to change the aims of the charity. We will now extend our solidarity to all migrants, whatever their origin or status. The current situation has made this move essential.
Since legal aid was removed for immigration cases in 2013, it is increasingly difficult for migrants to understand the system, their rights and entitlements. For some, this means a life of constant stress and instability. Matters have been made worse by the whipping up of racial and anti-migrant animosity during the Brexit referendum, which saw staggering 46% spike in hate crime in Bristol.
After Brexit there will be an inevitable increase in the number of people in this precarious position: Unless people apply to the Home Office they will become unlawfully present in the UK.
BRR Director Beth Wilson said: "This is an important moment for us, the Refugee Convention, although very important, uses a definition of a refugee not fit for the modern age. It leaves many people excluded from protection, who may be migrating for reasons of poverty, war or environmental destruction. As a human rights organisation we feel this change is necessary to be able to defend the human rights of all migrants, who are all being targeted by the hostile environment."
We also hope this will challenge the false distinctions and stereotypes of the good migrant/ bad migrant, or the deserving/ undeserving.
These categories dehumanise people and discourage others from standing up and condemning what is happening – whether they are the Windrush generation, newly arrived asylum seekers or EU citizens . This has to stop.
BRR has already begun to work with potential victims of trafficking, regardless of origin, and has made it easier for people with a precarious immigration status to come to Welcome Centre to access and meet their immediate needs. A new project will work with young people leaving care who are subject to immigration control.
BRR's Advice Project supports people to access the things which we all should have – shelter, food, healthcare, education and high-quality advice to navigate complex legal processes. As BRR increases capacity for advice work we hope to expand further.
This year marks the 70th anniversary of the Universal Declaration of Human Rights, that asserted: "All humans are born equal in dignity and rights". It is also BRR's 10th Human Rights Day and we invite everyone to join us at the Malcolm X Community Centre, Sunday 9th December starting at 2pm. Combining workshops, stalls, food, and live music, we invite everyone to come and celebrate.
Because in 2019, as in every other year, its urgent to come together to extend solidarity to everyone, regardless of their country of birth.
Find out more about BRR's work and contribute to their current Advent Advice Appeal crowdfunder here.