A passionate appeal to save one of the few working class pubs in Easton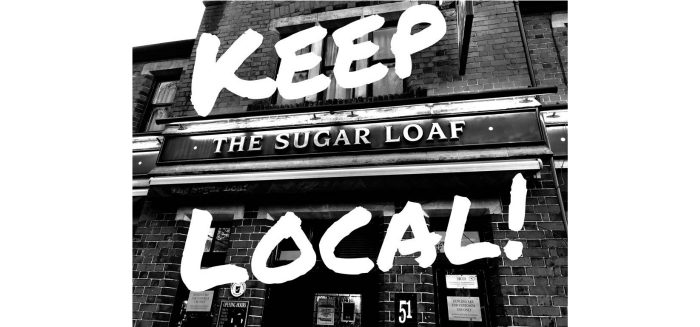 Recently given a new lease of life under new management, this old school boozer could be the latest victim of gentrification.
Ben Bird and other regulars give their take and ask you to sign the petition.
In a world where old fashioned, independently run boozers are rapidly becoming a thing of the past and where ever increasing demands from breweries and corporate fat-cats are crushing small business the Sugar Loaf pub has remained doggedly determined to survive.
Until recently the pub was home to two generations of a family who, before moving on to well-earned pastures new last June, had been its caring proprietors for more than 30 years.
Now having had a new lease of life under new management, the pub is facing a struggle to survive. The struggle is about more than just the pub, but for the character and life of the area itself.
The Sugar Loaf is nestled at the end of St Mark's Road, adjacent to Stapleton Road station and opposite the former church. It is a traditional Victorian pub, and the site's history can be traced back several hundred years to its early beginnings as a coaching inn.
The pub spent the summer mothballed behind a hostile looking iron security door, with mountains of litter gathering where its once well populated benches used to rest. But against all odds, the pub reopened its doors in early September with a simple, honest pledge from its new landlord, Martin Donlin; to listen to the local residents and create the watering hole that they wanted. On the days running up to the first pints being pulled, the outdoor hand-chalked noticeboard proudly proclaimed 'I am just the custodian. You are the community'.
Pub landlord Martin and regulars
An experienced publican who has been involved in the licensing trade since 1998, Martin describes himself as a traditional, old style person, "I believe customers come to see the landlord not a mix-match of untrained staff, a thing that the team here at the Loaf are certainly not. A diverse cross-section of people work here, from students to former landladies and even an ex-jockey! They certainly all add character to a bustling bar, bringing fun and vigour."
Sadly, despite Martin's efforts to secure a long term lease on the premises, the brewery who own the building, Star Pubs (a subsidiary of beer making giant Heineken), are seeking to lease the property to a chain company whose owners have multiple hospitality and business interests in Bristol. They include The Greenbank, an upmarket and very profitable modern bar and gastro pub just over 300 metres away from the Loaf. We understand the plan currently in place is to completely gut the Sugar Loaf of its original features and character, renovating it into an identical clone of their other venues.
In an area undergoing rapid and unprecedented gentrification, and where families and local residents are struggling with sky rocketing rental prices and a high demand for housing, it feels like this is simply another case of large and small businesses trampling over locals. And the reason?
Simply to make more money.
Some of the patrons lived through the blitz and beyond, they are people who have helped to build and shape the local community, and are part of the vibrant, multicultural melting-pot that it is today.
Graham first started visiting the pub in the early 1960s when his aunt was the landlady. He remembers the days when the bar area was made up of a lounge, snug and 'bottle and jug' off-license. Over the years he has seen many people come and go but the one constant is his wife, Sue, who he met in the pub when he was just 21. He proposed and they were married in the church across the road soon afterwards. He, like many other regular customers fear that if the pub were to change, a social hub in his life would be lost forever. He remarks that places like the Greenbank are not for him.
The Sugar Loaf welcomes a diverse clientele of mainly local residents, both working class and professional, as well as new arrivals to the area and holds a strong sense of tradition, high standards and community spirit. Martin adds that "Clocks could be set by the regularity of some of the clientele; they're such an eclectic mix of people, so diverse, so open and so friendly".
Since its reopening, the pub has been fully alive and buzzing in the community bringing together former regulars and many new faces alike, providing quality beers, live music, darts, pool and most of all, a comfortable, relaxed traditional pub atmosphere; something quite rare these days. In addition, regular darts tournaments and themed quizzes have provided to be far more than just entertainment for patrons but have gone one step further by raising money for local charities; again a rarity in this day and age.
The Sugar Loaf is one of the area's last havens untouched by gentrification and continues to represent many in the community. The local area around St Marks Road is already home to flourishing and diverse restaurants and eateries which will no doubt suffer if the planned redevelopment goes ahead. This really does beg the question; do we really need another gastropub?
If you answer 'no' please sign this petition and come have a pint with us!