Community rallies to save urban farming project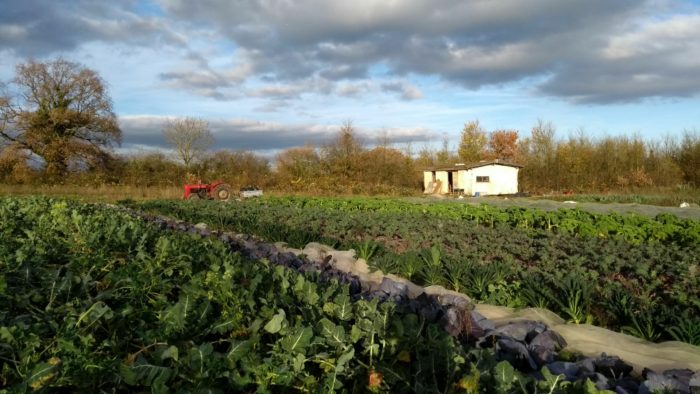 Community farming project Sims Hill received groundswell of support after being threatened by park-and-ride.
After an intense month of campaigning for Sims Hill members and friends, Marvin Rees has now confirmed that there will be no park-and-ride built on the farm in Frenchay. This is thanks to a huge amount of support from Green councillors, and the public, who responded to a very last-minute call to action.
By the start of 2019, around 3,000 Bristolians had responded to Sims Hill Shared Harvest's campaign. Sims Hill is a community agricultural project that grows organic vegetables to provide for 110 members across Bristol. Its grade 1 listed agricultural land had been earmarked as the location for a new M32 park-and-ride scheme.
Planning documents from the West of England Combined Authority (WECA) were released in November 2018, suggesting 17 different locations for a new car park, including the Sims Hill site. However, 16 of the potential sites had already been ruled out, leaving the Sims Hill site as the only option.
"The support we have had from local people and other organisations has been fantastic"
Although the plans for a park-and-ride have been underway since 2016, it was only in
December 2018 that the board of Sims Hill found out that the Sims Hill field was under threat.
Directors spent the Christmas period campaigning and rallied Bristol residents to action, to respond to the consultation by the 7 January deadline.
Residents were outraged by the plans, as the growing site is Blue Finger land, part of Bristol's historic market gardening quarter. The soil there is in the top 3% in terms of quality of agricultural land in the country. There was no mention of agriculture in the planning documents, just numbers and figures.
On 15 January, at a full council meeting, Green councillor Stephen Clarke asked the pertinent question: "As Bristol City Council own all the land identified for the potential park-and-ride, why can't you just confirm that we will not build the park-and-ride there?"
Marvin Rees replied: "We're not building on that land. The park-and-ride needs to happen, but it needs to be closer to the M4.'
The campaign had public support from Bristol Food Network, the Blue Finger Alliance and councillors. MPs Kerry McCarthy and Darren Jones also recommended that the site was relocated.
"We've been really overwhelmed and are so thankful for the huge amount of public support we have had, especially as it was during the holidays,"  said Corra Boushel, chair of Sims Hill. "It has been very stressful for us as a small business and community project, but the support we have had from local people and other organisations has been fantastic."
Freya Widdicombe, board member of Sims Hill, said identifying land use should have been part of the initial process, especially since they have been growing there for seven years.
"Sims Hill has an ambitious vision to be part of a sustainable city and we work hard to provide not just organic vegetables, but support for vulnerable people in food poverty," she said.
"We would appreciate a collaborative approach from both South Gloucestershire and Bristol City Council rather than discovering this kind of news a week before Christmas."
Sims Hill also runs the first community food centre in the country, reaching out to disadvantaged members of the community and inviting them to participate in food growing and preparation.
The consensus was that council members should practice what they preach, as their One City Plan specifies they want to make 'locally produced food accessible' by 2020, and 'keep food miles low'. Bristol City Council owns the Sims Hill field even though it sits in South Gloucestershire, and therefore it should show leadership in this campaign.