An accident left him in constant pain. But medical cannabis is still out of reach.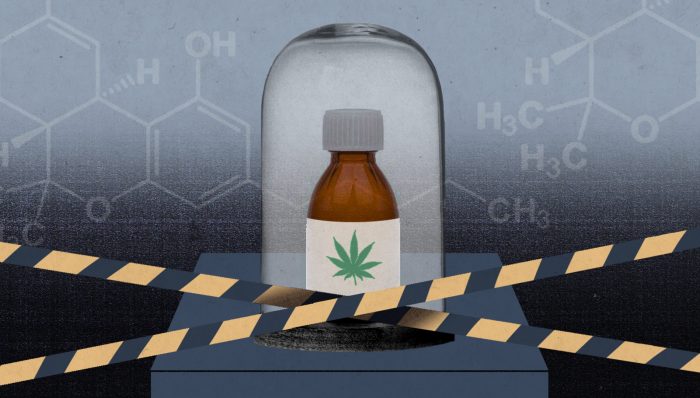 While the legal barrier has been overcome, experts say it will take years before we have medical buy-in and affordable products.
In 2012, Gareth Dines, 37, suffered an industrial accident in Bristol – his leg was crushed by a forklift truck. After an initial operation, the pain got worse instead of better. He knew something wasn't quite right and he began to worry. After being passed around the NHS from doctors to specialists, he was finally given a diagnosis of complex regional pain syndrome (CRPS), a condition that could mean he is in pain for the rest of his life.
Kevin Paginton, 55, was diagnosed with secondary progressive multiple sclerosis (MS) 10 years ago, "the worst kind" as he puts it. He first lost control of his legs, then arms, then hands. He was using a laptop to advocate online for the use of cannabis for medical purposes. As his condition deteriorated, he used the laptop with five fingers, then three, then two, then one, and then none.
Kevin has lived with MS for a decade and can get up to 40 spasms in a day. He started experimenting with cannabis seven years ago, which allows him to go 12 hours without experiencing any spasms. In a survey, one in five people with MS said they had used cannabis to help with their symptoms.
"It's a step in the right direction, but people in my situation are quite hacked off by it. One minute it's open, the other it's taken away from you"
Both Gareth and Kevin waited in anticipation for the new regulations that came into place November 2018, making it legal to prescribe medical cannabis on the NHS. Along with many others, Gareth and Kevin were disappointed in the gap between regulatory reform and getting the drugs they need.
Home secretary Sajid Javid first announced the relaxing of laws in July, following outcry over two prominent cases of children Alfie Dingley and Billy Caldwell, who suffer from severe epilepsy. Until now, cannabis has been a schedule one drug, meaning it was thought to have no therapeutic value and could not be lawfully prescribed. In other countries, medical cannabis has been given to those with epilepsy, MS and chronic pain.
The law is no longer a barrier, but experts say it could take years for medical cannabis to be widely available. Until new guidelines are released next year, doctors, many of whom don't feel equipped with adequate knowledge, are reluctant to prescribe the medicine. The cost of the few medical cannabis products that exist in the UK also present barriers for people to access the medicine.
The all-party parliamentary group for medical cannabis has condemned the current situation, which is forcing some to go private to get the medicine they need. The family of the first child to be prescribed medical cannabis after its legalisation had to pay almost £10,000 in private healthcare costs.
Lack of buy-In from the medical profession
"We've won the political battle with the Home Office, now we need to win the hearts and minds of doctors, educate them, and persuade them with existing evidence," Mike Barnes, a consultant neurologist who has been pushing for the recent reforms, tells the Cable. He adds that the new legislation is actually the "the most liberal of it's kind in all of Europe".
Peter Reynolds, president of CLEAR, the UK's largest membership-based cannabis policy group, tells the Cable that doctors "can also be victims of propaganda and misinformation about cannabis". He says only a handful of specialist doctors have prescribed medical cannabis since the law has changed, adding there is not only a lack of understanding about medical cannabis within the medical profession, but also prejudice.
Part of our series
Addicted Bristol: Life and Death
Read more
Reynolds describes how a member of the policy group CLEAR went to see a pain consultant and asked to be prescribed cannabis instead of the opioid painkillers he was on. The consultant told them "but you're simply wanting to replace one addictive substance with another".
This demonstrated an "extraordinary level of misunderstanding about cannabis", Reynolds says. "Although cannabis can produce mild dependency, it's absolutely nothing compared to how ravaging opioid addiction can be."
There is also disagreement about whether there is sufficient evidence to use medical cannabis – particularly for pain relief. In October, the Royal College of Physicians said they didn't have enough evidence to support its use for chronic pain – advice which is echoed in the NHS guidelines. Barnes says very few doctors are likely to go against this guidance.
However, there is support elsewhere in the field. In May, the Royal College of Nursing voted in favour of legalising medical cannabis, including for pain relief. In response to a Royal Pharmaceutical Society (RPS) survey in 2018, 80% of pharmacists supported reclassifying cannabis for medical use.
"The pain is constant. I get flair ups which are triggered from cold, wind, heat, touch. I'm constantly trying to protect my leg, I can't walk"
In 2016, Barnes carried out a wide-ranging analysis of research into medical cannabis and concluded that "there is good evidence for efficacy of cannabis for pain relief".
However, the hesitation by medical professionals to prescribe cannabis has left people like Gareth hugely disappointed.
Gareth describes his condition as, "If you imagine you whack your thumb with a hammer – it's painful and the brain sends pain signals to tell you to protect your thumb because it's hurt. Normally it will heal and the pain will go – with chronic regional pain syndrome the pain signals to the brain just keep coming and they get worse."
"The pain is constant," he says. "I get flair ups which are triggered from cold, wind, heat, touch. I'm constantly trying to protect my leg, I'm in a wheelchair and I can't walk."
Gareth has tried multiple treatments and has recently been considering an amputation – even though there is no guarantee it would make things better. He has been on high dosages of tramadol, an opiod pain killer, and pregabalin since his accident and feels like he is in a constant head fog.
Both of these drugs are known to create high dependency. The Cable revealed earlier this year that pregabalin is being sold on the black market and misused alongside other drugs. The government is so concerned about pregabalin that it announced in October it will make it a Class C drug.
"If I take one more tablet a day I could be hospitalized," Gareth says. "If I forget to take them on time I get severe withdrawal symptoms, it can become very hard to breath."
Despite these side effects, he says: "I wouldn't want to stop taking them without an alternative." Not wanting to break the law, he traveled to the Netherlands to experiment.
"I lowered my opioid dosage by just a couple of tablets so I wouldn't get sick, and experimented with cannabis including variants that are prescribed by the Dutch government. I found some cannabis that was very good for pain relief. I started thinking whether I should reconsider my amputation."
"When I heard about the reforms, I started getting very excited. I thought here was light at the end of the tunnel – I hate being a drug addict. Although I'm taking these medicines for the right reason, I am addicted to them."
The UK monopoly on medical cannabis
"The other crucial factor is making the medicine available," says Reynolds. He says the UK-based company GW Pharmaceuticals has developed the cannabis derived medicine, Sativex, using a process that uses expensive clinical trials costing £10s of millions to run. This means that they end up producing expensive prescription only medicine.
At present, even if a doctor prescribes you medical cannabis, there is a complicated procedure that the pharmacy has to go through to import the medicine. This is because the National Institute for Health and Care Excellence (NICE) considers UK-produced medicine to not be a "cost effective treatment". In 2014, NICE stated that patients using Sativex for MS can cost up to £50,000 a year per individual.
According to Reynolds, a new cannabis-derived drug being produced by GW Pharmaceuticals, Epidiolex, will be available for people severe forms of epilepsy. It's meant to cost £30,000 a year for a single patient.  He says the products available in Netherlands and Canada are a fraction of that cost, and until the Home Office releases new licenses, GW will have a monopoly on medical cannabis in the UK.
The accessibility of the medicine has already proven to be a barrier for Kevin. He spoke to his new doctor about getting prescribed medical cannabis, who said they needed to hear back from the pharmacist. That was over a month ago and he's still waiting to hear back.
Meanwhile, Gareth says "It's a little criminal how GW are controlling the market and pricing out people from getting it."
Barnes thinks it might take a couple of years for physicians to be trained and prescribe medical cannabis in reasonable numbers. He says this is what happened in other places like Canada.
NICE will publish new guidelines in October 2019. Under these new guidelines, both Barnes and Reynolds say that GPs are likely to be allowed to directly prescribe the medicines, removing the need to have a specialist. They are both optimistic that the new guidelines will be recognise the potential benefit of medical cannabis for a range of conditions.
Gareth and Kevin hope that they will be able to access medical cannabis in the coming years. But for now, they will have to wait. "It's a step in the right direction," says Gareth. "But people in my situation are quite hacked off by it. One minute it's open, the other it's taken away from you."