This is why you should vote to make drugs safer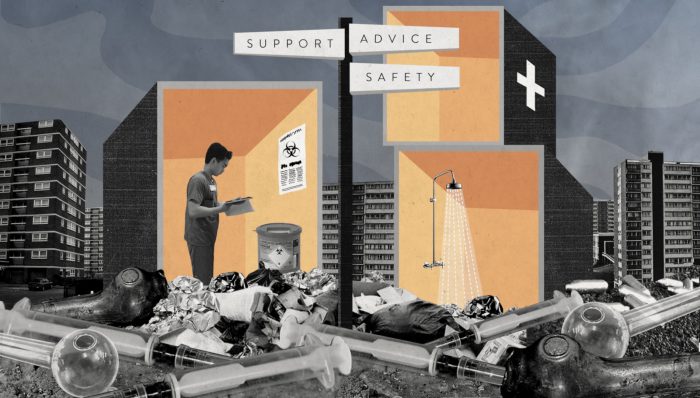 Reduce drug deaths, get needles off our streets and save money for emergency services. Vote now for a safe consumption room.
We believe journalism has power. As a member of the Cable you can use that power to push for positive change in Bristol.
Over the past months, members have helped to shape options for our next campaign. Now we've narrowed it down to two key issues facing our city, and it's time for you to add your voice.
You can find out more about each campaign and vote here. Voting takes just seconds but the impact will be lasting. Make sure to vote by 27th of Feb!
Not yet a member? Join here and then cast your vote
Every day in Bristol, people risk their lives by taking drugs in alleyways, stairwells and doorways because they have nowhere to go. At the same time, residents are scared about their children playing in their local park, where used needles have been found, or feel intimidated when they see drug use.
But in 66 cities around the world, this doesn't happen. Instead drug users go to a safe consumption room (SCR) – a clean, legal medical facility where drug users safely take their illegal substances – particularly heroin and crack – with staff on hand if they overdose.
The UK government refuses to act, even though Bristol's drug users are dying on a regular basis and drug litter is found on Bristol's streets every day. This is why I think you should vote for the Bristol Cable to campaign for a safe consumption room – which would make drug use safer, get more people into rehab and clean up the streets of public injecting and used needles.
I've spent 18 months talking to people about their experience with drugs and alcohol. I've seen how it affects vulnerable people at the margins of our society, but also what it does to the whole city. This campaign is about supporting drug users who need help and a safe place to go – but it's about all Bristolians – those who are worried about drugs being taken on their streets and stretched public services.
Bristol Cable members are also voting for us to campaign for cleaner air, because it's an issue that affects more people. Air pollution does affect us all. But so does drug use. Every drug user in treatment instead of injecting on the streets saves money for the NHS, social services and criminal justice system.
Every drug user in treatment instead of injecting on the streets saves money for the NHS, social services and criminal justice system
Treating drug users cost the Bristol Royal Infirmary more than £1 million pounds in 2015 and this is likely to be an underestimate. If drug users had a safe place to go, our emergency services wouldn't have to pick up the pieces.
Last summer, I walked the streets of Stokes Croft and Broadmead talking to drug users and saw ambulance after ambulance attending to people who had overdosed or passed out. Almost 1,000 ambulances were called out because of synthetic cannabinoid Spice in Bristol and elsewhere in the southwest between August 2017 and July 2018. That's just one drug.
This potential Cable campaign has already received support from Bristol West MP Thangam Debbonaire and drug policy experts at Transform, Release and Volteface. Bristol City Council is currently investigating setting up a SCR, and early signs are that Bristol Drugs Project are on board if their funding would be protected.
Bristol has a chance to become a leading force in reducing the harms of drugs – just like it did when it became the first city to offer drug safety testing outside a music festival.
But this needs wide public support. This is why a campaign for safe consumption rooms would call on the council and police to take action, but also be on the ground – talking to residents about their concern for their local area.
If you care about helping drug users, cleaning up our streets and easing the burden on our vital public services, vote now for the Cable to campaign for safe consumption rooms.
Why members are voting for this campaign
It's something I've believed very passionately in for a while and I feel like there's a real lack of awareness of the success of safe drug consumption policies in other countries. It's time we started treating addicts as a medical issue, rather than turning our backs on them and further marginalising them.

Jack

I think both campaigns are essential, but I see the clean air one as a longer, more difficult, needing more research, partnerships and lots more work than [this campaign], which seems to me more delineated, possibly more achievable? So we can demonstrate to the people of Bristol that things can change.

Kate

Because I used to live next to St Agnes Park and saw daily how this can affect a community. My dog got a needle in her paw. Others including children had the same thing happen. It wasn't unusual to see human excrement. All the while addicts are getting no help to get out of this situation.

Michael

Clean air has a lot of proponents already – there isn't much campaigning for safer drug use and it's a very vulnerable group of people affected.

Noelle