Every week in Patchway, dozens of people face the long arm of the hostile environment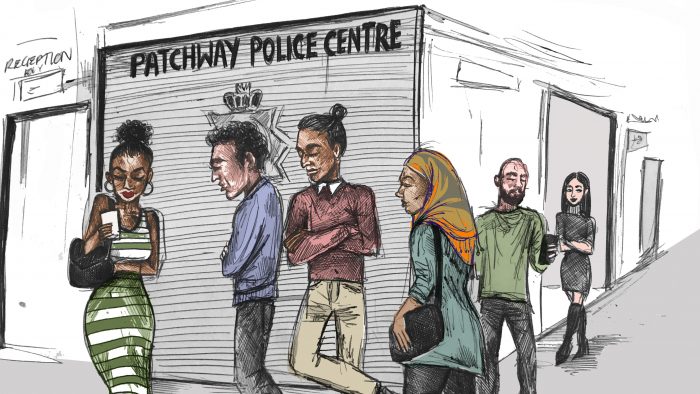 At a drab police station on the outskirts of Bristol, people of all backgrounds face a routine of fear with some standing in solidarity by their side.
Illustration: Jasmine Thompson
Every week the notorious immigration regime known as the 'hostile environment' plays out on the side of the A38 in Patchway.
Nestled between aerospace and arms manufacturers whose wares are used in some of the world's ugliest human rights abuses, the Home Office has a base at Patchway police station. They are there to process people living in the Bristol area who are ordered to 'sign'; Reporting regularly to the Home Office due to their immigration status, so that the government can keep tabs on them.
The Cable spoke to people from the south-west currently embroiled in the system, to hear the impact of the fear and frustration that comes from living in limbo.
Each time they make the journey to the police station they face being sent to an for-profit 'immigration removal centre', or detention centre as they are more commonly known, and ultimately risk being removed. No crime has been committed.
Although most detainees are later released, the UK is the only country in the EU which allows indefinite detention. The detention system as a whole has come under intense scrutiny from multiple sources, and recently a government report highlighted that the regime is ineffective, cruel and expensive.
"Sometimes I cry at night, I was so stressed. I can have a sigh of relief now!"
Sam* has spent the last four years reporting to the Home Office at Patchway police station on a fortnightly basis. He is a former student whose life has been put on hold after his visa was refused in 2014 over a document discrepancy. He has spent nearly half of his life in the UK.
He's also been in detention multiple times, at Campsfield House in Oxfordshire. "My first detention was in 2015. My first signing was immediately after the [visa application] refusal in 2014. I was detained from that time until… It's hard to remember, it's been a hectic life."  He reaches for a pen to write down his sprawling immigration history, a chronology fitting on an A4 sheet. "I have to write it down to remember, sometimes your brain tries to forget the ugly parts" he says. 
Cheryl* is an asylum seeker having escaped Zimbabwe after being involved in political opposition to the Mugabe dictatorship. She applied for asylum in 2015 but was refused and ordered to report regularly to the Home Office at the police station. While living with her sister in Weston Super-Mare, she was detained attending the police station and has been in the Yarl's Wood women's detention centre since April 2018. She doesn't know if or when she'll get out.
The hostile environment in a town near you
Signing for Bristol based migrants is at Patchway police station, at the top of Gloucester Road, about an hour's journey on the bus from the centre of Bristol – on a good day. It moved there from Trinity police station in 2014. For those that cannot afford transport, walking takes a lot longer. For asylum seekers who receive £36.95 a week while their case is being processed, the bus is an large expense, although some asylum seekers can get tickets refunded, and organisations such as City of Sanctuary, Borderlands and Bristol Refugee Rights also help with bus fees.
A quiet but overriding sense of anxiety fills the reception of Patchway as people congregate around the door –behind it, the immigration enforcement officer.
One person describes the process as a 'punishment', another laments on arrival that "Every day is a good day except this day".
"Every time I got detained it was when I was signing," says Sam. "Every time I go to them, not one time they came to me."
The morning plays out differently for different signees. One woman leaves the reporting room, having been told that she does not have to sign for six weeks. She has been signing every week since 2015."Sometimes I cry at night, I was so stressed. I can have a sigh of relief now!" she says.
Another signee is a student with a visa issue. She was shaking – it was the first time she had signed, since being released from detention two months earlier. She came in and out, without problems this time.
Support and safety
The fear of being detained at the point of signing-on means that people come prepared: bringing a 'British' or 'white' friend, eating before, and carrying your lawyer's contact details. Organisations such as Right to Remain publish guides on preparing for signing on, to help should you be detained.
Some local people have refused to fall in line with the hostil environment. Bristol Signing Support Group are volunteers who support migrants who have to regularly report to the Home Office at Patchway.
Signing support volunteers arrive every week to stand with those that report. They offer a friendly-face, but most importantly notify friends, solicitors and other support organisations about any detentions as soon as possible.
Although recent figures from the Home Office show that during 2018, 25,061 migrants entered detention under Immigration Act powers, the number reporting and the number of those detained is not made available.
After repeatedly delaying Freedom of Information requests, the Home Office sent the Cable figures, which they then acknowledged as inaccurate. The Home Office stated that "this has led to a review of the information you were provided with." As such no consistent and accurate record of the reporting population at Patchway or the number of those that are detained exists.
However, Bristol Signing Support estimate that there are at least 100 detentions every year at Patchway. Volunteer, Isobel Tarr says "volunteers at Bristol Signing Support saw four detentions take place there on a single day. I'm shocked that neither the Home Office nor Avon and Somerset Police can produce accurate figures on this. The public must be able to have a picture of the extent to which this is affecting Bristol."
A nation of immigration officers
How does the reporting system and threat of detention or removal work within the broader 'hostile environment' policy?
"One thing [the government] wanted to do was to put in place a system which had two features. One is that they wanted to conscript civil societies, firms, universities and so on to immigrant enforcement," explains Chris Bertram, professor of migration at the University of Bristol and chair of Bristol Refugee Rights. "Second, they wanted to make life so unpleasant for people who they didn't think should be in the country so that they would effectively self-deport."
Years-long uncertainty about your status, and stints in detention are certainly ways to make life unpleasant. Other ways include the restrictions placed on whether a person can work, access healthcare or rent somewhere to live.
Alice Cutler, from Bristol Refugee Rights, emphasises that most people who are detained are released again, highlighting the ineffective brutality of the system. In the recent case of the so-called Stansted 15, activists who blocked a deportation flight from taking off in Stansted airport in March 2018, two of those on board have been found to be victims of human trafficking and at least one has since been granted indefinite leave to remain in the country.
Bertram describes the role of reporting and detention as mechanisms of control: "It's generally a way of putting fear and anxiety into people, controlling them in that way. You have people detained in the system for years and years so it is a real drag on people's lives. You don't know when they're going to get out so it can take a massive toll on people's mental health." Hit hardest are often those with children, disabilities or mental health conditions.
The signing process, the fear, anxiety and the stints in detention, for many, proves too much. Self-harm and suicide attempts are prolific across the immigration detention system, with recurrent scandals emanating from the centres, which are privately run by companies such as Serco.
Prisoners without convictions
Cheryl, who is still in Yarl's Wood, doesn't know if or when she will get out. She comments on the food from the centre, "You wouldn't give it to a dog, when I come out, I don't want anything to do with noodles". More seriously, her main worries lie with deportation flights. "Every time they come down the corridors, key jangling, you think that it is your time."
During Sam's second detention in 2017, he was scheduled for deportation twice. "It's not easy to get out of detention, if you don't have any friends you are fucked already. Once you get inside it's who you know that will help you, not your character. The guy who bailed me out is a teacher.''
Although cuts have taken their tool, individuals need good quality asylum or immigration advice to have the best chance to resolve their status despite the barriers, and can get referrals to local solicitors from Bristol Refugee Rights Advice Team.
For Sam and Cheryl, their resilient characters have kept them fighting. Cheryl says that she'd love to "be 'somebody' someday. I want to give back to the community and be a nurse…Then reality kicks in. But it will pass, I have to laugh."
Since Sam lost touch with his family in Nigeria, he is committed to staying in the UK. "Once you've given up, there will be no hope for you. If you want to continue, you need to keep playing along."
The situation is bleak, but resistance is growing. Nationwide, a network of civil society institutions have formed a campaign, These Walls Must Fall, demanding that the government end immigration detention entirely. Locally, Bristol council passed a motion late last year publicly backing These Walls Must Fall and demanding an end to detention, after councillors reported dire examples of people failed by the system in their constituencies.
"They would have thought that by this time I would have given up, collapsed and surrendered," Sam says. He hasn't, and neither have thousands of people caught in the quagmire of immigration enforcement, despite facing actions from the government designed to break people's spirits.
*Names have been changed.