Opinion: Wood burning stoves are deadly, not trendy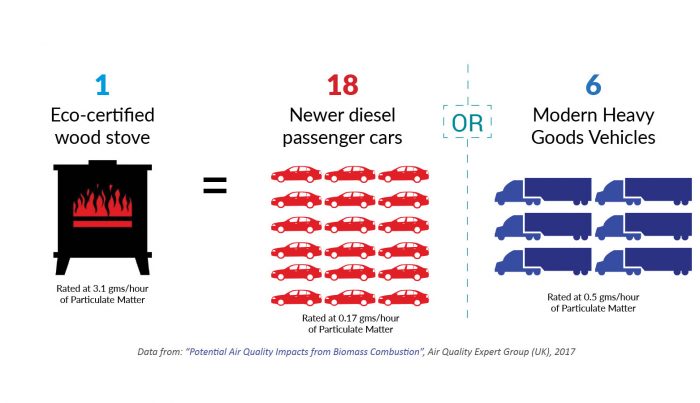 Stuart Phelps argues that "poverty is the only excuse for burning wood in the city".
Last March we had a clean white blanket of snow, no traffic—but no fresh air because woodsmoke was way over World Health Organisation guidelines. Technically, the 24-hour average of ultrafine particles (PM2.5) exceeded the 25 micrograms per cubic metre of air that the WHO sets as the maximum—by a large margin. The finer the particles, the more damaging they are for human health, as they are able to pass from lungs into the rest of the body.
A small but growing group lit wood burning stoves and fires, adding to the pollution from the continent, and pushing us over a limit the WHO reckons we should only exceed three times a year. In March we were over for three consecutive days. But Bristol had already exceeded the three day 'target' by the end of January 2017.

Find out more about the campaign

So how many stoves caused this? No one really knows. The government estimates 7.5% of homes nationally are heated by wood; locally the number may be higher. The effects are dramatic: the Air Quality Expert Group (a Defra Committee) has shown that the best, cleanest and most modern single stove, burning the best wood in laboratory conditions, produces the same amount of PM2.5 every hour as 18 new diesel cars or six new diesel lorries.
If wood stoves were a new invention, they'd be banned
So next time someone wealthy enough to afford and install the latest and best eco-stove lights up, it's like six HGVs driving up and down their street an hour every hour. That's what the neighbours get. What about inside the house where everything is warm and cosy? In Copenhagen, they've measured their very best (least polluting) stoves: after one hour the pollution in the house is 3.5 times the most polluted street in the country.
If wood stoves were a new invention, they'd be banned. If mobile, they'd fail their MOT. And that's the best stoves. Most homes with stoves, or burning wood in open fires, have perfectly good central heating. Look at house sale ads showing a 'Defra' approved stove—often there's a radiator next to it. RADE (the campaign group of which I am a core member) suggests that if your home 'benefits' from a stove; paint it bright colours and grow a pot plant in it (an Aspidistra is a Victorian traditional).
Oh and by the way, burning wood in an open fire anywhere in Bristol is illegal (1993 Clean Air Act) and subject to a £1,000 fine every time you light up.
True, some of our friends and neighbours are poor and getting poorer every day, and no one (surely) expects them to freeze in winter. As RADE members Women of Smoke say, "Poverty is the only excuse for burning wood in the city". But, seriously, everyone else can stop burning solid fuel, and immediately improve air quality. Thirty-eight percent of PM2.5 comes from domestic sources; only 13% comes from vehicles.
So why are PM2.5 particles so bad for us? They are one 30th the size of a human hair. Small enough to get from our lungs into our bodies. Hannelore Bové (University of Hasselt) has found particles in the cells of most organs of the human body, including brains. Young vulnerable children's lungs, once damaged, stay damaged. Medical studies are linking PM2.5 to Alzheimer's, diabetes and heart disease as well as chronic breathing conditions like COPD. Wood smoke (PM2.5 soot) contains carcinogens also found in cigarette smoke. In the 'smokeless' fumes of a modern 'eco-friendly' wood burner, Kåre Press-Kristensen (Danish Ecological Council) found 500,000 microscopic particles per cm3. The same equipment found fewer than 1000 particles per cm3 in modern trucks' exhaust fumes.
We mustn't overlook the links between wealth, aspiration, and desirable items like wood burning stoves. There isn't space here to do justice to the issues of class, race and air quality or explore their connection to gentrification in areas like Easton and Lawrence Hill. However, a few years ago you never smelt woodsmoke on the streets in winter, now you do all the time.
So, what can you do? Take RADE's Bristol Pledge. It applies to organisations as well as people—and should help turn the tide of fashion. Our MEP and three MPs were early adopters; many local councillors are taking the pledge, and local people and organisations are too.
So when you get home on a cold, wet miserable Friday night after a long week at work, think again before lighting up. Treating yourself to a pizza? Choose one that's not cooked in a wood oven. Why? If a commercial pizza oven is equivalent to three of the best stoves (an underestimation), your order will set the equivalent of 18 HGVs running, probably outside the windows of a renter's home (luxury flats tend not to have takeaways beneath them). Those 18 HGVs run for about 50 hours a week over six nights, 52 weeks a year. The neighbours are forced to sleep in the air pollution produced cooking that pizza, and once inside it takes a lot longer to disperse than outside.
To find out more about the Bristol Pledge, see radebristol.com