Opinion: If the hijab is such an 'oppressive tool', why do I feel so empowered?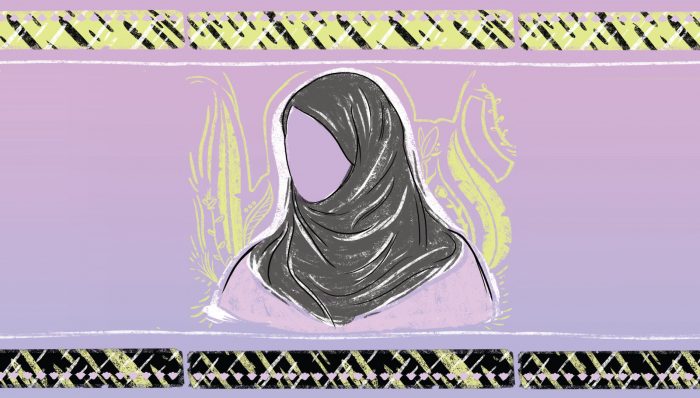 My scarf, my choice. Real oppression begins when you deprive someone of that choice.
Illustration: Marissa Malik
It's Wednesday, 9.45am, and I'm walking to my lecture. As I pass the Triangle I see another hijabi. We smile at each other. The next Wednesday, 9.45am, I see the same woman. We exchange smiles and salams (meaning 'may peace and blessings be upon you'). At that moment, our similarity, the hijab, united us and established such a pure connection between us. And so, I wonder, in a world where the hijab is seen as an 'oppressive tool' against Muslim women, why do I feel so empowered? Why do I wear it? What does the hijab mean to me?
The term 'hijab' literally means 'partition' or 'curtain'. However, for countless hijabis across the globe, the hijab represents a deeper meaning. The hijab is not a symbol of oppression, rather a symbol of modesty and a statement that my outward appearance is not everything. The hijab challenges me to become the truest, the most raw form of myself. Many think we cover to protect ourselves, but in reality we cover to empower ourselves. Some women feel liberated nude, and others when they're covered. In short, the hijab is my tool of liberation from this world's harsh beauty standards and the oversexualisation of women.
When I wear the hijab, it forces people to go beyond my looks and see me for who I truly am. It acts as a filter for people who will judge me based on the fact that I do wear the hijab. It sparks conversations about my faith. That's when I can act as an ambassador of my faith and show people that, no, I am in fact NOT a crazy terrorist but I'm just like you, waiting for the next episode of Grey's Anatomy! At times, it can be hard to navigate this personally as a women of faith, especially when the media demonises Islam 24/7.
Debunking misconceptions—am I oppressed?
I am not oppressed, I choose to wear my hijab everyday! The choice was mine alone—my family did not pressure me, neither did society. If anything they were quite worried about my decision due to all the Islamophobic attacks they'd seen reported and circulated on social media. During times of attacks carried out by 'Muslims' they would tell me to wear a beanie or a hoodie, rather than clothes that would distinguish me as a Muslim, in fear of the backlash.
I am also the first person to study abroad in my extended family. My father gave me full liberty to choose where to pursue my education and encouraged me to attend a world-class university.
Real oppression begins when you deprive someone of choice. So yes, forcing someone to wear the hijab is oppression. But then again, forcing them to take it off is also oppression. I don't, however, want to take away the fact that some women are oppressed, and are at times forced to wear the hijab.
Does my hijab inhibit integration?
At times, wearing the hijab can be alienating, especially during attacks attributed to 'Muslims'. You're filled with sorrow and empathy. But then something crazy happens: your community gets blamed for the attack. Inside you scream, "I'm on your side! I'm against these attacks!"
You're forced to condemn the attack multiple times—as if you're responsible—and apologise for 'your peoples' actions. Funny, because I don't associate these 'terrorists' with my people, who are forbidden to hurt spiders even!
As I slowly realised, the only thing that prevented me from integrating with everyone was my preset prejudice against myself: I had set limits on myself. I had to change my mindset, starting with regaining my self-confidence. I ended up taking a lot of leadership roles, including seven roles at the university, two of which were the secretary for the BME Network and International Student Ambassador. I even managed to push myself by running for Students' Union elections. From my experience, I had to unlearn my internalised racism, rather than avoiding it.
In a world of mad consumer trends, where we are constantly worried about keeping up with the latest fashion trends, I find it powerful that women can let go a part of their 'beauty' and find trust and happiness in their timeless statement piece, the hijab. My Muslim identity combined with my hijab enriched my university experience, it did not restrict me but encouraged me to break glass ceilings, empower my peers and form meaningful friendships.
Maheera is a final year Accounting & Finance student at the University of Bristol where she is deeply involved in the student community. She is also featured on the BME Powerlist 2018, which celebrates the 100 most influential BME people of Bristol.