Revealed: Complex-needs homeless services lose out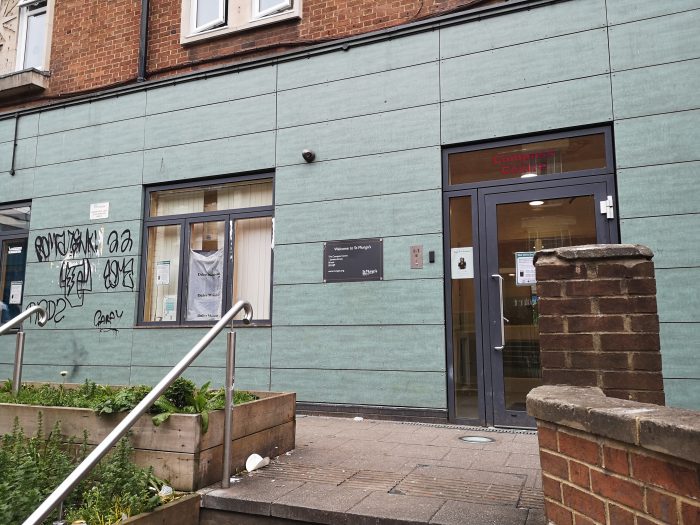 Homeless services are having to relocate from the Compass Centre in Stokes Croft.
Kevin* slowly and carefully lays down blanket upon blanket upon blanket in the alcove of a doorway that is failing to shelter him from the rain. His dog Kaspar looks despondently at the gridlocked traffic. He tells me Kaspar keeps him alive. Kevin exchanges pleasantries with more than ten people in the short time I sit with him. In exchange for two pork pies, Kevin tells me his story. He was ten years clean, living alone in a studio flat. After losing his flat two years ago, he found himself on the streets, using crack and heroin again.
He is now a regular at the Compass Centre, and admits he utterly relies upon it. He is prescribed a heavy dose of methadone from its Health Centre, but speaks completely lucidly to me. "I go there every day. All the time. Stokes Croft is where I make ends meet. Without it, I am fucked, you understand?"
The Compass Centre has long been a central hub for Bristol's street homeless population. Its clients often find themselves trapped in cycles of poverty and housing instability. Once these cycles become entrenched, mental health issues and drug misuse are never far away, making it ever harder to break free. The Centre is run by St. Mungo's, who generally have around 200 people engaged with their Bristol services at any one time. It gives them a bed to land on, doctors to patch them back together, mental health support and help to get on benefits.
The Cable can reveal that thanks to central government funding, the Compass Centre will soon be repurposed – offering a new service to a different set of clients. Three services have been asked to relocate at very short notice, and were given almost no consultation in the process. This is despite claims from St. Mungo's management that these services' 'arrangements and operations remain unchanged until further notice'.
The Compass Centre is managed by St. Mungo's, and currently holds four services: the Homeless Health Service (HHS), Street Impact Bristol (SIB), Assertive Contact and Engagement (ACE) and the Wet clinic.
HHS offer primary healthcare to street homeless individuals, and it can be revealed that Homeless Health will remain in The Compass Centre, but its clients will instead be using a side entrance. All the other services are having to find new locations. ACE, which does outreach and mental health work with hard-to-reach vulnerable populations, is being rehoused elsewhere in Stokes Croft. There are questions over whether employees will have to start meeting clients in public, as there may not be any appropriate space in the new office.
SIB is a collaboration project between different charities, working with the most entrenched homelessness. There are reports this will be relocated to a site in New Street, but there is not fixed date for the move. The Wet clinic is a weekly service run for dependent drinkers  in crisis, with doctors onsite, acting as a funnel into housing and benefits. It is unique in that it allows alcohol on the premises, which overcomes a major barrier that hardcore drinkers experience with GP surgeries. The Wet clinic, ironically, is now homeless.
A long-time volunteer at the Wet Clinic, concerned about the impact the change will have on his clients, told the Cable a rug was being swept from underneath their feet. "There's been minimal communication from St. Mungo's management. There was no consultation with the different services or clients. A mass email was sent out to inform us we had two weeks left before we had to move elsewhere.
"Next week is our last week, and we currently have nowhere to go after that"
"We are now scrambling to find a place that will allow our clients to have alcohol on the premises. It's hard to find another venue that will allow. Next week is our last week, and we currently have nowhere to go after that." This directly contradicts the statement I received from St. Mungo's.
Much of what I heard from those working within the support services community concurred: the process has been very opaque, and very quick. Sources familiar with the transition told me of a confused lack of direction and attempts to keep any negative impacts hushed up.
St. Mungo's refused to answer any of my questions directly, instead giving me a regurgitated statement: "The Compass Centre is the location of a new service funded by the Ministry of housing, communities and local government called Somewhere Safe to Stay, run in partnership with Bristol City Council, Riverside and One-25.
"With the exception of the Homeless Health Service, all current services based at the Compass Centre will be relocating to other sites in Bristol and we will circulate more details about that in the coming weeks. In the meantime those services, contacts, access arrangements and operations remain unchanged until further notice."
St. Mungo's plan is to repurpose the Compass Centre to cater for simpler-needs clients who are new to the city, those recently released from prison or those without a long history of drug and alcohol problems. The new 'Somewhere Safe to Stay' hub will be a 24-hour facility, which will also make referrals and redirect clients to other services. The hub aims to work within a window of seven days, moving its clients 'on and away from the dangers of rough sleeping'.
Official figures show the problem of homelessness is getting worse. A street count found just 7 individuals sleeping rough in 2011; this number was at 82 in the 2018 count. Figures show a 165% rise in homelessness in the UK since the Conservatives took the reins.
Under the No First Night Out initiative, central government money is being thrown at preventing the situation from getting any worse than it is now. St. Mungo's is being given £1 million up front by central government to make it happen. These targeted funds are sorely needed and should be applauded. But what if these improvements are at the expense of people like Kevin? Chaotic clients who have for decades become accustomed to The Compass Centre will struggle with the transition. The Compass Centre is bursting with demand for its services, and it seems odd to spend millions fixing something that isn't broken. Why not use the money to find a new premises in Bristol?
There has also been news that the new 30-bed homeless shelter in St. Anne's will be closing next month, substantially reducing the number of beds available in the city. Exit plans have been created for all of its clients. It has stopped taking new referrals and its employees' contracts will not be renewed. It is closing after not receiving the planning permission necessary to operate beyond March, despite earlier promises from cabinet lead for housing, Paul Smith that it would be kept open throughout the year.
Looking at the bigger picture, these changes could be part of a wider shift, where essential services for complex-needs clients are being sidelined. A year ago, the Cable uncovered an astonishing instance where a complex-needs drug treatment contract received no bids at all from any agencies, because not enough money was being offered. When the service was eventually commissioned to different providers, the Cable heard the transition period was dogged by problems.
In this climate of austerity, agencies are under ever-increasing pressure to provide stats based on measurable outcomes. Complex-needs clients have far lower rates of 'success' or improvement. They don't make your stats look good. It is hard for them to do so while suffering from acute poverty, childhood trauma, physical ailments, domestic violence and mental health issues. This, in combination with big piles of government money being thrown at lower bands of care, has started to cast a shadow over the future of services that cater for those in most need in Bristol.
There is no easy answer. Increasing efforts to slow the staggering increase in homelessness is commendable. There is also a limited amount of bricks and mortar available. The transition needs to be monitored very closely, in order to ensure continual care and prevent clients from falling into administrative cracks. More broadly, complex-needs service contracts need better funding and to rely less on measurable outcome-driven targets.
*Not his real name.