Saving Bristol's suburban skate culture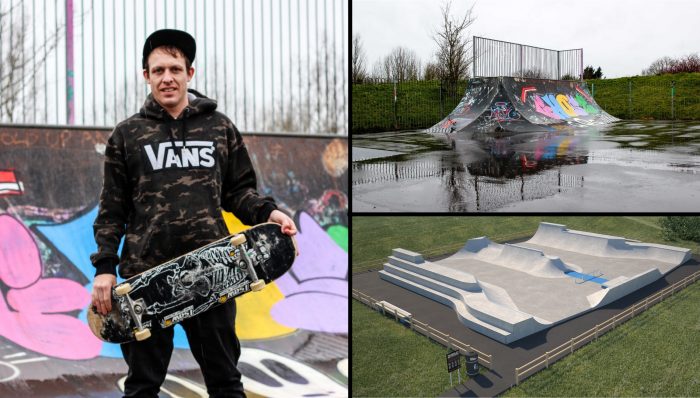 Dan Lacey has been working for years to protect the skatepark he helped build as a teenager.
Photos: Jess Connett
On the scarred tarmac you can still see the outlines of the old ramps at Warmley Forest Skatepark, tucked on the eastern fringe of Bristol's sprawling urban mass. There used to be twice as many ramps here, full of BMX riders, skateboarders and scooter kids rolling down the quarter pipe and clattering over a wooden spine, but all that remains are two metal ones covered in scruffy tags.
It was a skatepark that local lad Dan Lacey, now 30, helped to design as a teenager. And it is a skatepark that he has spent more than six years fighting to save.
"When I was younger I never had anywhere to skate. There is a skatepark on my front doorstep now and as a kid that was nothing but a dream"
"Skateboarding made me who I was," Dan says, wearing a trademark cap and cradling his skateboard in his coat to protect it from the rain. He'd learned to skate in his garden aged about 14, inspired by playing Tony Hawk's Pro Skater videogames with his friends, and before Warmley had a skatepark they would make the eight-mile round trip to their nearest one in Keynsham. "It was a long skate, put it that way," Dan says wryly.
It was always a struggle to find somewhere suitable to skate locally: "It got to the point that we were getting kicked out of places and some of my mates didn't want to do the sport any more. It was frowned upon. It gets a bit boring when you're being moved on all the time – as a kid you don't want to be shouted at."
For years, Dan and his mates attended a weekly skate night at Cadbury Heath Youth Centre, where they practised tricks and had input into a pie-in-the-sky idea to build a permanent outdoor skatepark. In 2005 the funds were scraped together and a suitable site was found in nearby Warmley Forest Park, which transformed things for the young people in the area. "We didn't have much around here then," Dan says. "I'm still mates with all of those guys, even though some of them have quit skating now. It was a bit of a community."
Disaster strikes
Dan Lacey, 30
The skatepark bounced back from an arson attack that destroyed one of the ramps – Dan points out the heat-darkened strip around the base of its metal replacement – but in 2012 several further incidents of vandalism sent costs spiralling. Without warning, South Gloucestershire Council removed half of the ramps and recycled them, swiftly ending the golden era of the skatepark.
Within a week, Dan and the youth workers were in contact with the council and making plans to completely rebuild the park in concrete, which would cost between £30,000 and £60,000. But Dan was undeterred. "I went out and Googled 'grants in the local area'," he says. He trawled lists and sent them to the youth workers to decide whether or not to apply for them.