To end homelessness, we need to change how we talk about it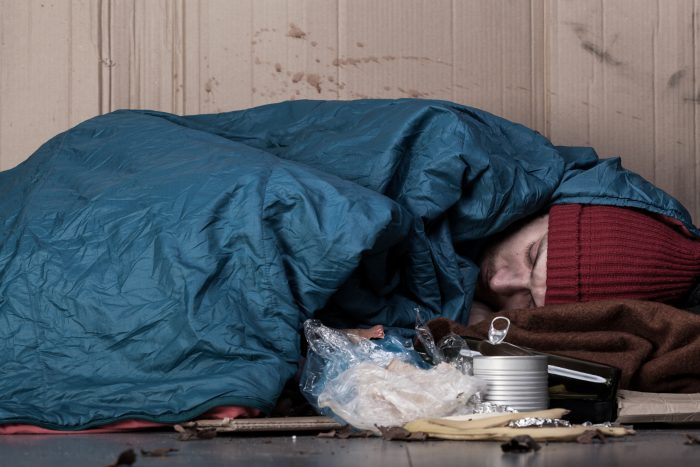 We're not seeing the big picture, says Joe Smith, who works in the sector and is increasingly frustrated at how the issues are framed.
When the public is asked if they think the voting age should be reduced from 18 to 16, only 24% support it. If you ask if 16- and 17-year-olds should have the right to vote, support rises to 34%. The importance of 'framing' –  the way you talk about problems – is well established in politics. I work in the homelessness sector and we are finally catching on.
Homelessness is an experience. For some it may be long, short or repeated but it does not define you.
We know the long-term solutions and policies that will end homelessness. These include an adequate supply of affordable housing and social homes, funding for local councils to prevent it from happening in the first place and investment in approaches shown to work like the "Housing First" model (a pilot is currently underway in Bristol). This needs to be supported by housing benefit that truly covers the cost of housing and joined up working across agencies to provide robust, personalised and timely support to everyone that needs it.
We need public support and action for these changes and how we communicate directly impacts public understanding and attitudes towards the problem. At the moment our messages are not landing and this needs to change.
Where are we going wrong?
When I tell people I work for a homelessness charity, I usually get asked "What should I do if I see someone sleeping rough?", "Should I give them money?" or something similar. Whilst these question are valid, they are only a small part of the picture. My other bugbear is the use of "the homeless" by charities and media. Homelessness is an experience. For some it may be long, short or repeated but it does not define you. Language like this only exacerbates stigmatisation and the idea that homeless people are 'other people'.
I will be the first to say that as a sector we have not coordinated our communication efforts, which has left a disconnect between our intended messages and how they are being received. We want to say that homelessness is more than visible 'rooflessness'. It's about the lack of stable, secure and affordable accommodation and intrinsically linked to poverty. It's about cutbacks to preventative services, inadequate welfare support and the traumas that can severely impact people's lives.
Research commissioned by national homelessness charity Crisis, shows the messages the public receive about homelessness (from charities and the media) actually reinforce negative stereotypes and drive people further away from believing that ending homelessness is possible. It showed people tend to have a narrow definition of homelessness, see it as a personal affliction rather than a social problem; and think it is inevitable or unsolvable.
This can be explained by the sample of media articles looked at in the research. More than half did not mention any "systemic" cause of homelessness (like the lack of affordable housing), and nearly three-quarters made no mention of any of its societal consequences. Finally, 86% did not include any explicit arguments about why addressing homelessness is a matter of collective concern. Results from our sector communications were only slightly better.
Towards a new strategy
Homelessness is complex so it's easy to see why communicating the issue effectively is problematic. Current perceptions are also well embedded and pervasive. But the evidence of how to do this is there and we need to use it at every opportunity.
This means using stories that expose the full spectrum of factors that make people more or less likely to experience homelessness. It means helping people see that the consequences of homelessness are shared across society. It involves tapping into shared values and using metaphors that illustrate the constant pressure that comes from high housing costs, low wages and inadequate government support. We must avoid charity or pity stories and those that use 'othering' language. We need to promote the solutions that are there and provide clear explanations of the changes required.
In Bristol we can lead the way
My hope is that when I am asked about homelessness in the future, the debate will shift to this new terrain. I plan to write about how we can end homelessness in Bristol but changing the narrative and conversation is something we can all do now. We can all challenge the negative stereotypes, limited stories and othering language; wherever we see it.
The next time someone shows an interest in the most visible form of homelessness, try moving the conversation to the wider causes that put people at higher risk of sleeping on our streets. We can end homelessness in Bristol and changing the way we talk about it is a vital first step.