Bristol Airport: young activists target investors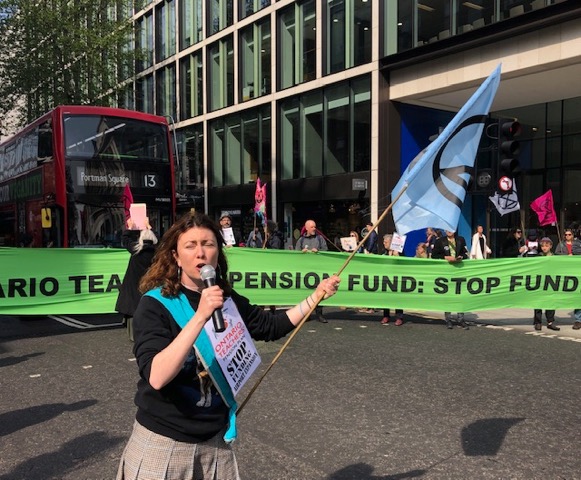 Climate activists target Bristol Airport owner in latest wave of Extinction Rebellion action.
Hundreds of Bristol students and Extinction Rebellion supporters have ramped up efforts against airport expansions during several climate change protests in London, Bristol and Somerset this week.
Some of them had threatened to shut down Heathrow Airport yesterday (Friday) to highlight the role of aviation in accelerating climate change.
Closely watched by police, at least 15 teenagers – all aged under 17 years old – blocked pavements and a roundabout outside Heathrow, holding a large banner with the words "Are we the last generation" and "We are the youth and we are fighting for our lives.''
Other Bristol protestors blocked roads and chanted outside the European headquarters of Ontario Teachers' Pension Plan (OTPP) in central London (on Monday), who they say are the biggest private investors in airports in Europe, including Bristol Airport.
A protest spokesperson told the Cable: "OTPP owns large shares of airports in Bristol, Birmingham, London City, Copenhagen and Brussels and, despite their claimed 'commitment to long term emission reduction strategies', they seem determined to expand a number of the airports. For example, they have applied for planning permission for an extra 23,600 flights a year from Bristol Airport alone." The campaigners have appealed to the managing director, in a letter, but so far say they have been ignored. The Cable has invited OTTP and Bristol Airport to comment.
They have also appealed directly to teachers to stop these investments: "This is fuelling global temperature rise, ruining our air quality and helping to cause drought and flooding worldwide," they said. The activists include GPs, a psychotherapist, lawyers, students, scientists, a number of other professionals, grandparents, children and teenagers.
Meanwhile, students in North Somerset produced an impassioned plea to teachers whose pensions are invested in the OTTP. Among them was 16-year-old campaigner Mya-Rose Craig, known widely on social media as Bird Girl.
In their new video posted on YouTube addressed to teachers, the teenagers said: "We would like to talk about an issue what will have a life changing impact on us.
"This will cost us our health, well being and environment"
"We are asking you to look at the human and environmental cost of an investment made on your behalf which is owned and run by the Ontario Teachers Pension Fund and plans to increase passengers numbers by 50 % by 2022.
"We are forced to take a long hard look at what your pension fund is doing. Your website says you always consider environmental and social factors alongside financial factors in making investment decision. How can this be true?
"This will cost us our health, well being and environment. Please contact your pension manger now and say no to investment in destructive expansion. Think about the price we are paying for your retirement."
Molly Scott Cato MEP for SW England said in support of the pension fund campaigners: "Aviation is the sector that refuses to face up to its climate responsibilities, encouraging us to fly more in spite of it being the most carbon-intensive thing we do. Anybody who talks about acting on the climate emergency while also planning to expand airport capacity is an irresponsible hypocrite. I will be doing everything I can to block the expansion of Bristol Airport, including by putting my own body on the line."
Another Bristol activist, Tarisha Finnegan-Clarke said: "I doubt that the teachers of Ontario know that their money is being invested in a way that contributes so much to global warming.
"I was shocked when I found out the you can heat a family home for a year with gas and it produces two tonnes of carbon but a family of four flying to say Ontario produces 16 tonnes of carbon. OTTP should stick to their stated climate commitments and stop telling lies. Instead they should invest in helping to create a low carbon world so our children and the children in Ontario and the world can live long and healthy lives'.
At least 400 protestors from Bristol have been occupying Oxford Circus since Monday for Extinction Rebellion's 'non violent, civil disobedience' in protest at government inaction on climate change and the global wildlife extinction crisis, whilst other teams have blocked Waterloo Bridge, Marble Arch and Parliament Square. There have been at least 500 arrests so far.
The rebels were joined today by Actress Emma Thompson, who read out 'Poems to the Earth' on their giant pink boat that is blocking Oxford Circus. This afternoon an XR Bristol spokesperson said: "While Extinction Rebellion Youth was reading a selection of Letters to Earth, over 100 police have arrived, cordoned off the boat and cordoned off Oxford Circus."
More campaigners from Bristol have pledged to join the protest this Easter weekend, with further support anticipated following Sir David Attenborough's compelling BBC documentary aired last night, 'Climate Change: The Facts'.
TV naturalist Chris Packham made an appeal today on social media for other celebrities to join the campaign by heading to London and publicly 'showing solidarity and support'. He said: "We are one species, on one planet, with one big problem to solve. We should all play a role in it. Get down there!"