From homes for heroes to a housing crisis: a potted history of Bristol's council housing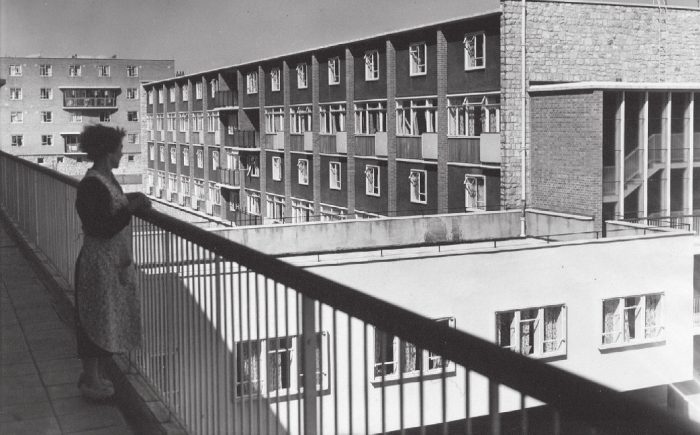 This year marks a century since the start of serious council house building in our city. After years of neglect, a resurgence is long overdue.
Bristol's population quintupled in the 19th century

From around 70,000 in 1800 it had grown to 330,000 by 1900. This immense increase (thank the industrial revolution, technology improving food supplies, proper sewers and clean drinking water) spurred the growth of vast new areas of housing. The living conditions endured by the poorest – "the submerged tenth", as they were known – were shocking.

The First World War changed everything

If 1945 was a watershed moment which saw huge advances in working-class living standards, so was 1918. Wartime demand for labour strengthened trade unions, and while most women got the vote in 1918, so did the 40% or so of men who had also been excluded. The Liberal Lloyd George won the December 1918 General Election promising "a country fit for heroes to live in".At least one government official privately admitted decent housing was essential to prevent revolution, as had happened in Russia and looked likely elsewhere, including in Britain, most famously on the 'Red Clyde' in Scotland. Council minutes from 1918 show Bristol's city fathers worrying about the reliability of the local police.

Bristol has a monument to the start of its housebuilding programme

With the aid of government subsidies, Bristol launched an ambitious building programme of 5,000 homes in 'garden suburbs'. Dr Christopher Addison ceremonially cut the first turf on work at Sea Mills on 4 June 1919, and the Lady Mayoress planted an oak. Addison would soon be the minister of health – because housing was seen as a public health issue. The tree is still there.

Bristol's first council houses were posh

The first houses to be completed, at Hillfields (Fishponds) and Sea Mills, were being occupied by 1920, with work under way at Knowle and Shirehampton. The earliest homes were built to high standards: three bedrooms, front and back gardens and, in most cases, parlours. Many tenants had an inside toilet for the first time.

So … are council houses for everyone, or just those who can't afford to buy?

In the later 1920s and 30s, more estates sprang up at Horfield, Bedminster Down, St Anne's, Speedwell and Southmead, though Bedminster/Knowle would be the largest. Between the wars Bristol built around 15,000 council houses.At the same time, 17,000 homes were built for the open market, with cheap mortgages fuelling an explosion in private development. With the increasing dominance of Tories in government, subsidies for council housing were reduced. For decades to come, a fundamental Labour-Conservative divide was over whether public housing should be for all, or just those unable to buy.

In 1946, squatting was mainstream

WW2 hit Bristol hard. No new homes were built and thousands were bombed. Returning servicemen and women, plus a baby boom, amplified a desperate housing shortage. In August 1946 people across the country moved into disused army sites, pointing out that they would otherwise go to waste, and offering to pay rent. The government caved, and army huts became official council houses. This movement was working-class, mostly led by ex-servicemen.

Bristol knowhow led the way in prefabs

Bristol Aeroplane Company, now retooling for peacetime, was a leader in making prefabricated houses. The Bristol 'AIROH' bungalow was one of a number of prefab types used throughout the country.AIROHs and other designs were a stopgap intended to last 10 years while 'real' houses were built, but were loved by tenants with many still occupied 60 years on.

Not all estate residents were happy

Bristol embarked on a huge construction programme from the mid-1940s, with new builds on existing estates, as well as new estates such as Lockleaze, Lawrence Weston, Henbury, Hartcliffe and Withywood. To accommodate the new estates to the south, Bristol's boundaries were extended in 1951 at Somerset's expense.Especially after WW2 Bristolians allocated new council homes enjoyed much better housing, but many missed their old close-knit communities. Decades after almost all residents of St Philips Marsh – "the Island" – were rehoused in the 1950s, the St Silas British Legion Club continued to thrive. The club even built an extension in the 1970s because so many former residents visited at evenings and weekends to catch up with old friends.

Conservative governments built council homes, too

Tory governments in the 1950s and early 60s supported housebuilding on an impressive scale. Houses tended to be smaller and less expensive to build though, favouring factory-made components over the craft of skilled, unionised workers.But councils still had the initiative. By the late 1950s, Bristol was a national leader in building new medium- and high-rise flats, including some innovative new designs that transformed previously run-down Redcliffe.

The Tory stigma took root

The Tory idea that council housing was only for those who couldn't buy a place of their own went mainstream. With industrial decline, some Bristol estates became synonymous with underachievement, problem families, deprivation and crime. This was underscored dramatically by occasional disturbances such as the 1992 Hartcliffe riot. Nonetheless, when Thatcher came to power in 1979 something like half of Bristol's population still lived in council homes.

Right or wrong to buy?

Thatcher's 1980 Right-to-Buy legislation, born of a notion of a "property-owning democracy", saw tens of thousands of Bristol council homes sold to tenants at discount prices. The problem was that councils were forbidden from investing the proceeds in replacement housing. Many have ended up in the hands of buy-to-let landlords.

Bristol's current housing shortage is complicated

Private and council housebuilding has long been unable to meet demand. Successive governments have been sluggish in doing anything that would prevent the value of Daily Mail readers' houses increasing, or dampen developer profits or the wider financial markets.Aside from national policies and general economic conditions, the current shortage in Bristol has been made more severe by a dramatically rising population, and smaller households (the population in 2010 was about the same as it was in 1950). Though it faces an uphill task, with an easing of government restrictions, the current City Hall administration has committed to delivering 2,000 new homes a year, 40% of them 'affordable'. The focus of the 'affordable' quota is on rented homes, defined locally as being within what a tenant can claim in benefits to cover, though it also provides for some shared-ownership properties.

Many proposed developments are being contested on conservation grounds or for contributing little to affordable stock. With homelessness on the rise and with pressure from local campaigners the council has also pledged to crack down on rogue private landlords and to bring empty buildings into use.

What will the next 100 years of council housing hold?