Homelessness: Nothing to do, nowhere to go?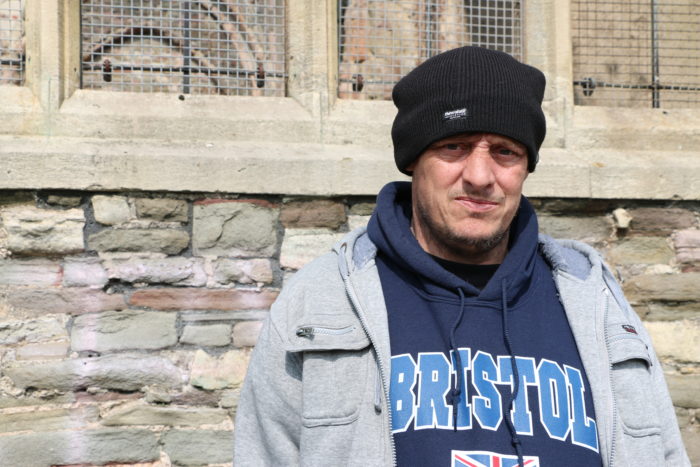 Paul Blake is campaigning for a homeless day centre.
Photo: Chelsey Flood
In the face of its ongoing homelessness crisis, Bristol City Council has just published ambitious plans to eradicate rough sleeping by 2027. An average of 82 people slept rough in the city every night last year, though Caring in Bristol says that this is only 3% of the city's homeless population, with many more sleeping in vehicles, squats, woodlands and parks, as well as on friends' sofas. The regularity of different tents in the park by my house, as well as the rough sleepers in shop doorways pushed me to volunteer at the 365 Shelter.
It was there I met Paul Blake, a local man determined to do something to improve conditions for those experiencing homelessness. He's started a petition to get the council to open a daytime service for homeless people who may well have shelter overnight at one of the city's homeless shelters, but have nowhere to go during the day.
Blake had to move out of his home after the breakdown of a relationship last September. Lucky by Bristol's standards, he sleeps on a mat on the floor in temporary accommodation, with up to 15 other people. The building serves other purposes for the local community, and so guests must leave the premises at 7.30am, though this shelter runs a scheme meaning these 15 guests can get breakfast at a participating cafe until 10am. Various groups throughout the day mean guests aren't allowed back inside until 9:30pm. That's nearly 12 hours.
Blake fills the time sitting in the Galleries with a friend or charging his phone in McDonalds, eking out a hot drink. "None of us do drugs," he says of those staying at his temporary accommodation. "We don't drink, don't go out robbing, we don't go stealing from the shops, we don't go begging, we just muddle on."
Keen to improve conditions Blake started a petition on 20 February, demanding that Bristol City Council recognise there is not adequate shelter or services in the city centre for people experiencing homelessness.
"Cut our hands off, why not?" he says. "'Cause we ain't going to use them 'cause we ain't got nothing to use them with."
Current daytime provision is spread across the city. The Wild Goose Café in Easton opens four days a week between 10.30am and 3pm (Mondays, Wednesdays, Thursdays and Fridays) when it provides breakfast lunch, hot drinks, and shower facilities, clothing and toiletries. It also opens to serve dinner six evenings a week from 8 until 9:45pm (closed Saturdays). On Tuesdays it runs a Wet Clinic for alcoholics from 2 until 4pm.
The Methodist Centre in Lawrence Hill opens on Mondays from 1:15 until 3:30pm. On Tuesday, Wednesday and Thursday it opens between 10am and 3:30pm. It provides hot drinks, breakfast and dinner, showers, support and advice, help with benefits, a laundry service and a free clothing store (including camping equipment), as well as access to computers and phones, charging facilities, a health clinic, and a postal address. Bristol Refresh on East Street offers a free meal for homeless people on Fridays between 12 and 2pm.
There are gaps in provision on weekday afternoons between 3:30 and 8pm, and very little available at all over the weekends. Blake doesn't use these services much, partly because of how busy they are – "It takes a week to get your laundry back," he says – and partly because of mobility issues related to his health.
Blake believes a more central, unified day centre with laundry and shower facilities as well as space to rest, socialise and seek help for complex problems would help combat homelessness, and at the same time decrease begging and shoplifting. He dreams of the whole community playing a part.
"Have you seen DIY SOS?" he says. "Get the plumbers, electricians in, gas fitters, kitchen fitters, see if we can get all those sort of people from the community to help get the building up and running so then it will be a sense that it is a community place for people to go," he says.
His hope is infectious, and when I ask him how he keeps it up, he lets out a laugh.
"If I let myself go then I could be down as low as the others, down to drugs, but I have an incentive"
"If I let myself go then I could be down as low as the others, down to drugs, but I have an incentive." On his screensaver is a small, smiling girl. "My five-year-old daughter," he says. "That is how I keep going. I keep thinking of her, how I miss her, how I wanna get a one or two bedroom flat so she can come and stay with me on weekends. She might be a five year old, but she's my rock."
Councillor Paul Smith, Bristol's housing 'czar', has signed and retweeted Blake's petition. On the phone, he tells me he is keen to improve day shelter provision, but believes that the only approach is to extend the reach of existing organisations with premises, particularly the Methodist Centre.
"Otherwise, we have to find a building, a building won't be found and nothing will happen," he admits. "Even if we set something new up, we'd have to find a way of staffing it."
"The thing with petitions isn't just about the number of people signing in it, it's about the quality of the argument and the proposition," he says.
Paul Blake thinks Cllr Smith's point about needed a building is a cop out. "They've got loads of empty buildings," he says. "Why not use one of them?"
Blake hasn't rested on his laurels, talking about his idea on the local radio and TV. For a while, momentum seemed to be building behind his campaign.
But a week later when I meet Blake to take his photo, the petition only has 305 signatures. 'Save Fay's St Andrews Park Tea Garden' has 5103 signatures. I can't help wondering if Bristol has its priorities right. At this rate, it would take Blake over a year to reach his target; he has until June 23.
"The price of living's gone up, but people's wages haven't. Everyone who works is one paycheque away from being homeless"
"The price of living's gone up, but people's wages haven't," he says. "Everyone who works is one paycheque away from being homeless," he says.
As we talk, the enthusiasm and humour I've met with before are missing. "Sometimes I just don't want to be around people, you know?" he says. "When I feel like this, I just listen to music, walk around."
I take a picture of Blake holding his rucksack in Castle Park. In the background two tower cranes loom over Finzel's Reach. I leave him listening to music on a bench. At least today is sunny.
Signatures currently stand at 367. Blake needs 3500 signatures if he is to have the opportunity of debating his petition in a full council meeting. If you have a Bristol postcode you can sign the petition here.
This article was edited 14.20, 30.3.19. The article incorrectly quoted statistics from Caring in Bristol which has now been corrected.