Opinion: People of colour need to be included in Bristol's environmental movement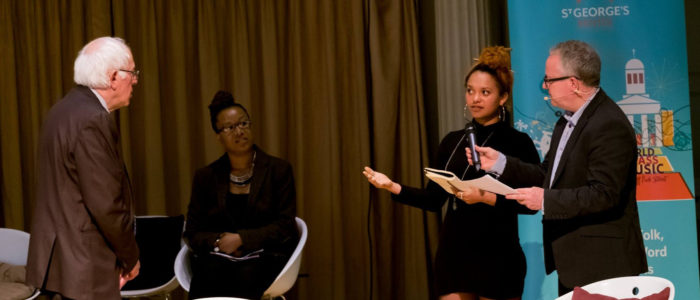 Jasmine Ketibuah-Foley argues that it's not that Black people aren't green – it's that the green movement is too white.
Photo caption: Jasmine Ketibuah-Foley speaking with Bernie Sanders at St Georges Hall as a Green and Black ambassador
We need to move away from the idea that the sustainability conversation is reserved for yummy mummies and middle-aged white people. That's wrong. And the fact that there just simply is not enough people of colour being invited into those conversations is worrying: it gives off the impression that people assume we're not interested.
We are communities who are already doing things sustainably, who may have friends and family who come from rural backgrounds. It feels as if people think that people of colour who live in the city do not know the land, the countryside, how to grow things and care about the planet. This assumption is so far from reality. And sadly, the lack of representation and inclusion in the environmental sector in Bristol is a reality.
"Environmental racism is a visible reality in Bristol"
I've researched diversity in the environmental sector with the Green and Black initiative, which is supported by Ujima Radio, Bristol Green Capital Partnership, UWE and Bristol University. And one thing is clear: Bristol has a long way to go to make sure its fight to support a culture of environmental sustainability is something that includes and benefits everyone.
Bristol was named by a Runnymead report on inequality as "the most segregated core city in the UK". We know that those high levels of inequality in education and employment seriously affect the aspirations of those who live here. But how do these realities affect Bristol's shiny dream of being a sustainable city?
Environmental racism – and the need for a holistic approach
We have to start answering that question by first acknowledging that you can not fight environmental injustice without recognising the intersectionality of race, gender, socioeconomic disparity and every other nuance that lends itself to the term 'injustice'.
If we want to talk about environmentalism and sustainability, why are we not looking at things like changing the environments people are forced into because of their economic status, and creating low-cost sustainable environments? Because of systemic wrongs, many ethnic minority communities find themselves born into environments that are typically not the best places the UK has to offer. This has a knock-on effect.
Recently we saw Alex Beresford, a presenter on ITV's Good Morning Britain speak out about knife crime saying, "if you don't change the environment it won't change anything". Of course, his response has a very complex meaning, but on the surface of it there's something there about the environmental inequalities that people find themselves in and the negative effect that can have on people. This kind of thinking needs to be in the sustainability conversation.
"A sustainable Bristol has to also to be one of diversity"
Environmental racism is a visible reality in Bristol. How can we ignore that the wards that have the highest numbers of ethnic minority populations are at the highest risk of pollution-related illnesses? Lawrence Hill has the highest rates of childhood asthma in Bristol related to pollution because of the close proximity to the roads and little green space.
It is clear that sustainability should be a required part of the planning process: Not just for the well off masses that can pay for it but a right that all have access to.
A holistic approach is needed if we are to work towards a sustainable future in Bristol. As Naomi Klein said in her 2016 London lecture titled 'Let them drown', environmentalism needs to move forward in "ways that don't ask suffering people to shelve their concerns about war, poverty and systemic racism and first 'save the world' – but instead demonstrate how all these crises are interconnected, and how the solutions could be too."
We should be actively trying to understand environmental racism. We have to start questioning it and understand, why does it exist? Not ignore it with the attitude of, 'they are just unfortunate'.
There are people of colour in Bristol trying to make a difference through environmental activism, engineering and science. There are people in ethnic minority communities who already adopt sustainable thinking, sometimes as part of their culture. But, we must ask ourselves: are they being invited to sit at the table with everyone else to be part of the wider discussion, and being paid for it if appropriate? Or are they a token of fleeting representation to meet a quota?
Are we actively making sure sustainability and diversity are upheld equally? Are we making sure we tackle things holistically enough to allow everybody the time, space, the finance to be able to think about environmentalism in the same way that a lot of privileged people are able to?
A sustainable future is a future of equality. A sustainable Bristol has to also to be one of diversity.