Revealed: Council shelves study into safe consumption rooms after restructure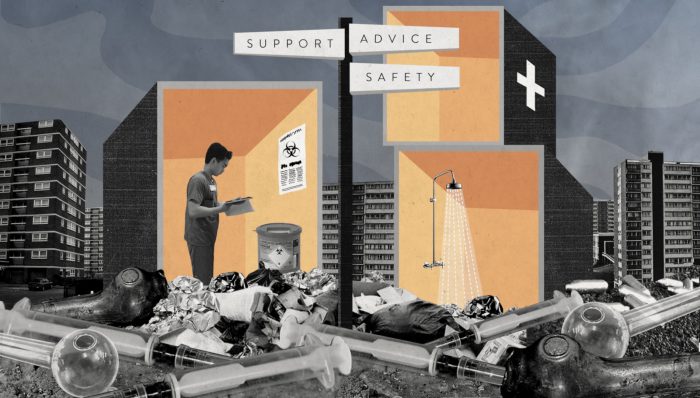 The Labour Party has backed the policy at national level, but progress appears to have stalled in Bristol.
Bristol City Council has shelved a feasibility study into safe consumption rooms – a policy innovation that would reduce drug-related deaths – the Cable can reveal.
Safe consumption rooms (SCRs) are legal medical facilities where drug users can safely take their illegal substances – particularly heroin and crack – with staff on hand if they overdose. They have been proven to reduce deaths, make drug use safer, and clean up the streets of public injecting and used needles.
The feasibility study was completed last year and is thought to have concluded that the facilities were likely to have a positive effect on drug-related deaths and community harms caused by drug use.
Drug-related deaths in the UK have been at worryingly high levels for the last five years. The latest figures for Bristol show there were 113 fatalities registered between 2015 and 2017, but the Cable understands that the number of deaths being investigated since as potentially drug-related is showing no sign of reducing.
Part of our series
Addicted Bristol: Life and Death
Read more
Mayor Marvin Rees initially said the study would be reviewed in Autumn 2018, but the Cable has learnt that it has been knocked back. The council said it was "not currently working on a feasibility study", but had "reviewed evidence internally".
In addition, the author of the study has now left the council, amid a restructure of the public health department, which made a third of the workforce redundant. The council said 28 people in public health were made redundant in 2018/19, which equates to 32% of staff, and is projected to save £1.1m a year.
The news comes as the Labour party has announced SCRs should be piloted in an effort to reduce drug-related deaths in the UK. Currently the home office remains opposed, but drug policy experts have suggested local authorities would have the power to open them if there was agreement with police and other stakeholders.
"The problem is we've lost people who were doing innovative work, and now it's unclear what we as a city are doing on drugs"
Jude English, Green councillor for Ashley was one of the councillors to table a council motion calling for SCRs a year ago. She told the Cable it appears the long-awaited feasibility study report had been knocked back by someone within because it wasn't what the administration wanted to hear and now she is worried nothing will be done around this important issue.
"The report has not been made public. Marvin has bragged about transparency, but not here it would seem. It appears to me that the council administration just don't want to want to do this at the moment, even though recently the Labour Party nationally has come out in support of it," she said.
"If the Mayor and Asher Craig really want to lead the way on drugs support in Bristol we need to be more innovative and work with staff and the report authors to find a way forward."
She said the idea already has support in the police and the health service, but a remaining hurdle was who will pay for it. "The problem is we've lost people who were doing innovative work, and now it's unclear what we as a city are doing on drugs."
"What we need is for the new head of public health to explain what they are going to do on this issue, share the report and let us all work together to find a way forward." She added she would call on the Adults, Children and Education Scrutiny Commission to follow this up at the next meeting on 13 May.
Bristol's most senior police officer, chief constable Andy Marsh, recently said that problems with illegal drugs in the city were "as bad as they had ever been".
Police and Crime Commissioner Sue Mountstevens said discussions had taken place with the council to provide heroin assisted treatment rooms, where medical-grade heroin is prescribed, but that it cost £40,000 per person, and the Home Office had so far refused to fund them. She added: "Although I'm keen on exploring heroin assisted treatment rooms, I'm not persuaded yet about drug consumption rooms."
Last year, an interim director of public health, Susan Millner, was appointed to oversee the restructure. A permanent replacement, Christina Grey has now come in. The cost of redundancies is thought to be almost £1 million, which will be paid for using public health reserves.
However, the Cable understands that the more than 28 people left public health during the restructure, which has removed the specialist substance misuse team responsible for drugs and alcohol.
SCRs have won the backing of a number of police and crime commissioners across the country. The idea now has cross-party support in Scotland after Tory, Labour and Lib Dem politicians joined the SNP and Greens in backing the set-up of the facilities. This follows the UK government repeatedly blocking attempts to open an SCR in Glasgow.
A new report by thinktank the Adam Smith Institute has come out in support of SCRs, calling on the home office to clear up the legal grey area by stating that the operation of SCRs is a matter for local authorities.
A Bristol City Council spokesperson said: "The Public Health Team has been restructured to support the council and with external partners to support Bristol to become a healthy city through the application of evidence and best practice to policy and programmes."
On SCRs, the spokesperson said: "The council is always open to looking at new and innovative solutions and we are keen to work in partnership with others to explore different approaches, however this must be done within the current legal framework.
"We are not currently working on a feasibility study, but we have reviewed evidence internally, and will keenly await the results of any research into drug consumption rooms coming from around the country."