Changing gear: what next for cycling in Bristol?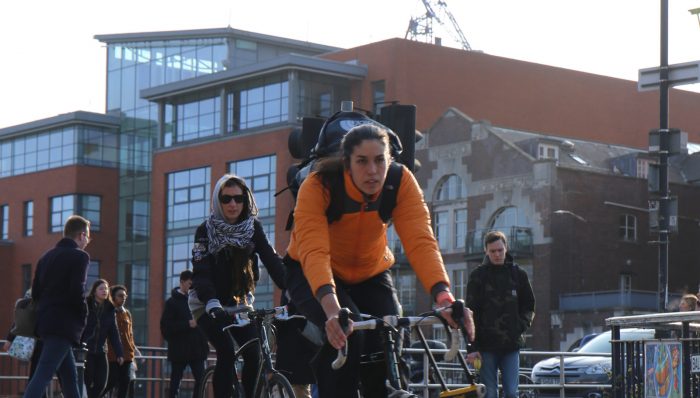 To get us out of cars and reduce air pollution, Bristol needs to radically overhaul its cycle network. Other cities are leading the way.
Photo: Colin Moody
It's been a while since Bristol was declared the UK's first 'cycling city' in 2008, an accolade which came with a £11.4m grant to develop the city's cycling infrastructure.
There's no doubt the cycling culture is going strong: the number of cyclists in the city has doubled since 2008. But has Bristol now fallen behind other cities such as London and Manchester in terms of how well it caters – or aims to cater – for its cyclists?
Despite commuting in their legion every rush hour, Bristol's cyclists deal with a patchy, stop-start network, cycle lanes that lead to nothing, chaotic shared routes with pedestrians, and a lack of infrastructure along key routes where they're often embroiled in the heavy congestion that dominates Bristol's roads.

Find out more about the campaign

Campaigners argue the city is missing out on the benefits of making cycling infrastructure a higher priority – and one that would have vast benefits for the health of individuals, the environment and the public purse. Considering the air pollution crisis, and the fact that 80% of the city's illegal and harmful levels of NO2 (nitrogen dioxide) come from traffic, transforming transport in the city towards emissions-free alternatives is a crucial step to addressing the problem.
Vulnerable road users or mass transit?
John Parkin, professor of transport engineering at the University of the West of England, is an expert on cycling infrastructure. He says misconceptions from politicians and planners have historically underestimated cycling. "[They] thought that cyclists are like pedestrians," he says.
Bristol's cyclists deal with a patchy, stop-start network, cycle lanes that lead to nothing, chaotic shared routes with pedestrians, and a lack of infrastructure along key routes
"They've often been grouped together as, as it were, 'vulnerable road users' – I don't like that phrase at all."
This attitude, Parkin says, led to policies centred on putting cyclists on footways: "That doesn't do anybody any good. It's absolutely loathed with pedestrians … and there's no utility for cyclists because they can't travel at the speed they can travel at."
The focus on segregated cycle lanes of the type common in the Netherlands has become recognised best practice and has been taken up by cycling campaigners. In Bristol, since Baldwin Street was furnished with a segregated path in 2014, the cycle traffic along the street has more than doubled. It demonstrates the often-cited mantra of 'build and they will come'.
There has been similar success in London, following the building of north-south and east-west cycling 'superhighways'. The number of cyclists using designated paths increased by 50%.
In Waltham Forest in east London, the council built a cycle and pedestrianised network dubbed 'mini-Holland', which involved laying 22km of segregated lanes. King's College London predicted that in terms of health benefits, the population in Waltham Forest could gain around 41,000 life years over the next century as a result of the scheme.
Meanwhile, Manchester unveiled plans last year for an ambitious £1.5bn, 10-year project for walking and cycling in the city, including 75 miles of segregated cycle lanes. The plans will be part-funded from government grants and contributions from district councils, with more funding yet to be confirmed.
For these schemes to succeed requires a view of cycling as not a segment of 'vulnerable road users' but instead a valid form of mass transit. Nick Davies, from the Bristol Cycling Campaign, says this recognition is necessary.
"The Bristol-Bath cycle path, I think it's the city's only efficient mass transit route. Bristol doesn't have any really good quality public transport, mass transit routes. And they would be prohibitively expensive to build. The Bristol-to-Bath cycle path, I think, transports 1,400 people in the morning rush hour. It's incredible."
Political will?
The regional authority, WECA, and Bristol CIty Council have been recently consulting on their future transport plans for the city and region. Their approach to cycling consists of vague aspirations but no specifics – for example WECA says it aims to "encourage" changes to active modes of transport and talks of creating "good quality physical infrastructure", but it doesn't provide specific targets, or targets for the reduction in single-person car journeys.
"We thought the JLTP [Joint Local Transport Plan] was a missed opportunity. In fairness to WECA, they're dealing with the whole West of England area, which is quite wide, but two-thirds of the people live in Bristol, suburban Bristol and Bath," says Davies. "Shorter journeys, that's where most of the congestion is, where the air quality problems are, the health and activity problems also."
Davies believes choosing not to reallocate resources from motorists is a political decision. Yet both he and Professor Parkin note that in London's Waltham Forest, with its 'mini-Holland', the plans were met with opposition at first. As Parkin explains, "There was an enormous backlash from that as it was being introduced. But the councillor who fronted that has now a thumping majority, he's been voted back in and people love the area now."
Davies believes there's a 'silent majority' of people who would support cycling improvements, and points out that the vast majority of responses the council received when consulting on its transport plans were in favour of better cycling infrastructure.
Both the council and WECA said their upcoming local walking and cycling plans would assess where improvements should be prioritised, with the council saying they believed cycling was a "key part" of their transport strategy.
Contested spaces
The most commonly cited reason for not cycling is always safety, with only 30% of respondents to a Bristol City Council survey saying they thought that cycling safety was 'good' or 'very good' in the city. The fear is not unfounded: in 2017, there were nearly twice the national average of collisions involving cyclists at 387.
Sustainable travel organisation Travelwest attempts to address this with its popular adult training courses, which adviser Jacob Powell says are accessed by 1,000 people per year. The organisation also advises on quiet and off-road routes, and offers bike hire, including electric bike hire, to address concerns people may have over distances they must cover or the fact they frequently need to travel up and down Bristol's many hills.
At a time when we need to take drastic action on our air quality and address the wider climate crisis, will our local authorities start to give cycling the attention it deserves?
Another perspective is offered by residents of Shirehampton and Avonmouth, who gathered at a primary school in March to see plans proposed by Sustrans and Highways England for the local area (not funded by the council). The concerns there rested on the problems of sharing pavements with other road users. In the view of one consultee, cyclists were not just a problem for pedestrians, but for drivers: "Coming out my drive, they whizz past so fast, you could knock them over. My neighbour did actually knock someone off their bike coming out of their drive, because they were on the pavement."
A wider issue concerning more segregated routes is that decisions are made within a context of limited urban space – to make room for cycle routes, there would be less space for vehicles, for example.
One example is Gloucester Road, where Bristol Cycling Campaign have been pushing for a cycle path. But this would involve reducing space for cars. As campaigner Tom Swithinbank says, "The challenge is to remove the car parking which a lot of retailers may be against."
According to their research, some retailers are completely opposed, believing it will be bad for business. But Sustrans research conducted in 2006 found that when surveying how customers travelled, retailers overestimated the importance of car travel for their business by almost 100%.
On the reallocation of road space, the council said, "Our aspiration is to implement cycle routes that are segregated from motorised traffic wherever possible, however many of our major transport corridors have limited space to provide full segregation for the whole length."
Looking to the future
What would it take to reach the goals the council even set for itself in its apirational 'One City' plan to have more than half of Bristolians regularly cycling by 2050? Parkin believes there will be a "tipping point" – when a critical mass of people cycle, and the infrastructure no longer seems like a complicated political question but crucial to the city.
Other cities such as Manchester and London have shown that where there is a political will, there's a way. At a time when we need to take drastic action on our air quality and address the wider climate crisis, will our local authorities start to give cycling the attention it deserves?
What do you think of cycling in Bristol? Let me know at lorna@thebristolcable.org