Why Bristol needs to fight for fair air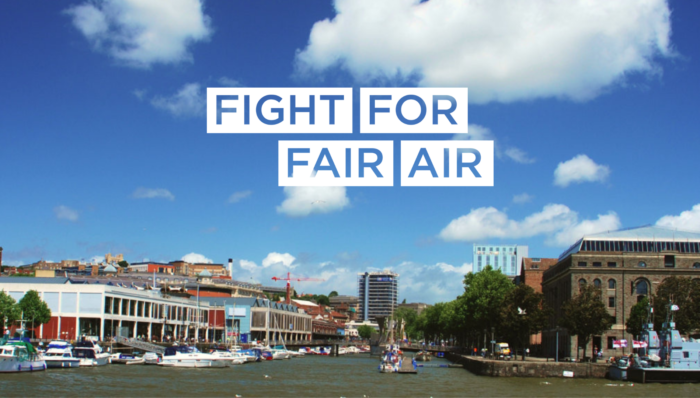 The Bristol Cable is launching a campaign calling for drastic action on Bristol's deadly air pollution. Here's why.
Throughout January and February, Cable members voted in their hundreds on what issue they'd like to see the Bristol Cable devote coverage to in the coming months – and air pollution came out top.
The timing couldn't be more critical. Toxic air is linked to 300 deaths in the city every year. Evidence is piling up on the health dangers of air pollution beyond its effects on our lungs: it's now being linked to ailments from dementia to diabetes, miscarriage to psychosis. Its becoming known as the number one public health emergency we face.

Find out more about the campaign

No wonder so many members wanted to see the Cable focus on this problem. Many relayed their own problems living in polluted parts of the city, or their worries for their families.
Sounds like urgent action is needed? The council doesn't seem to think so. It announced in April that the much-delayed Clean Air Plan to tackle Bristol's toxic air won't be ready until the end of the year, and therefore won't come into effect until 2020. This isn't good enough when our children are growing up with stunted lungs.
Pushing for progress from the council, while reporting on its progress, is only the start. We'll also be highlighting what's possible by looking at solutions from other cities and from within Bristol, from better cycling infrastructure to greater awareness of the damage caused by wood burning stoves.
While the council is dragging its feet, local groups have sprung into action to make a change at school, at their workplaces, and in their neighbourhoods.
There are really easy ways for you to get involved, such as emailing your councillor to help build pressure on the Mayor to take meaningful action when the Clean Air Plan is eventually published. You can also be a part of our project to map air pollution levels across the city, by carrying round our air quality monitor, and tell us about expertise or experience you have on the topic.
We'll also be working on events and more ways for Cable members to get involved in the project. Watch this space.