Exclusive interview: "Judah will not be silenced"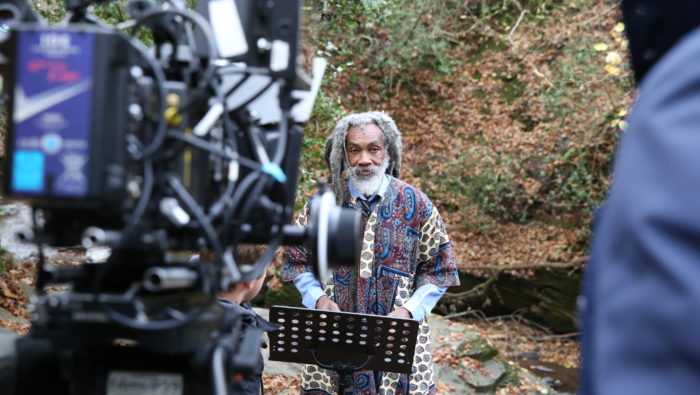 Taser survivor Ras Judah Adunbi and filmmakers Bashart Malik and Zaheer Mamon are crowdfunding for a new film about racial injustice.
The Cable is backing the production of the film I AM JUDAH to the tune of £1,500. Read more on why the Cable is getting behind it.
"I'm not pulling any punches with my story," says Easton man Ras Judah Adunbi, who was tasered by police in a case of mistaken identity in 2017. "What happened to me opened a lot of eyes. I've survived an electrocution and it's done untold damage. We know that tasers cost people their lives."
Despite the incident blowing up at the time, very little changed as a result of Ras Judah's experience. PC Claire Boddie, the officer who discharged the taser, was found not guilty at criminal trial and in September 2018 was also cleared of misconduct. It wasn't the first or last time Ras Judah faced police harassment.
Now a crowdfunder is underway to continue production of 'I am Judah', a cinematic documentary about Ras Judah's experiences.
Director Bashart Malik, producer Zaheer Mamon, and poet Lawrence Hoo are behind the crowdfunder and want the film to show the world who Ras Judah is and the racial injustices he's faced.
Speaking to the Cable, Ras Judah says the film "will be factual, educational, and an eye-opener to many".
Through the film, Bashart and Zaheer say, they want the world to see who Ras Judah is. "He's a really respected, cherished community elder. He's been involved in engagement throughout his life: campaigned; raised funds to set up a community sports centre; acted as police relations advisor; trained kids… a lifetime of activism," says Bashart.

"We want to paint an intimate portrait of what he stands for," Zaheer adds. "We want people to feel an emotional connection. Not just around the tasering incident, but about what he's been through in his life, which hasn't been represented."
The film aims to engage a wide audience and send the message that institutional racism and injustice is rife.
"We know unlawful acts have been conducted in this country and it's been going on a long time"
"The way we have been treated by those who should know better and who are paid to protect us—police, local authority, government—it warrants exposure," says Ras Judah. "We know unlawful acts have been conducted in this country and it's been going on a long time."
"It's not about me as an individual. I'm talking about what has been going on up and down the country to other people. My story needs to go to the general public.
"As people have said to me, if you can do that to Ras Judah, then they could do that to anyone in the country."
The film crew also want to inspire communities to come together in peaceful activism against institutional racism. They are working with the Screenology film school, who are supporting the film, to promote confidence in young filmmakers.
"I've already had young filmmakers who want to explore similar themes about their own experiences. That's the action we want," explains Bashart.
A cinematic approach
With 'I am Judah', Bashart, Zaheer, and Lawrence are determined to create a piece of social justice art. A film that looks like it should be in the cinema. Something that won't just be 'liked', 'shared', and forgotten.