Exclusive: Two Bristol activists helping build a new society in Syria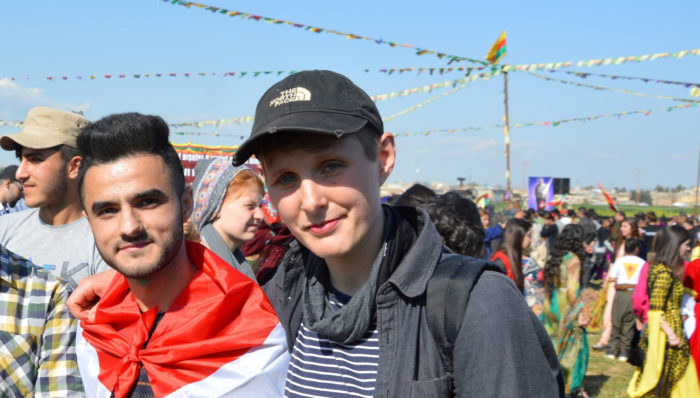 Amidst the rubble of war-torn Northern Syria, two Bristolians follow the footsteps of friend Anna Campbell, murdered by Turkish forces, to carry on the mission of building a new society.
"When Anna [Campbell] was killed in Afrin at the hands of the Turkish state it had a massive effect on me. Less than an hour after the news, I decided I was going over. There was no going back now. I had to do this," Mikey Chant tells me.
The phone connection crackles, as Mikey, 33, (who now goes by the Kurdish name of Gelhat), and Tanja, 29, (aka Arin, pictured above), call in from Rojava, Northern Syria. They can't give much information about their whereabouts, for fear of it falling into enemy hands.
After years of intense fighting, the Syrian Democratic Forces (SDF) with support from NATO fighter jets and special forces, have cleared the last remaining pockets of ISIS and Islamist militants from towns such as Baghouz.
Now with ISIS's territory reclaimed, Rojava, home to ethnic Kurds, Arabs and Assyrians is a de facto autonomous region. It is sandwiched in a stalemate with President Assad's forces to the south, bombardment by President Erdogan's Turkish army to the north, an uneasy alliance with the oil rich Kurdish Regional Government of Iraq to the east, and a volatile partner of convenience in the White House.
But this is about more than who gets to control what land. It's about asserting a vision for the future, one at stark odds to that of the jihadists who had controlled much of the region. Gelhat and Arin are aiding efforts to create a new society in Rojava, based on democratic, feminist and anti-capitalist principles.
Despite living under the shadow of war, democratic collectives and local councils led by women and men of different ethnicities, are sprouting across Northern Syria. This experiment in democracy is arguably one of the most promising developments in some of the least promising circumstances, slowly transforming a deeply conservative society by empowering local people.
Gelhat and Arin are not alone in traveling to Northern Syria to assist the Kurdish movement. Dozens of Brits and hundreds of internationals have travelled to Rojava over the past five years. Each have their own reasons for joining the fight against Islamic fundamentalism, from anarchists and communists to former British marines.
"It's hard to leave anywhere you love. Bristol is somewhere I love and care about", says Arin. "But it's because I love and care about the UK anarchist and Left movements that I really hope we can bring something back which will make things a bit better."
'You've got to come and see this'
Anna, Arin and Gelhat were drawn to a political movement with an anti-capitalist, feminist and ecological manifesto. But it was close friendships which turned conversation into concrete action. "I started thinking of going over when Anna was in Rojava because Anna was my ex-partner," Arin says. "But we were also best friends after we broke up. One of the things she used to tell me all the time was you have to come and see this."
By early 2018, Arin was thinking of traveling to the region to volunteer with the Kurdish forces. But that never happened, "because Anna died the next month".
In March 2018, news broke that 26-year-old anti-fascist activist and plumber Anna Campbell was killed in Afrin, Northern Syria, along with another Kurdish fighter, Comrade Sara. She had been evacuating refugees when she was struck by a Turkish fighter jet, a military whose suppliers include companies in Filton, such as AirBus. Anna had been a familiar face in the Bristol activist scene.
She would also often be seen working in the kitchen at Café Kino, Stokes Croft. Since her death, protestors have occupied the Airbus factory and plastered the streets with graffiti reading, "Remember Anna", "Victory to the YPJ!", "Anna lives".
Political and commercial interests seemingly superseded the calls to bring Anna's body home. Anna's father, Dirk Campbell, accused the British government of "a total lack of proactivity" in helping recover her body from the battlefield of Afrin.
"She died being brave and for these causes, it felt important that we take over the rest of the mission and bring back the knowledge from here to the UK," Arin tells me.
Building a new way of life
Gelhat and Arin, close friends from Bristol, separately made their way from the Mild, Mild West to Northern Syria in early 2019, crossing over from Iraq into Rojava. The duo volunteered as civilians to help build a new civil society in Rojava, rather than as fighters. "This is my first time out of Europe, and my first time I've left England for a long time," says Gehalt as he weighs the magnitude of his decision to leave the relative comfort of life in Bristol.
Arin had worked as a bike mechanic with Julian House, the homelessness charity. "Leaving Bristol was really hard" they say. "It takes a long time to disentangle your life. I had a decent job, decent house, nice friends."
The two Bristolians are now stationed in the Internationalist Commune of Rojava (ICR) – a civil society organisation. The ICR is a port of entry for internationalists into Rojavan society. Volunteers from all over the world come through this school for an intensive six week training programme; an anarchist and left-wing civil-service fast track scheme of sorts for people wanting to help build a new society in the region.
After the training, graduates enter different civil structures from local town councils, agricultural cooperatives, hospitals and schools. Gehalt is planning on working for a Rojavan TV channel and film collective. Other graduates have worked in orphanages, full to the brim with displaced children from the Syrian conflict.
This isn't your typical international volunteer placement with a western charity. It is more akin to the International brigades of 1930s Spain where anti-fascists joined the fight against Franco's dictatorship complete with rigorous practical training and schooling in the texts of radical left-wing thinkers like Karl Marx, Emma Goldman and Peter Kropotkin.
"Today we were learning about the history of the Middle East," says Gehalt. "But in the last days we've been learning about the values and ideology of the Kurdish movement. We've also had education on the decolonising the capitalist mindset."
Both are getting itchy feet and admit they want to leave the school and start working in Rojava. "The education is really good but it's quite hard work," says Arin. "Most days we get up at 5:45am and then we're in education until about 9 or 10pm. So absolutely knackered. It's hard work."
From behind Turkish prison bars, the figurehead of the Kurdish liberation movement, Abdullah Öcalan, studied the works of the late Murray Bookchin. The New York intellectual's readings proved transformational to the Kurdish movement.
Öcalan shifted his political outlook from a brand of top-down socialism and Kurdish nationalism of the 1970s, to the idea of democratic confederalism. In this system, decisions are made by democratic collectives in each neighborhood, village, or city. The economy is in communal hands, and as Öcalan writes, is 'neither collectivised nor privatised, it is common.'
This vision has been the calling card for many international volunteers. That is, a radically democratic society sprouting from perhaps the most unlikely of places, out of the ruins of the Syrian war.
There have been reported setbacks in rolling out this model and winning support from local populations. In 2015, Kurdish militia, the YPG, reportedly razed a number of Arab villages and displaced civilians in Northern Syria, according to Amnesty International. And yet it has proven difficult to sort fact from fiction in a war ridden by disinformation campaigns and conflicting accounts. Two years later, the U.N. Independent International Commission of Inquiry would release a report refuting allegations of ethnic cleansing. According to the UN, displacements carried out by YPG were temporary and done with military necessity.
Coming back to Bristol
It's best not to plan too rigidly when living in the midst of war. Arin and Gehalt plan on returning to Bristol later this year, but they know they face uncertainty at every stage of their journey. "While you don't see much of it, there is a war happening and anything could happen. Turkey could decide to invade.
"What I'm doing here isn't in any sense illegal, I'm doing civilian work," says Gehalt as he mulls over coming home. "But if the police do want to deal with that, then I'll deal with it when the time comes."
Just across the River Severn, Imam Sis has been on an indefinite hunger strike in Newport for well over 100 days – the longest in British history. He joins more than 300 Kurdish activists around the world protesting the imprisonment of Kurdish liberation leader Abdullah Öcalan. And as it happens, he was one of the first people who Gehalt worked with in the UK-Kurdish activist movement.
The phone line starts to crackle again, and I'm reminded of the distance between us. "It's time to think about our own radical histories, like the Tolpuddle martyrs, the Digger movement," says Gehalt as he chips in one final thought.
"England isn't just this massive imperialist nation that conquered half the world, it's also a country where people struggled for new alternative forms of freedom. We should embrace that radical part of our history."