George Monbiot: 'Bristol airport expansion is like a gun pointing at the heart of the planet'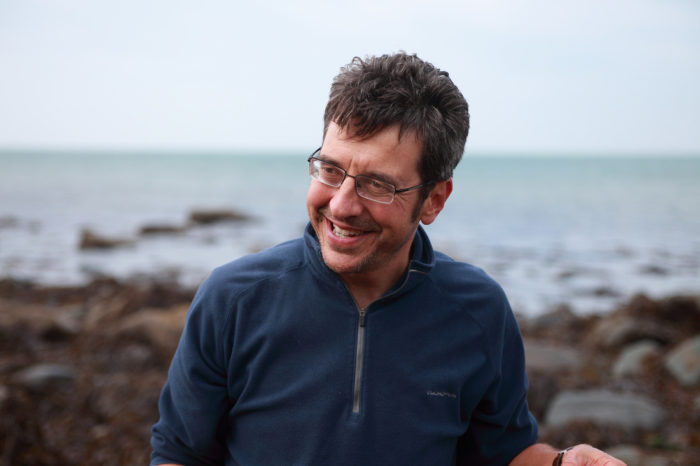 Bristol is not doing enough after declaring climate emergency, says environmental journalist.
Photo: John Russell, Flickr
Author and campaigner George Monbiot has called out hypocrisy over Bristol Airport expansion plans, praised Bristol's pioneering climate activists and backed their calls for more urgent and radical political action.
Speaking at a recent public event at Anson Rooms and then to the Cable, Monbiot poured scorn on Marvin Rees's political support for Bristol Airport expansion after both Bristol and North Somerset councils had declared climate emergencies. He suggested that City Hall instead needed to show more conviction.
Thousands of Bristol activists have brought Bristol and London to a standstill during protests over the past six months, including the Extinction Rebellion (XR) protests and youth climate strikes. Many of them have been arrested taking part in acts of peaceful 'civil disobedience.'
"It is insane to be building more fossil fuel infrastructure in the midst of a climate emergency"
In November 2018, prompted by a Green Party motion Bristol City Council became the first UK council to declare a climate emergency, making a commitment to being carbon neutral by 2030. However, activists say they are still frustrated by political inaction and want nothing less than to transform the economic and political landscape and halt Bristol Airport expansion.
Backing their demands for more drastic reform, Monbiot told the Cable: "It is insane to be building more fossil fuel infrastructure in the midst of a climate emergency. It is even crazier for a city that has actually declared a climate emergency. Airport expansion is like a gun pointing at the heart of the planet. This does not just apply to Bristol; we should be preventing airport expansions everywhere.
"How on earth does this correspond to their commitment to prevent climate breakdown? Well clearly it doesn't! What we should be doing is retiring fossil fuel based infrastructure rather than expanding it.
"I am delighted that Bristol has declared a climate emergency and it was a pioneer in doing so, but one thing I have noticed with quite a lot of councils, and indeed nations, declaring climate emergencies is they have not thought through the implications.
"If we are in a climate emergency surely then we have to tailor our activities according to that emergency. If flood waters are rising, you don't start tearing down your flood barriers. This is the equivalent of what they are doing by talking about expanding Bristol Airport, and the same with the third runway at Heathrow."
Monbiot called for every city that has made a climate emergency pledge to commit to political system change, end mass livestock keeping and challenge unsustainable economic growth: "We cannot prevent climate breakdown let alone wider environmental breakdown while we continue to grow, within a finite earth system. Our task now is to use this great opportunity just created to push for those dramatic and radical changes that the true state of emergency demands. That means very rapidly switching to leaving almost all fossil fuels in the ground and bringing on the stream for technologies required to replace them."
More protests planned
Bristol Airport expansion plans have had public support from Bristol Conservatives and Labour Mayor Marvin Rees. The plans would increase flight passengers from 10 million to 12 million a year initially – later to 20 million. Supporters argue that the expansion would bring new jobs, finance for public transport and economic growth. Referring to the Airport, Marvin Rees has previously said "we have these challenging aims in Bristol of delivering an inclusive and a sustainable economy, and sometimes sustainability and creating jobs clash."
More than 2,000 local people have opposed the plans. Campaign group Stop Bristol Airport Expansion estimates the first phase would increase CO2 emissions by more than half. The plans are expected to be considered by North Somerset Council on 19 June.
A spokesperson for Bristol Youth Strike 4 Climate said young climate strikers would stage their next and biggest ever swarm of College Green on Friday 24 May in protest against the Airport plans.
Bristol XR supporters told the Cable more climate protests are planned: "There will be further actions locally, nationally and internationally, including against Bristol Airport expansion and something larger than the recent protests in London."
Exactly how Bristol City Council might deliver the enormous challenge of creating Britain's first carbon neutral city by 2030 is scheduled to be revealed on 16 July.
Green party councillor Carla Denyer, who initiated Britain's first climate emergency declaration here in Bristol before it was copied by more than 70 cities and the UK Parliament, said she was "astounded" at how the idea had spread like a "tidal wave", but said "urgent action was yet to happen, locally or nationally."
Parliament passed a Labour party motion declaring a climate emergency at the start of May following mass protests in London by XR, but it does not compel the government to act.
Denyer said: "There's only so far we can go with this without support from government. So at a national level, parliament needs to follow up on its climate emergency declaration and give us the powers and funds we sorely need."
"I am worried that some politicians from other parties that have backed the climate emergency declaration don't fully understand what it means… This needs to change, urgently," she said.